If you own a business, you're always looking for ways to better run and grow it. A great point-of-sale system can do both.
At the most basic level, a point-of-sale (POS) system includes hardware and software that allows you to check out customers, record sales, accept payments, and route those funds to your bank.
But the right POS can do more than record sales. It can help you run your entire business — allowing you to serve more customers, make smarter decisions, and create better relationships with your clients. As a result, it can affect your business's bottom line and your long-term growth.
So how do you find the right POS? Here's what you should look for:
1. A system that's effortless to set up and use
You don't have time to wait for your POS to get set up and your staff to be trained on it. Look for something you can set up yourself, quickly.
And make sure the software is intuitive; it means less time training, a faster ramp-up period for employees, and fewer mistakes made during transactions.
2. Integration with other tools
Your POS is your command center, so you should look for a solution with tools that can help you manage your entire business, like inventory management, a CRM, and payroll software.
Whether you use native tools, third-party apps, or APIs, integrated systems mean you spend less time manually inputting information and more time focusing on key tasks and decisions that grow your business.
(And remember to think not only about what tools your business needs now but also when it grows.)
3. A variety of hardware options
Every POS needs hardware that allows you to accept payments (cash, credit, and mobile payments). But what that hardware looks like depends on your business.
You may want a countertop system or you may want to meet customers in the store, in which case, a tablet with a reader may be a better fit. Depending on your business, you might also need to print receipts, store cash in cash drawers, or scan bar codes, all of which requires additional hardware.
4. Data that helps you make smarter decisions
Your point of sale should provide insights and analytics that help you better manage your business and make more informed decisions.
With easily digestible data, you should have a better idea of what inventory to stock when, or what products to promote around the holidays and other major retail events. Or you can use data to determine when you should be scheduling more employees (or fewer).
5. The ability to address issues in real time
A great POS lets you look at your business's performance across stores and compare performance by location in real time — no matter where you are. By identifying where there might be issues (while they are happening), you can save sales and drive cost efficiencies.
6. A system that puts customer experience first
You always put your customers first, and the technology you use should do the same. An intuitive interface (for staff and customers) makes for quicker transactions, which lead to more transactions, happier customers, and more revenue.
But it's not just about speed. A POS with a built-in customer directory also allows you to better cater transactions and marketing messages to each of your customers.
7. Top-notch security
The security of your customer data is paramount. Make sure the POS system you choose is PCI compliant. To protect you and your customers, look for companies that encrypt customer data from end to end — with either point-to-point or end-to-end encryption — so it's safe from the moment the card touches your system.
8. Easy-to-understand pricing
Some POS systems lock you into a contract. Others have hidden fees. With Square, there are no long-term commitments. Our point of sale is free and payment processing is just 2.6% + 10¢ per swipe, dip, or tap.
BANG uses Square's POS to grow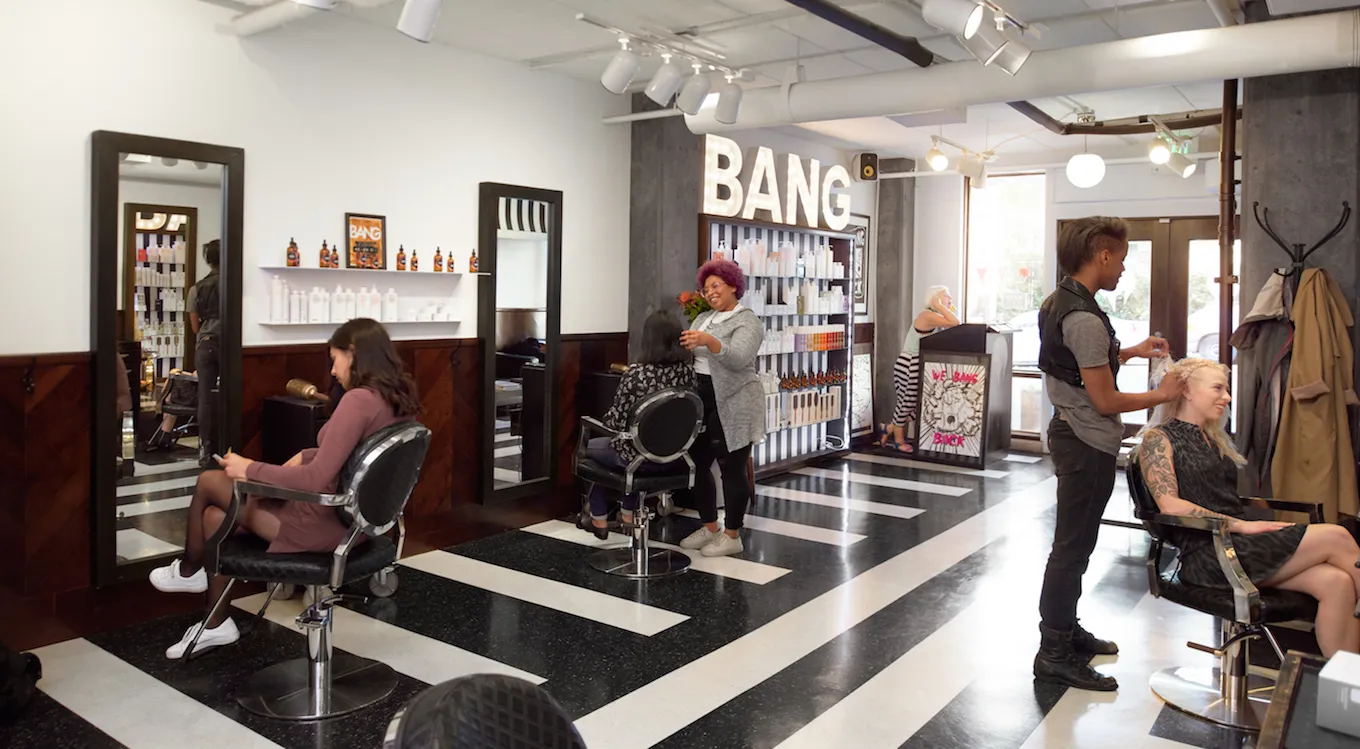 Casey Nickole is the owner of BANG, a hair salon in Seattle's Capitol Hill neighborhood. BANG grossed $390,000 in its first year, and, thanks in part to Square, hit over $1 million with two salons in its second year. It's now a multimillion-dollar company with three locations.
As the owner of a multilocation, commission-based business, Casey knows she needs to keep customers coming through the doors at each of her three locations, even when she's not there in person.
She counts on Square Point of Sale for comprehensive analytics and the ability to manage everything from payments to payroll while she moves between branches.
"When Square came out with [Square Point of Sale], we realized we could have a point-of-sale system and merchant services support that also generated a perfect set of reports for us that are very detailed," said Casey.
She added, "The more access you have to information, the better you can make decisions based on your daily operations and make sure that everything is being done in a really quick way that allows you to keep growing."
Now Casey makes staffing decisions based on the busiest times of day, tracks sales to know the health of the business, and monitors the number of new customers versus existing clients.
And the best part? Moving onto Square's POS wasn't much work. The transition was easy and took "a day or two at most." And getting the staff up to speed was quick, too.
"We had one one-hour training. It's very super-simple. Less buttons to push, more streamlined. Our staff really enjoys Square because the user interface is so accessible," said Casey.