Managing a team can be a challenge, but Square makes managing your staff's workflow at the counter simple. Square Point of Sale comes with PIN permissions, staff accounts, and reporting to make employee management as close to effortless as possible.
Lock it up.
Don't want employees issuing refunds or applying discounts? Lock it up. With PIN permissions enabled, you can manage which features your employees have access to in Square Point of Sale. Employees will be prompted to enter the PIN whenever the selected features are accessed.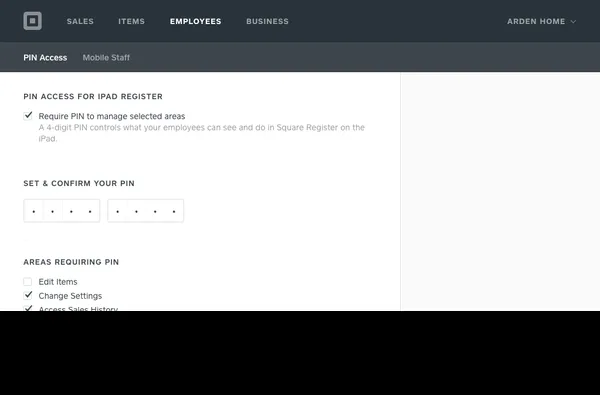 Bust the line.
Time for the lunch rush? Multiple employees can log in to the same Square Point of Sale account from any number of devices to help check out customers at the counter and in line. If your employees work in the field, you can invite them as Mobile Staff to accept payments for your business. Invited staff can accept payments but don't have access to sensitive account information or your full transaction history.
See sales by cashier.
Square's business reporting allows you to view staff sales to understand your employees' performance. When your employees change shifts, you can run a custom X report to view your current cash drawer balance, or run a Z report at the end of the day to view your final closing balance of your cash drawer.
As your staff grows, set your team up for success with these features.