About IRMG
A restaurant group that puts customers first.
The International Restaurant Management Group (IRMG) operates 200+ restaurants in 29 states and 7 countries. The company has developed several brands including Kelly's Cajun Grill, Yeung's Lotus Express, Suki Hana, Chicken Connection, Latin Grill, Tango Grill, Cilantro Fresh Mex, and Gusto's Pizza and Subs. The company attributes it success to its attention to operations and developing customer relationships.
In Miami-Dade's largest retail shopping center – Dolphin Mall – IRMG operates concessions. Recently, it transitioned all of the vendors in the food court to Square Register after identifying operational inefficiencies that were inhibiting the customer experience.
Current payment technologies were costing IRMG money.
Antiquated hardware and slow payment processing inhibited IRMG vendors in the Miami-Dade Dolphin Mall from quickly moving customers through the line, without sacrificing customer experience and happiness. Internally, PCI fees, the hours needed to dedicate towards managing PCI compliance self-assessments, and EMV chargebacks were bogging down IRMG employees and costing the company thousands in out-of-pocket funds every year.
"We chose Square because our old POS was not giving us the support that we needed. They weren't 24/7 and we had a lot of antiquated hardware that needed to be replaced…Square has been easy and flexible to implement in our multi-concept restaurants. The image based buttons are simple and easy to understand. Customers like the sleek and advanced look of Square Register's customer facing display."
Finding a solution in Square's Managed Payments and Square Register.
By switching to Square, IRMG has been able to provide customers with an easy and fast checkout that allows employees to connect with customers and increase the number of transactions they process. The move to Square also comes along with more security and fewer worries about managing PCI compliance and the fees that come along with it, since, as the merchant of record, Square takes on the burden of staying PCI compliant.
The Outcome
Lowered Security Costs
As credit cards have become a preferred method of payment, retailers have been faced with a new set of compliance standards that they must abide by. The Payment Card Industry (PCI) Data Security Standard outlines those standards and enforces them for all companies that accept credit cards.
PCI compliance is crucial for keeping businesses and their customers safe. But, it takes a lot of time and money to be PCI compliant. And, if you aren't PCI compliant, potential penalties are high.
Before switching to Square, IRMG produced quarterly self assessments to make sure that all vendors and franchises were compliant with PCI regulations. In addition to that assessment, all companies are required to attend a yearly $2000 PCI course, which IRMG abided by. Lastly, companies are faced with $30-$40 fees a month if the PCI compliant questionnaires are not filled out.
Now the burden of staying PCI compliant is on Square. No checklists, assessments, or audits required. IRMG has been able to completely remove the extra fees and time spent on PCI compliance for all their vendors using Square. Moving to Square's PCI compliant system has removed headaches for the team and decreased IRMG's out of pocket expenses.
"Using EMV has reduced chargebacks and fraud while effectively eliminating PCI compliance related headaches. This alone will save thousands as reduces the need for complicated network setup, port scans and the costly labor needed maintain legacy machines. This allows us to focus on running the business!"
Secure Payment Processing
If you own a business, you're probably familiar with the process of disputing chargebacks. Previously, IRMG would manually dispute every chargeback, which proved to take up a lot of time – and time is money.
Once IRMG began using a simple-to-use EMV chip reader, more customers were able to make EMV purchases. Now 95 percent of purchases with IRMG vendors at the Dolphin Mall are EMV purchases. Since EMV is a more secure form of payment, chargebacks and fraud alerts have been reduced, freeing up time for IRMG and their vendors to focus on their business, and more importantly, their customers.
"The fast authorization speed and allowing customers to dip their own card provides cashiers a few seconds to handle other customer service related tasks."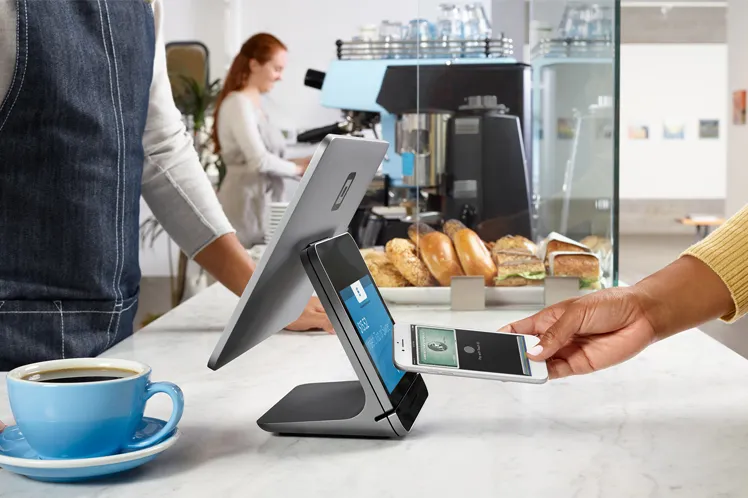 More Transactions and Happier Customers
IRMG reaped a lot of operational benefits by switching to Square, but the improvement they are happiest with is the experience they've been able to create for their customers.
With faster processing times and a more seamless POS experience, cashiers spend less energy focusing on the mechanics of the transaction and more time interacting with customers. (And employees have reported that those transactions are more enjoyable.)
"The overall transaction has been faster with Square and for the times when the internet was not stable, we've been able to fall back to a hotspot or use the offline mode so we wouldn't lose sales"
Faster processing times have also enabled IRMG vendors to increase their sales and process more transactions during a rush – all without sacrificing customer experience. One IRMG vendor reported $10k in sales on a Saturday, a number they were not previously able to reach with their old POS system, due to the slow processing times.
When it comes to receiving and implementing customer feedback, receipts have proven to be a helpful tool in making sure customers feel heard. When a customer isn't happy with their experience, IRMG quickly learns about it and reaches out to their customers to offer coupons or other rewards to improve their experience.