It's National Small Business Week — a time to celebrate all the independent sellers that make up the backbone of the American economy. Every day this week, we'll be featuring Square sellers who have not only built thriving businesses from the ground up, but are also working every day to make their communities better.
In honor of Cinco de Mayo, today we're turning the spotlight on El Pípila, a San Francisco restaurant and catering company serving authentic Guanajuatan cuisine.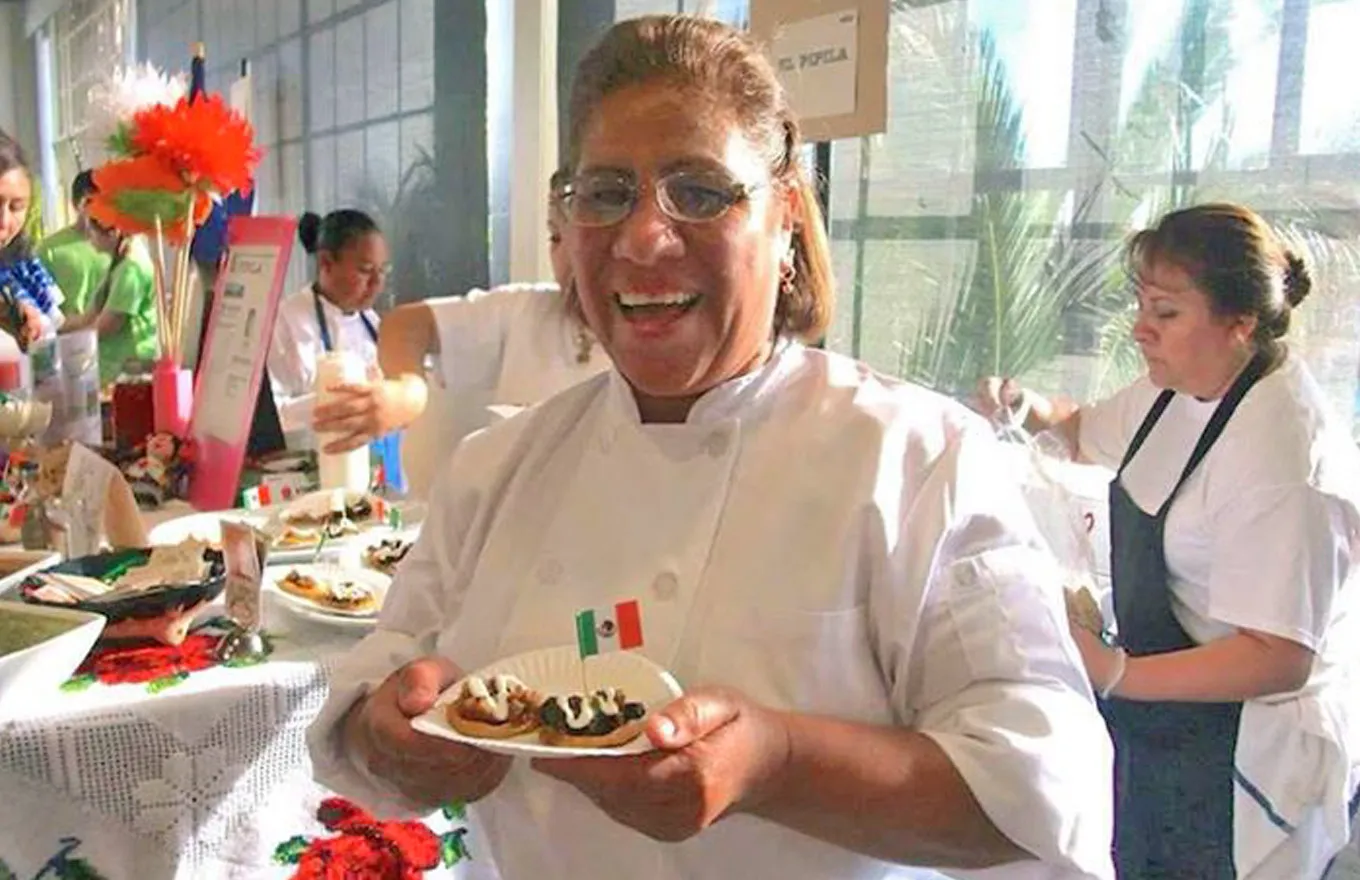 We visited El Pípila earlier today during the height of Cinco de Mayo prep (and they were kind enough to let us behind the scenes during the frenzy). The team — a family operation headed up by owner Guadalupe Guerrero — was hard at work readying mole for the holiday lunch rush.
El Pípila, which opened its first storefront inside San Francisco's The Hall last month, was a lifelong dream for Guerrero. Originally from Acámbaro, a small town in the Mexican state of Guanajuato, Guerrero grew up steeped in the culinary riches of her hometown. And she learned from the best. Her grandmother, Raquel, is renowned throughout the area for her style of cooking traditional dishes. When Guerrero came to the United States years ago, she also came with the vision of bringing authentic Guanajuatan cuisine stateside.
But first she set out to learn the ropes of operating a business — and to make enough money to bring her daughters to the United States. She worked tirelessly in taquerias across the Bay Area for 14 years — often pulling 12-hour days, six days a week. In 2012, she joined La Cocina, a nonprofit that helps low-income food entrepreneurs (and especially women) grow their businesses by providing affordable commercial kitchen space. Later that year, she realized her dream and officially opened El Pípila for catering orders.
Her daughters, Brenda (who gave us the tour below) and Alejandra, are now fully involved in the operation, handling marketing support and responding to catering requests in English (Guerrero speaks only Spanish). Even Raquel is in the mix. In fact, she's the one making the mole today from her original recipe — up from Mexico for the week to help out during Cinco de Mayo.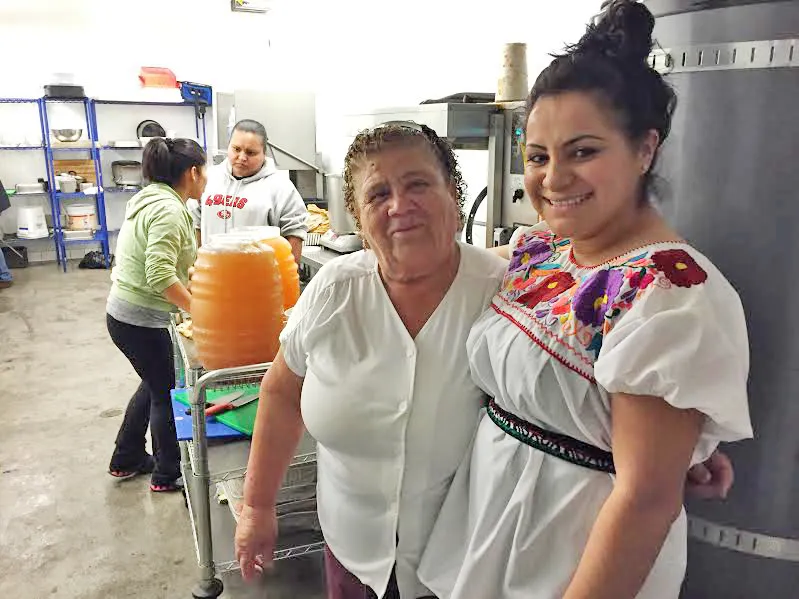 El Pípila now serves over 500 people on a daily basis. Though it's at The Hall, catering is still its mainstay. It has a variety of clients — mostly tech companies — throughout San Francisco and the South Bay. At Dreamforce (Salesforce's blow-out conference) last September, El Pípila served over 3,000 enchiladas, an experience Brenda describes as "crazy." Laughing, she adds, "People stuffed their faces."
And it's no wonder — El Pípila's food is delicious. Its best-selling item is pozole verde, a dish so good the San Francisco Chronicle did an entire feature story on it. Sopes with cactus is another must-try — it's a signature dish, also rooted in Raquel's original recipe.
But El Pípila does more than make fresh, authentic food day in and day out. It gives a percentage of its profits back to La Cocina, the organization that helped it launch. It's that sort of giving back that makes it all worth it, says Brenda. When asked to give her top advice for fellow small-business owners, she harkens back to this sense of community. "There's always support out there," she says. "You just have to go out to your community and look for it."
El Pípila uses Square Point of Sale at The Hall
En Espanol
Es La semana nacional de pequeños negocios – el tiempo preciso para celebrar a todos los vendedores independientes que forman la espina dorsal de la economía americana. Cada día de esta semana presentaremos a vendedores de Square que no solo han construido negocios prósperos desde los cimientos, sino que también se están esforzando cada día por mejorar la comunidad.
En honor de Cinco de mayo, hoy estaremos resaltando a El Pípila, un restaurante con servicio de catering en San Francisco que sirve comida auténtica de Guanajuato.
Visitamos a El Pípila el día de hoy mientras que se preparaban para Cinco de mayo (y fueron tan amables que nos permitieron ver entre bastidores). El equipo – una operación familiar encabezada por la dueña Guadalupe Guerrero – puso las manos a la obra y preparó mole para el almuerzo del día festivo.
El Pípila, que abrió las puertas de su primera localidad el mes pasado en The Hall de San Francisco, fue el sueño de Guerrero durante toda su vida. Originaria de Acámbaro, un pueblo del estado mexicano de Guanajuato, Guerrero se crió rodeada de las riquezas culinarias de su pueblo. Y aprendió de la mera mera. Su abuela, Raquel, es muy conocida por todo el pueblo por su estilo de cocinar platillos tradicionales. Cuando Guerrero llegó a Estados Unidos hace años, vino con la visión de traer la cocina auténtica de Guanajuato a este lado de la frontera.
Pero primero se enfocó en cómo operar un negocio – y ahorrar lo suficiente para traerse a sus hijas a Estados Unidos. Trabajó arduamente en taquerías a través de toda la bahía por 14 años – regularmente metiendo 12 horas al día, seis días a la semana. En el 2012, se unió a La Cocina, una organización no lucrativa que ayuda a empresarios culinarios (y especialmente a mujeres) de bajos recursos para levantar sus negocios al proveerles un espacio económico que les sirve como cocina comercial. Luego durante ese año, realizó su sueño y abrió oficialmente El Pípila para pedidos de catering.
Sus hijas, Brenda (quien nos dio un tour) y Alejandra, ahora estan completamente integradas en la operación, ocupándose de soporte de marketing y respondiendo a pedidos de catering en inglés (Guerrero solo habla español). Inclusive Raquel está involucrada. De hecho, ella es la que hoy está haciendo el mole con su receta original – vino de México esta semana para ayudar durante Cinco de mayo.
El Pípila ahora sirve más de 500 personas cada día. Aunque se encuentra en The Hall, el servicio de catering sigue siendo su sostén. Tiene una variedad de clientes – la mayoría empresas de tecnología – a través de San Francisco y el sur de la bahía. En Dreamforce (la conferencia blow-out de Salesforce) el mes pasado, El Pípila sirvió más de 3,000 enchiladas, una experiencia que Brenda describe como "enloquecedora." Riéndose, añade, "la gente sí que le entró."
Y no hay duda de por qué – la comida de El Pípila es riquísima. Lo que más se vende es el pozole verde, un platillo tan bueno que el San Francisco Chronicle le dedicó un artículo de fondo. Otro antojito que sería pecado no probar son los sopes de nopales – un platillo que también se basa en la receta original de Raquel.
Pero El Pípila hace más que preparar comida fresca y auténtica a través del día. También regala un porcentaje de sus ganancias a La Cocina, la organización que lo ayudó a levantarse. El dar hace que todo valga la pena, dice Brenda. Cuando se le pidió dar un consejo a sus compañeros dueños de pequeños negocios, ella regresa al sentido de la comunidad. "Siempre hay apoyo," ella dice. "Solo tienes que ir a tu comunidad y buscarlo."
El Pípila utiliza Caja Square en The Hall