We recently sat down with Brittany Sarhage, owner of Rudy's Flower Truck in St. Louis, Missouri. Rudy, her 60-year-old Jeep truck, serves as a mobile flower shop.
Through partnerships with local businesses, Brittany brings Rudy across the city, trailed by loyal customers and new fans alike. Partnerships serve as a means to get the word out about her blooms, while connecting her customers with other local merchants.
Here Brittany speaks with us about Instagram, how she finds the business partners for Rudy's, and the struggles of running a business out of a 60-year-old Jeep.
Square: What was your inspiration for starting Rudy's?
Brittany: I've always wanted to open up my own business that provided a positive experience for customers and let them take away something tangible. I also wanted to change the flower culture here, so people become more comfortable with having flowers in their homes. You really don't need a special reason to buy a bouquet — having flowers should be an everyday, normal, beautiful part of your life.
We have a "floral gap" in St. Louis. There are traditional florists, which you wouldn't stop in to for just a few blooms for your house, and there's the grocery store, which doesn't offer a lot of variety. Rudy's is meant to be the fun answer to all of that — a helpful in-between. People come to our truck and decide how much they want to spend, and what they want in their bouquet.
Rudy's is also an opportunity for us to offer something positive to the St. Louis community. It provides something fun for both residents and tourists. I want St. Louis to be in competition with bigger cities in that sense.
What are your favorite flowers?
Honestly, I don't have one — my favorites change with the season. I will say that I particularly love peony season- in St. Louis, that's late spring and early summer and dahlia season which is early fall.
What are your customers' favorite flowers?
Customers really like to see different things on the truck, so our offerings are ever-changing.
Right now, they're more into a more minimalist look, and really like greenery. We always have different varieties of eucalyptus on the truck, and this filler called caspia — we always sell out of both! Year-round, our customers love ranunculus.
How do you differentiate yourself in the market?
The biggest differentiating factor for us is that we're mobile, so we're able to partner up with a lot of different businesses which helps us reach a larger market than if we were a store front. The experience of Rudy's is the first of its kind in St. Louis. We allow customers to go through the process of building their own bouquet at a sweet little truck, and that sets us apart, I think.
How do you get the word out about your location and other events?
Instagram is my best friend. That's really what I focus on, and we're always updating stories, bio, and location info. Fifty to 60 percent of people find us through Instagram. Facebook is helpful too, it just reaches a different crowd.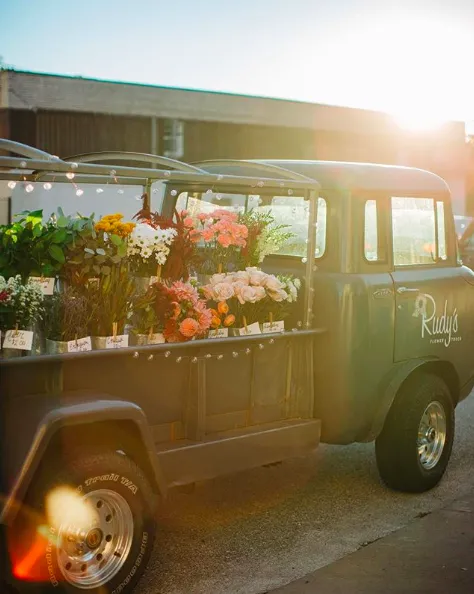 How do you find new businesses to work with?
I try to find businesses that click with us. I look at the environment they're creating for their customers, and the services and products they offer. It's important that we have a similar aesthetic and vibes and visions, and that the partnership is a good fit for both companies.
I have a couple of mutual friends who are business owners who helped me get my feet off the ground. I've had a lot of businesses reach out to me, and some people I've reached out to. Often customers recommend spots, then I'll reach out, usually via email.
We have a lot of people who ask to partner with us, but we've found that not everything is a good partnership. We want a similar customer base, similar aesthetic, similar thing that they're trying to do. When we do find partners that work, the people who have been following our truck get to try new businesses, and it's fun to watch them discover new favorites.
Do you have strategies to share for other business owners who might be looking to start partnering with other businesses?
Find businesses that you think your customers would enjoy. We've been open now for six months, so it's been a lot of learning. We've found that shops that have a similar customer base and a similar aesthetic are the best fit for us. Look for that, and you'll find your sweet spot.
It's also important to ensure that wherever you're going, the business owner or the manager is invested in the partnership, so they tell their customers about your partnership and build excitement.
What are some of the biggest challenges or adversities you've faced in starting and running your business?
The biggest challenge of running a business out of a truck is ensuring it's mechanically sound. The Jeep is 60 years old, and that can definitely be a challenge.
Rudy's Flower Truck can be found throughout St. Louis. Find it on Instagram, or order flowers for local delivery online.
Interested in sharing your own story? Submit your Square seller story here.
Photo credit: Katie Prestemon Photography