Purpose-driven businesses are agents for change. Not only can they help fix economic and societal issues, but they also resonate with customers who are looking for more meaning in the items and services they buy.
Data from Square and Wakefield Research found that giving back to the community is top of mind for consumers and business owners, given the economic ups and downs of 2020. More than four in five consumers want to see businesses donate food or supplies to causes in their community. And businesses are on board, with 92% of restaurants and 77% of retailers planning to take part in more community initiatives this year.
Research from Deloitte underscores the importance of conscious consumerism for millennials in particular, with 42% saying they started or expanded a relationship with a business because their products or services were positively impacting the world.
From sourcing socially responsible products to providing job opportunities to underserved groups, there are many ways you can add more purpose to your business model. We're spotlighting Square sellers who use their businesses to give back to inspire you to see how your business can do more good in 2021.
A retail store that helps Texas women gain their independence
Heartisans Marketplace is a gift shop and nonprofit that provides a job readiness program for unemployed women in East Texas. "They're really starting over," explains Julee Rachels, the founder and CEO. "We run the store to support the program."
Heartisans carries handcrafted items, most of which are produced in their in-house studios. The studios specialize in areas like monogramming, screen printing, and embroidery, and they also have a manufacturing kitchen where they create custom soup and snack mixes. These studios create some of the most popular products for the store and are also where participants get to learn. Volunteers mentor program participants in the life skills they need to eventually join the workforce and gain their independence.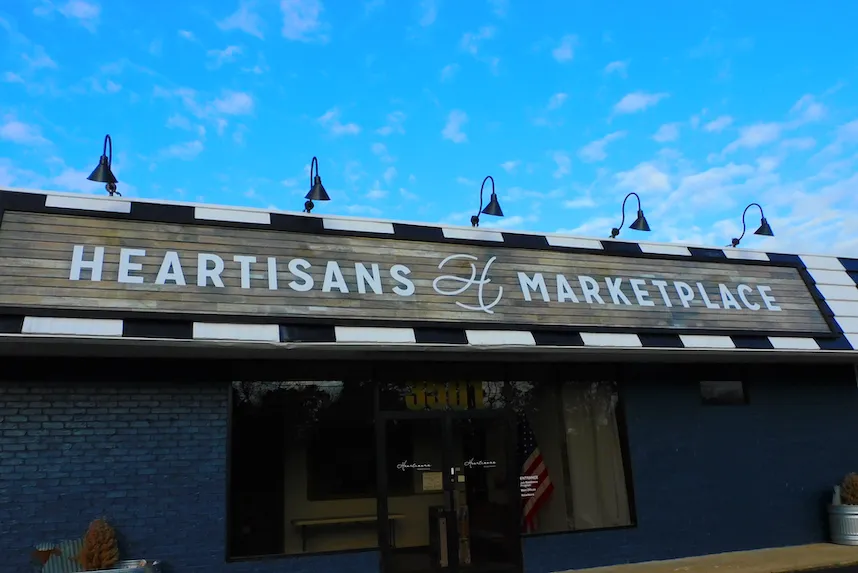 To expand their job readiness program, Rachels and Suzanne Flahie, the operations manager, started selling online in 2020. "Our online sales were higher than if our store had been open," says Rachels. The move allowed them to purchase new buildings and fulfill their goal of offering on-campus housing for the women in their program.
"The fact that our sales were double gave us the confidence to move forward with the purchase of the building," explains Flahie.  "We don't talk about things for long because we have women that need us," says Rachels, "and they just need a job."
A coffee roaster that sources products from underrepresented groups
California-based Red Bay Coffee is on a mission "to improve diversity in specialty coffee and the people that make money in specialty coffee," says Karla Mancio, the head roaster, on Talking Squarely. Mancio buys in bulk from African women and indigenous farmers as a way to increase representation in the coffee industry and help people achieve financial independence.
"Buying bulk, that's a big commitment," says Mancio. "And wanting to make sure that we put our money where our mouth is, and paying almost double for what is considered C price [the trading price] for all of our coffees," she explains. 
The coffee industry is predominantly male, from farming to roasting, and Red Bay aims to change that. "We want to see women farmers be more prominent, and usually, in countries that are producing coffee, [women don't have the liberties] that I get to enjoy here in the states," explains Mancio.
Once Mancio finds these coffee farmers, she then connects them with other buyers like herself. She vouches for them and tells others, 'Hey, we believe in this coffee, and we believe what they're doing, and we want to work with them again." This helps them build their businesses while enabling Mancio to find the most delicious coffee in the world for Red Bay. 
A thrift store that helps ex-offenders transition back into society
Sister Hearts is a 15,000 square-foot thrift store located in Arabi, Louisiana. That store provides the temporary employment ex-offenders need to transition back into society, along with meals and training. "Ex-offenders have been discarded by society," says Maryam Henderson-Uloho, the founder and owner. "Sister Hearts is a place where society discards unwanted items, too. So we relate to that trash. We're both getting second chances."
In prison, there aren't many choices. Henderson-Uloho's program gives participants the ability to start making choices on their own by organizing the thrift store, setting prices, serving customers, and gaining confidence in their abilities. "It really works because you start to think about your own value. And as ex-offenders we need that," she says. "They have purpose. They're part of something. They can redefine who they are as an ex-offender." 
Henderson-Uloho is an ex-offender herself, so she knows exactly what she needed when she re-entered society, and wants to give that to the participants she serves. "What I want to do with my life is to help other ex-offenders really live. I want them to feel how wonderful they are. I want them to know they matter. Just because they committed a crime, they're no less of a human being," says Henderson-Uloho. "They can regain their dignity. They can be successful after incarceration."
Learn more about Sister Hearts in the founder's own words.
A purpose-driven gift shop that donates a portion of their profits
"My family has always been passionate about helping others in some way," says Julie Mitchell, the owner of Fig + Oak, a purpose-driven gift shop located in Ashland, Ohio. "But we weren't sure how." Then Mitchell found her calling by launching a socially conscious retail store. "I thought it would be so cool to start a store about shopping with purpose. As we grew, we found more companies that give back and started selling those products," she explains.
Mitchell sells products that have one-for-one business models, like an accessories company that donates headbands to kids going through chemotherapy for every item sold. She also features products that are socially conscious in the way they're made. For example, she sells candles made out of tomato sauce cans; the company that produces the candles donates the tomato sauce to the needy. "From day one, that has always done well," says Mitchell.
In addition to sourcing products from companies that give back, Mitchell also donates a portion of her profits to charities in the community. Mitchell picks three causes to donate to every six months, and features them on the Fig + Oak website so customers can see the impact they've had while shopping at her store. 
An eco-conscious store that helps customers live more mindfully
When Kamala Allison bought a bamboo shirt for her husband, it sparked the idea for a conscious-shopping business. Allison is the owner of Fybr Bamboo, an eco-conscious retail store located in Santa Cruz, California, with an online store that ships nationally.
The store specializes in bamboo clothing, like pajamas and activewear, because it's not only luxuriously soft, it's also an environmentally friendly fabric. Bamboo requires less resources to grow than cotton, it grows fast, and it produces more oxygen compared to trees that are of a similar size. She also sources other socially conscious products, like those produced from recycled materials, all with the goal of making it easy for consumers to live more mindful lifestyles.
Fybr Bamboo also gives back by supporting the local community. Allison buys products from local businesses with similar eco-conscious items, like jewelry and bath and beauty products, to help bolster the local economy. When customers walk into her store, browse the online store, or tap their shoppable posts on Instagram, they can feel confident knowing that everything they purchase is ethically made, so they can feel better about the items they bring into their homes.
---
There are a variety of purpose-driven business models to try, whether it impacts customers, vendors, or other business owners. We hope the examples above inspire you to consider how your business can give back to the community, in the ways that connect with the value you already offer customers.