Every day, people use Square tools to help start, run, and grow their business — here's one of their stories.
Allison DeVane is the founder and owner of Teaspressa. She launched her coffee-inspired tea company from a bicycle-mounted tea cart in Phoenix, Arizona, in 2015. Allison opened her first brick-and-mortar location, appeared on Shark Tank, and was selected as a Tory Burch Foundation Fellow within her first year of business.
Today, she owns three brick-and-mortar locations in Arizona and Michigan, and sells products wholesale, through licensing, and online. Here's how she grew from a tea cart to four different businesses across the country as told to Square editor, Alise Bailey.
Square: What inspired you to start Teaspressa?
Allison: I knew I wanted to start a business, but wasn't sure what it should be. My dad asked me what I would do if I made a million dollars, and I knew immediately that I would make coffee. Coffee makes me so happy. But the coffee market is so saturated — there are already lots of great brands doing great things.
I knew I wanted to start a business, but wasn't sure what it should be. My dad asked me what I would do if I made a million dollars, and I knew immediately that I would make coffee. Coffee makes me so happy. But the coffee market is so saturated — there are already lots of great brands doing great things.
I decided to do the same thing with tea. I found this guy on the internet that was building espresso machines up in Washington, deep in the woods. I went up to meet him and we created the tea, and then we filed for a patent.
I actually came up with the name, Teaspressa, in the middle of the night. I paid for a domain name at 3 a.m., then claimed a Twitter and Tumblr account — all of the social accounts we'd need. Then I went back to sleep.
Tell me more about those first few months in business.
I was living with my mom, and every morning I would wake up early and dress up like I was going to work. In the living room, I made calls. I talked to all of the brands that I wanted to work with. I would offer to show up and sample my teas with my pop-up tea cart.
In the first few months I was working with brands like Lululemon and other high-end retailers. I would do a pop up with my product and share my drink. By the fourth month, I launched a brick-and-mortar location. I think the reason why it happened so quickly was because I hustled. I called people, publications, brands—and got the name out there.
Tell me about your appearance on Shark Tank.
I filmed Shark Tank around October 2015 — so that was still in the first year of the business. Just applying for Shark Tank was almost like a full-time job. I loved working with them — they're an amazing team and they genuinely want to help small businesses succeed.
It was very surreal to walk through those big doors. At that point, I'd never had to pitch my business and it was intimidating. Now, as an entrepreneur, Shark Tank is a star on my resume and it's really taken our business to the next level. I don't think anyone is ever ready to do something like that, but you should just do it. It really helped grow my business even faster.
And you started a kickstarter, right?
Yes! Within that first year we had retail space, but people wanted a way to experience Teaspressa at home. The kickstarter helped us raise money to kick off the online store and take-home tea products.
To this day, I don't have any outside investors — it's all been independently funded. Loans have definitely saved my butt. I've used loans for inventory and cash flow. As my business grew, I realized that I was actually building four different businesses, all with different needs to grow.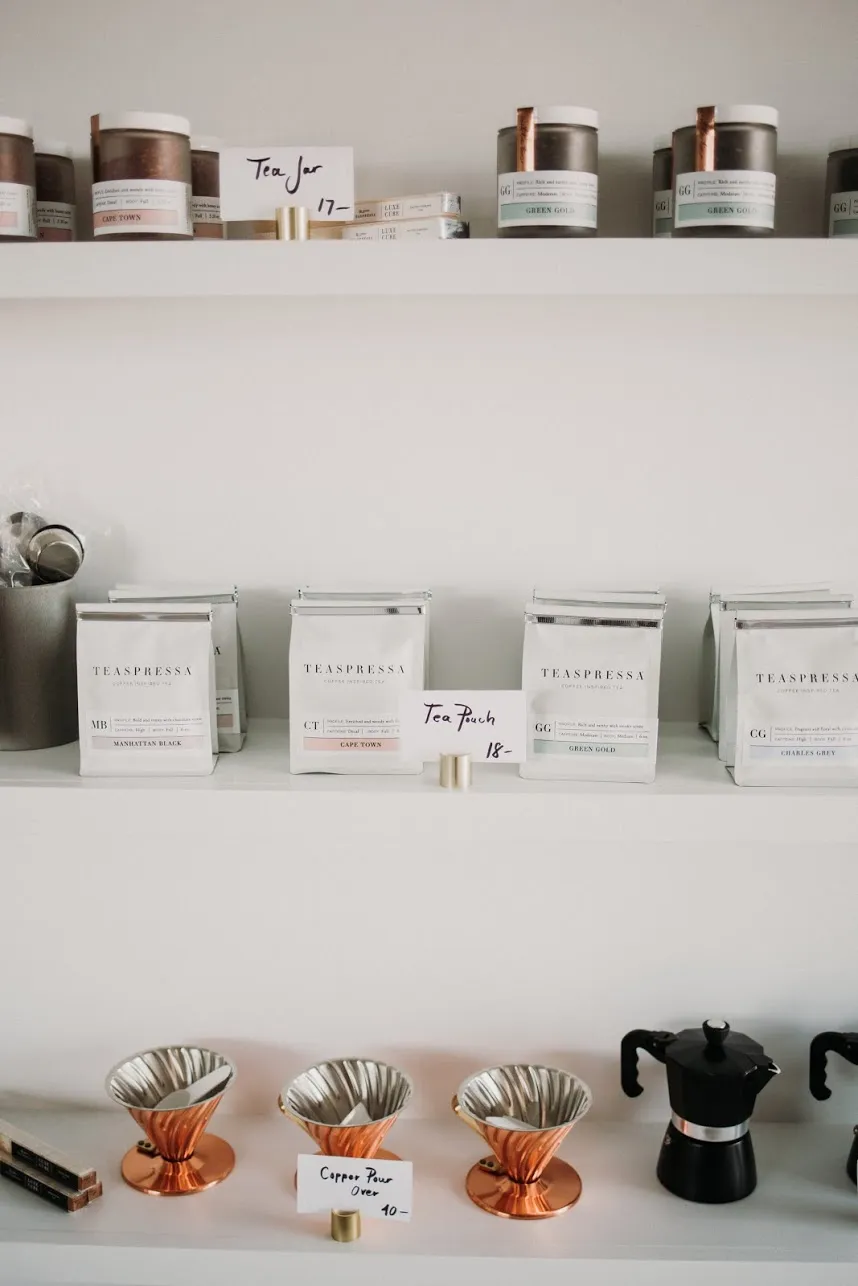 How did you get your product into retailers like Anthropologie and Neiman Marcus?
A lot of it was phone calls — I love phone calls. That and not being afraid to tap into my network. To get into Anthropologie, I used some of my contacts at the Tory Burch Foundation. It's all about follow-up and staying on top of it. When it came to Neiman Marcus, I was at a trade show and a buyer I met really liked the product. It became a combination of a little bit of luck and a lot of hustle.
You have two Arizona locations and one in Michigan. Tell me about starting your Ann Arbor location.
A college friend of mine reached out with an opportunity to open a new location in Michigan. At first I said no, since I didn't want to spread myself too thin and grow too fast. My mentor encouraged me to try it out and use it as a test shop to see how scalable our concept is. It's worked well, so the concept is scalable. But we've had to try different things to see what resonates best with customers there.
Ann Arbor has a lot of the same menu, but they have specialties — like a Spiced Ann Arbor Apple drink because apples are big there. They have paninis and donuts. There was a bit of a learning curve as we learned the demographics and adjusted to them. We viewed sales on Dashboard to understand how everything was doing as we tested different things out. I still use that to check on sales at all of my locations throughout the day, in both Michigan and Arizona.
How do you delegate as you grow?
If you were to have called me four months ago, my hands were in everything. More and more — as I grow — I'm starting to hand off more responsibility. My main job has become brand manager and sales manager for the wholesale business. I have a great team and I set benchmarks to ensure everything is maintained with really high standards.
Tell me about your experience as a Tory Burch Foundation entrepreneur.
I was a member of their first class. They put you through a business bootcamp and it included a $10,000 grant toward business education. I learned that if you take care of yourself, you'll succeed. Business education is important, and if you put everything in front but yourself, you'll never have space to grow and learn. I also learned to never be afraid to ask for help — but be confident in what you have to offer, and what your worth is.
What's your advice to aspiring entrepreneurs?
I would say there are three things: Always follow your gut — just do it. Never throw all your eggs in one basket and always have a contingency plan. And always plan for the worst to happen. When times are good, prepare for the bad times coming. That's something the [Tory Burch] Foundation really stressed — make sure to secure capital before you need it.
What's next for you and Teaspressa?
We're opening a new store downtown Phoenix soon. We'll also be introducing more products to mimic the in-store experience this summer, and we're developing more travel products.
You can find Teaspressa in Arizona and Michigan, at a local retailer near you, or online.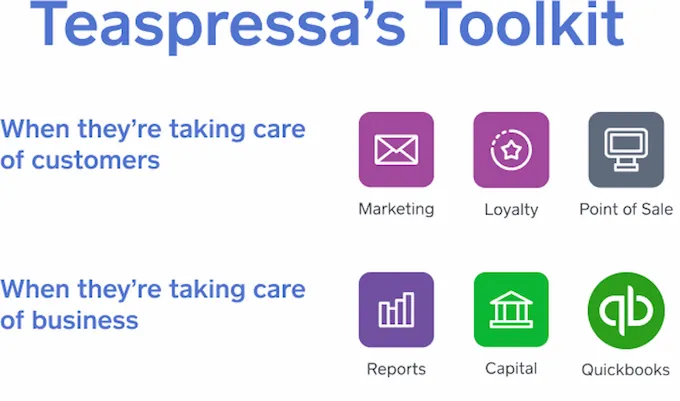 Running a business is no easy feat, but Square is here to help. We have all the tools you need to start, run, and grow your business, whether you're selling in person, online, or both. And we've made all our tools to work together as one system, saving you time and money — and making decisions easier. So you can get back to doing the work you love and focusing on whatever's next. See how Square works.