Every day, people use Square tools to help start, run, and grow their business — here's one of their stories.
Nate Hybl is the founder and owner of gusto!. He launched the healthy, fast-casual restaurant in Atlanta, Georgia, in 2014, after six years of research and development.
"Opening gusto! number one was the hardest thing I've ever done in my life," he says. "When I started chasing this idea, I didn't even know what bussing a table meant, so I spent years learning every aspect of the restaurant business."
Today, Nate owns four brick-and-mortar locations in Atlanta, has 130 employees, and is doubling in size in the next 18 months. Here's the story of how he grew, as told to Square editor Alise Bailey.
Square: What inspired you to start your business?
Nate: Originally, I set out to invent what I wanted as a consumer. In the South, there aren't many quick, better-for-you options. I was at a crossroads in my life. I knew nothing about business, I knew nothing about food, and I knew nothing about branding.
That put me on a five-, six-year journey studying brands across the country, working in my kitchen. I worked all different positions — dishwasher, server, grill cook, you name it — in everything from fast food to fine dining. I gleaned tons of information about the business of the restaurant world. I drove around with pots and pans, my grill, and my dog. I raised money based on recipes and a brand presentation that was pieced together as I went.
I fell in love with branding, the ingredients, and how people use them around the world. I'm from a small town in south Georgia, and gusto! became my vehicle for sharing an awakening — not being afraid of ingredients like ginger, mango, asparagus, and tomatoes. I truly believe that most people can like most foods, they just have to get out of their own way, and I bet my business on that.
I found that there were a lot of the same characteristics — flavor profiles, brand pillars, design — in fast casuals across the country. gusto!, as a concept, became a little bit where art meets engineering, in terms of putting together the menu and the brand. After those years of research and development, I jumped in.
How do you differentiate yourself in the market?
We want our shops to feel like they belong right in that part of town. That has to be very intentionally thought through. While one building is clean and crisp and modern, one has murals on the outside and is decorated with graffiti from local artists.
There's also someone at each location that markets specifically to that area with their own mission. We work closely with local organizations, churches, and schools to be part of the community. We're only in one city right now. Being Atlanta-born helps us win against some of the big boys.
Atlanta is really experiencing a reawakening. Innovation and creativity are booming. gusto! is lucky to be one of the players on the frontlines of driving innovation and having a voice for new, faster food options in the South.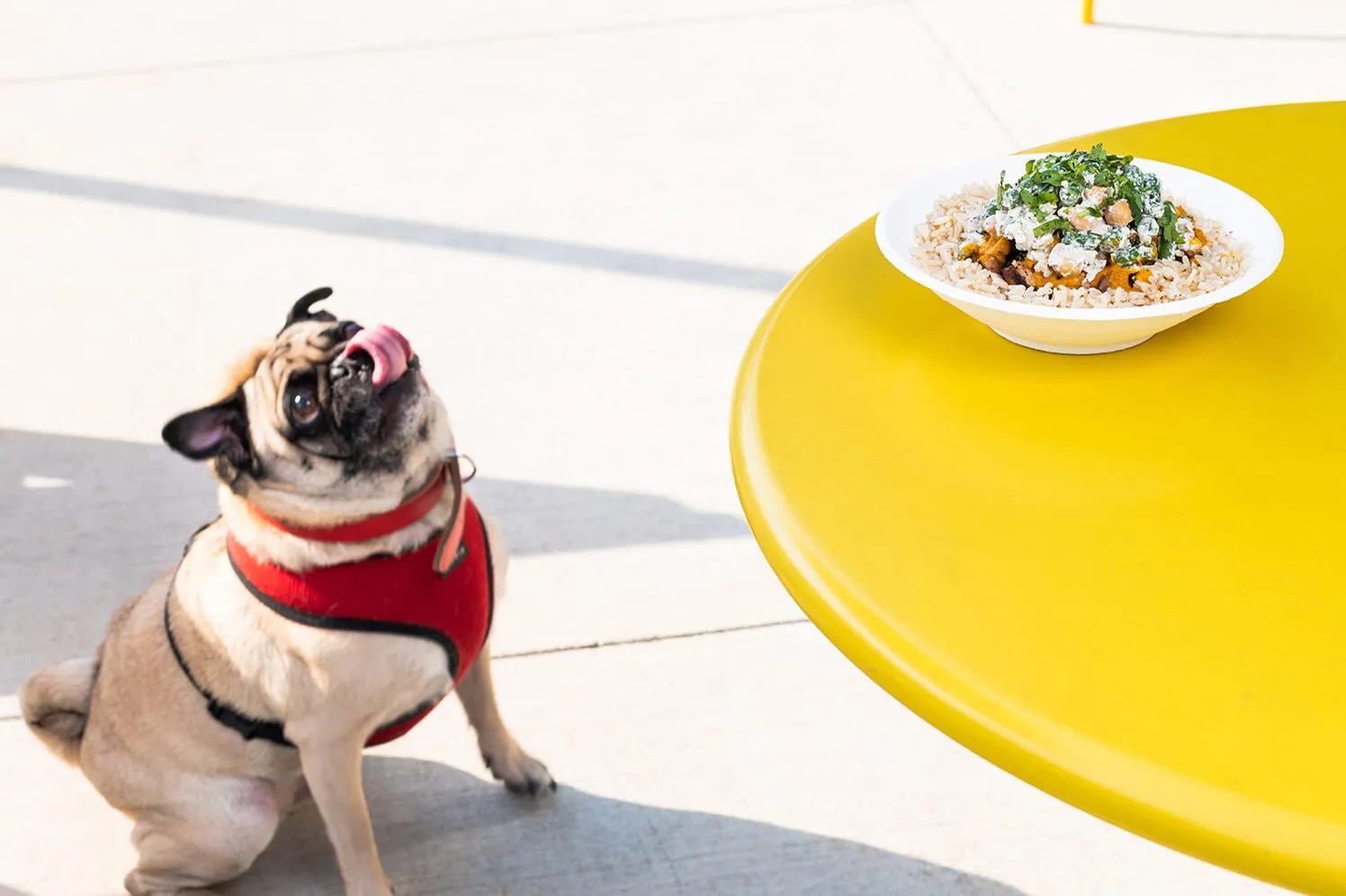 What does your day look like? Are there any tools that you use regularly to run your business?
That's hard to say, since it's always changing — it's a really neat thing to watch. Every day is a different learning lesson. I love being in the trenches with our guys and our guests because that's the heart and soul of the business.
Lately, I've had to reorient myself and find a new version of balance. My days usually start at 6:00 a.m. — once I'm up, I'm usually out the door pretty quickly. My first move is usually to my local coffee shop, Aurora. I love good coffee.
Then, my day typically consists of six to eight different meetings where I'm wearing a different hat. Marketing, branding, financial performance, design, leadership development — it takes a special kind of agility to move (well) in and out of these. We use tools like Square Dashboard, Hey Orca, and Slack to stay in touch with the business in real time. If I'm lucky enough to get by one or more of the stores, I will jump right into operations and become a team member.
How have you learned to delegate?
Recently, certain things have been delegated, which was really difficult. But letting go of some control has been one of the keys to growth, and I've surrounded myself with very talented, dedicated studs.
My job these days is to motivate, inspire, and invest in the human beings around me. It's not easy, but investing in people and growing leaders is so important. The restaurant business is the human being business.
Is there anything you hadn't thought about before starting a restaurant business?
I've been an athlete for most of my life. I wanted to embark on this entrepreneurial journey to redefine who I am, use my head and heart in different ways. I learned quickly that the entrepreneurial life is not for the thin-skinned. Prior to actually doing it, I had no idea the amount of toughness that would be required.
What does growth mean to you?
My very first business plan said that although I am a big fan of one-off, chef-driven, full culinary experiences, I wanted this invention to be repeatable, and to have a larger positive effect than just a restaurant. It's an interesting thing — Starbucks does an amazing job of this, combining individualism with scale. For gusto!, that means leaning into design, and making thoughtful decisions in new communities.
We've created a Local Operating Partner plan; it's a hybrid corporate and franchise setup. The local partner is really engaged with his or her specific community, and that makes selecting the appropriate partner our highest priority. Our vehicle for scaling is intended to be a thoughtful and responsible way to grow.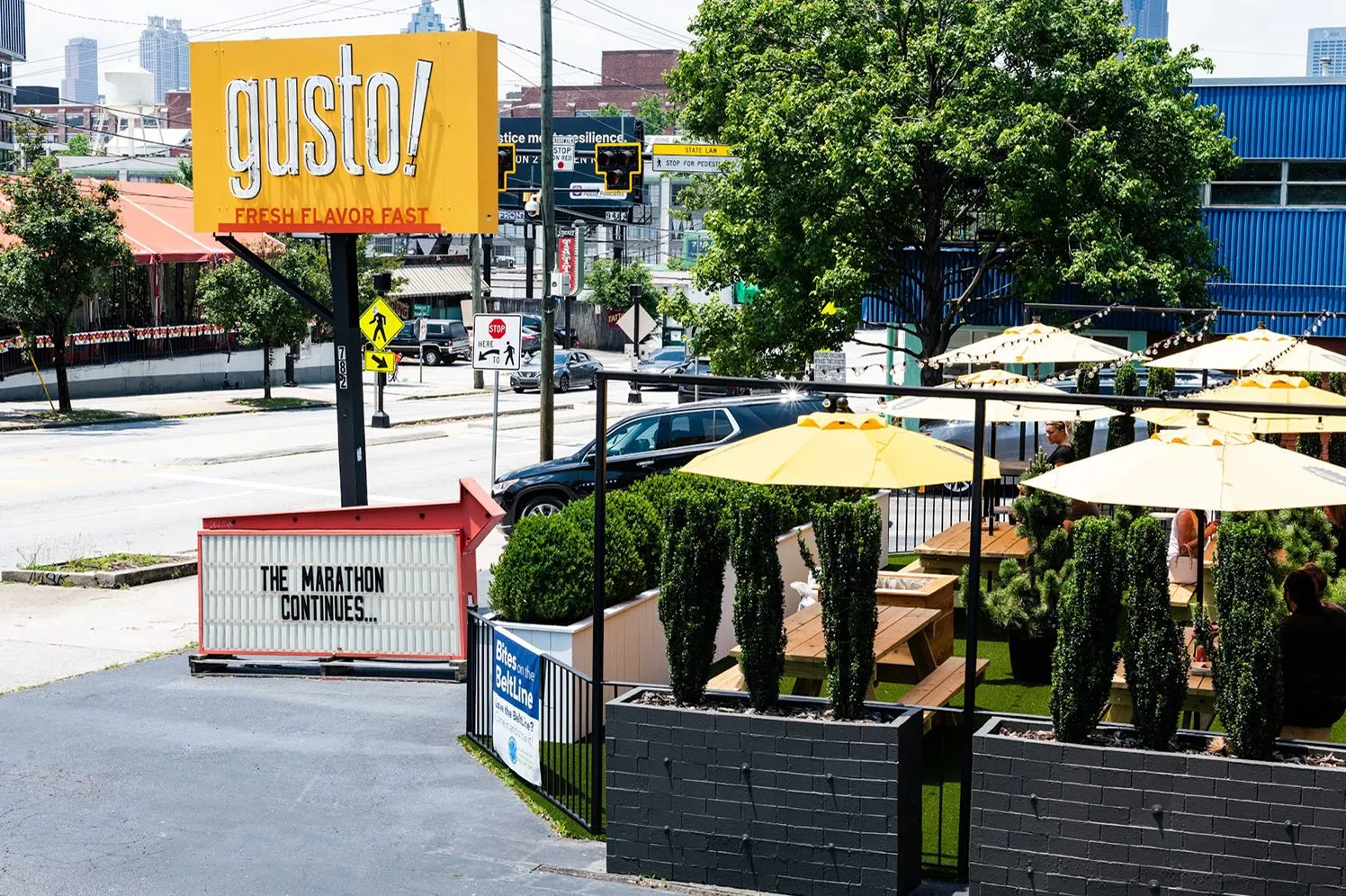 What are some of the biggest challenges or adversities you've faced in starting and running your business?
Investing in others, hiring the right people, training them, and then letting go is really hard.
What role has technology played in your growth?
We started out with a dinosaur of a legacy system. Frankly, I was shocked when we moved to Square POS, and I realized that we could be programmers. It scared me at first, but the interfaces are so familiar, the fact that we can change pictures, move this, change this. Absolute breath of fresh air.
Square is simple and reliable, and the interface is user-friendly and beautiful. The loyalty program that's integrated is a wonderful tool, especially across multiple locations — our guests love the loyalty system. We also use Square Marketing by pushing out selective promotional messages to different stores — which can communicate hyper-local to the audiences.
Customer feedback through Square is also a real differentiator. When we first started, I was so sensitive to any critical feedback. Nowadays, getting candid communication directly from the guest feels priceless.
Another major advantage that I didn't see coming: using digital invoicing for our catering platform. Catering is important in a big city. When we first started, we had delivery drivers getting a signature from clients on printed tickets. Square Invoices changed the game for our catering teams; proposals, invoicing, and payments were suddenly seamless and safer.
Our menu puts complexity on the head of a pin — we take global flavors and translate them into specific options for guests. We've found that our menu's simplicity plays perfectly with Square POS hardware and software. We look at Square Dashboard regularly, not only for sales and seasonality but also for menu mix info. We really pay attention to what our guests are choosing, and what they are not choosing. It truly helps us offer the freshest product possible.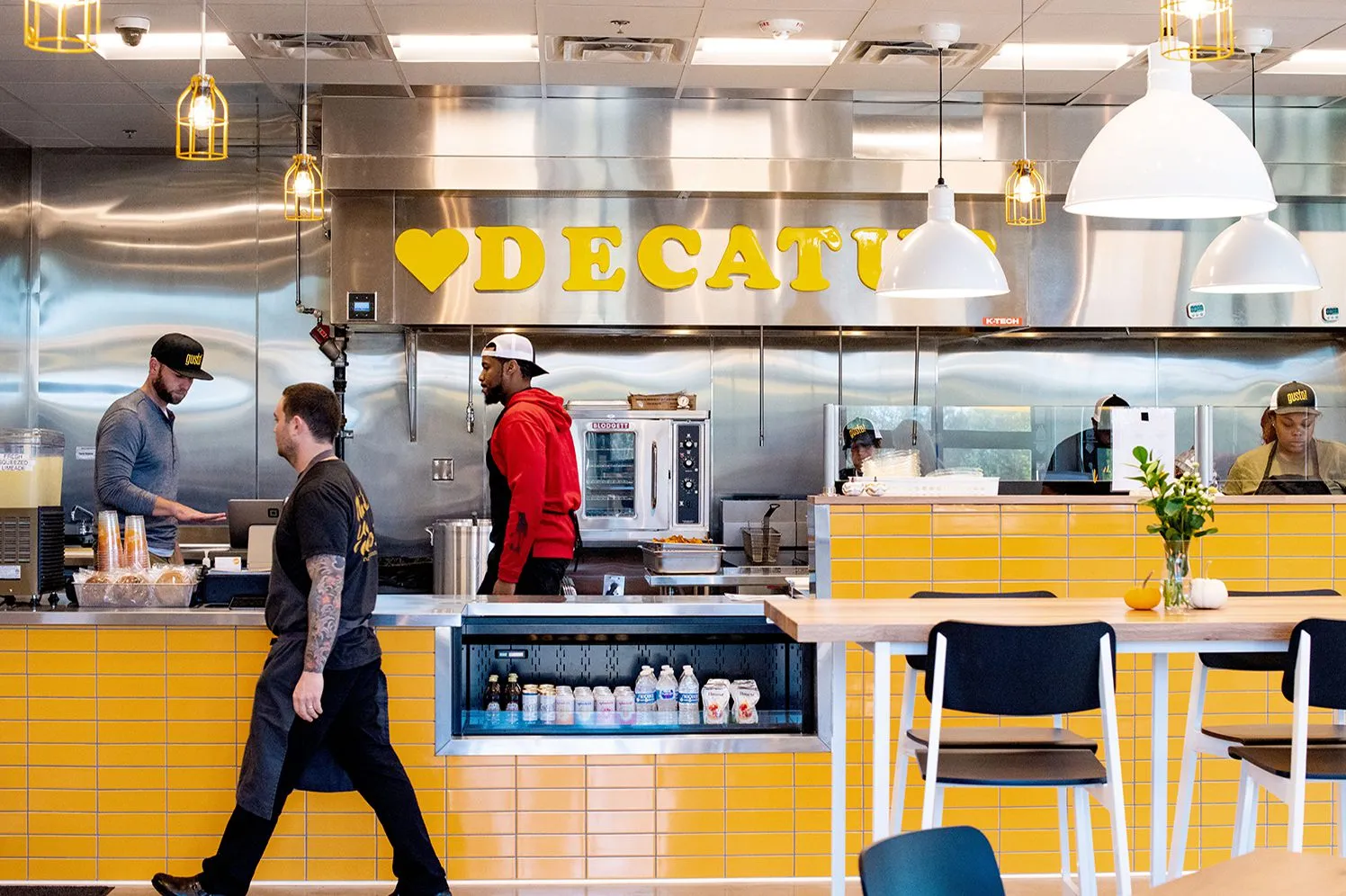 How do you see your business growing in the next five years? What's next for gusto!?
We're going to open four to five shops in the next twelve to eighteen months. That will double the size of our company. This fall we'll be launching what we hope is a revolutionary look at fast food, with a drive-thru at our new gusto! Chamblee location.
In the future, we'll continue to say yes to new ideas, keep pushing it forward. One thing I know isn't going away any time soon — that need for convenience, and the fact that folks are always running out of time.
You can find gusto! throughout Atlanta and follow along on its journey online.
Running a business like gusto! is no easy feat, but Square is here to help. We have all the tools you need to start, run, and grow your business, whether you're selling in person, online, or both. And we've made all our tools to work together as one system, saving you time and money — and making decisions easier. So you can get back to doing the work you love and focusing on whatever's next. See how Square works.