Every day, people use Square tools to help start, run, and grow their businesses — here's one of their stories.
Kallie and Lindsay Wesley, sisters and co-owners, opened their Hyde Park, Florida, retail space, Juxtapose, in 2011. "The shop began as a creative outlet for our studies — my sister studied drawing, I was a painting major," Kallie says. They started out with commissions for their work, then expanded to other artists. "Juxtapose is the tangible form of our dream of owning and operating our own retail store."
"We offer interior design services, and the space has become a lifestyle store. We have clothing, home items, gifts, and we're experimenting with some baby/newborn," says Kallie. "We have an evolving vision for the store, and Lindsay and I love to use the shop as a platform to showcase new outlets we like, and find new ways to introduce new brands to our customers. It's the modern woman's lifestyle shop."
Here's how Kallie spends the day, as told to Square editor Alise Bailey.
6:30 a.m.: I wake up and look at my phone — I check Square Dashboard compulsively. My sister and I switch off going into the store every other day, but we can always check in on how things are going in the store using the Square app.
If I didn't work the day before, I'll check in to make sure employees remembered to clock out, check on invoices, and see what sold. I'll also check Instagram. We're big on social media, so I'll check in on comments or messages we need to respond to.
7:00 a.m.: I'll get out of bed, then it's time for coffee (made by my husband), and I'll feed the dog. Then I'll get ready for the day.
8:30–9:00 a.m.: We live a town over from the shop, and my morning commute is along the water. I often spend the drive thinking about how I want to change up the shop. Once an item comes in, we rarely get it again, so many items are unique. We really strive to keep our store constantly changing. When we first started, we would stay up all night rearranging items, and merchandise would be everywhere. Now it's become second nature.
9:30 a.m.: The store opens at 10, so I do a quick run-over, replenishing items as needed. We always want to ensure that our space includes a place for the eye to rest, and a place for the eye to keep busy. We sell a wide variety, so we put a lot of time and thought into how it is presented.
1:00 p.m.: I start moving around one of the window displays. Even our store fixtures are on casters, so we can move things around. From a customer's viewpoint, if you're coming in once a week, and the rack has changed, you'll pick up on that, and you'll discover new things. That's really helpful for our sales — it helps change up our own outlook on the space.
I have a little Tetris game going with the window, so I'm shifting things around as customers filter in and out. I like to set up spaces like I would a canvas, where I build the background first, then move forward, and put things together by color. I like our windows to show window shoppers what to expect inside, so I try to include clothing, jewelry, home decor, and art in both windows to it paints an accurate picture.
4:00 p.m.: I check in on inventory. We use Square to manage the cost of goods and ensure our margins are intact, and understand where our sales are vs. historical sales. Keeping on top of our inventory is really important, since many of our items are one of a kind. It also helps us break down brands and categories, so we can better track sales trends.
6:00 p.m.: Hyde Park is filled with historical homes, and our street is in an outdoor shopping mall, anchored by national retailers. It feels very mom and pop, and local. It works well for our store, because most of our brands are national brands, people are seeking for a larger retailer, and we're kind of this little gem. We've had our "Shop Local for Good Karma" sign outside since we opened, and that's been our vibe ever since.
Sometimes our nights are dictated by whether one of the restaurants nearby is running a special, or if there's increased traffic to the retailers on the weekends. We have a salon next door, so women will pop in after getting their hair done every few months.
I love to look at analytics to see patterns, but I always try to expect the unexpected, and we have so many different types of things, everything is really up in the air.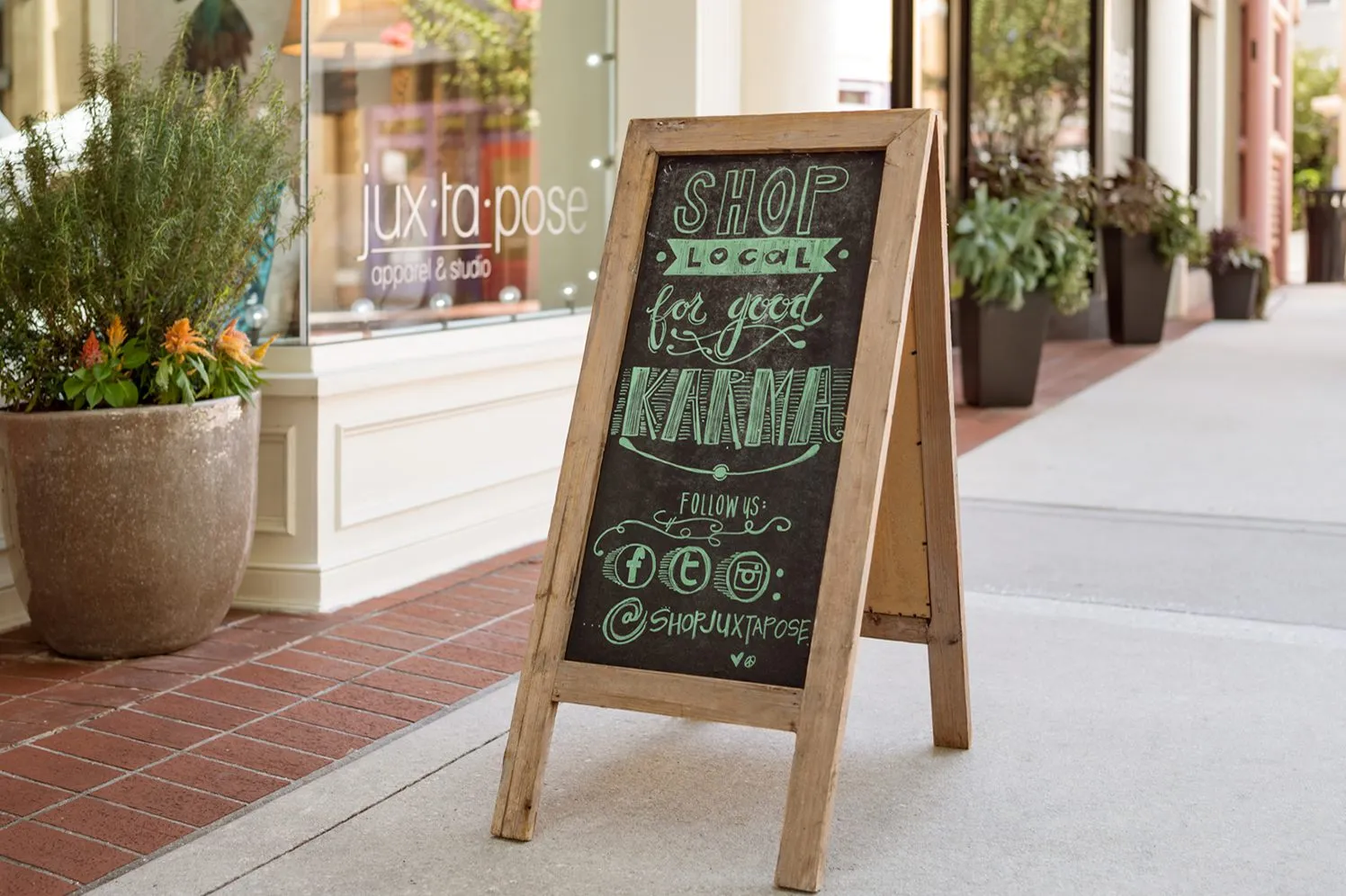 8:00 p.m.: Closing time, and time to head home. Throughout our life in retail, Lindsay and I have learned how to have a really good work-life balance. Our stores are open seven days a week, and one of us is always there during the week, but we aren't usually there on the weekends.
We've learned that you lose vision when you come in and look at the same thing every day. Our sales are definitely reflected in our attitude toward the store. If everything feels fresh, our sales definitely show that. We think that energy flows where thoughts go.
8:30 p.m.: At home, I'm definitely checking Dashboard again to see how the day went. I don't think I would be at ease away from the store without it. Dashboard allows me to know what's going on, minute by minute.
I'll check up on social media for the day. We're a little premeditated with posting, but it doesn't consume me. I've learned that owning a store, building a brand, being an entrepreneur, requires continual evaluation and evolution. It's striving to find the balance between your vision, and what is necessary for your brand to grow — the grass is always greener where you water it.
You can find Juxtapose in Tampa's Hyde Park Village, or online.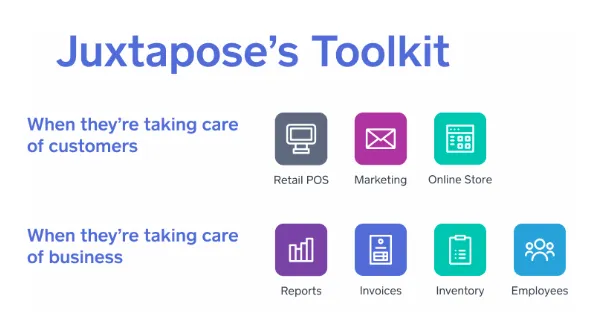 Running a business like Juxtapose isn't an easy feat, but Square is here to help. We have all the tools you need to start, run, and grow your business, whether you're selling in person, online, or both. And we've made all our tools work together as one system, saving you time, money, and effort. So you can get back to doing the work you love and focus on whatever's next. See how Square works.