We all know that people want to shop where they get the most bang for their buck. But what are customers specifically looking for from their favorite stores?
Seventy-four percent of consumers cite a flexible return policy as a big factor when they decide where they will, and won't, shop, according to a recent survey we conducted.
The survey — which asked 1,800 U.S. consumers how they discover, choose, and recommend businesses — also found that 42 percent of respondents would only be somewhat likely to try a retailer if they knew it didn't offer a return policy that fits their needs.
So how can you make sure you have the best return policy that appeals to your target audience?
Results showed that a big return feature consumers look for is the ability to buy online and return in the store. Bonus points from Gen Zers, millennials, and Xennials if they can go paperless and return without a receipt.
When it comes to having a customer-friendly return policy, which of the following would you say is most important?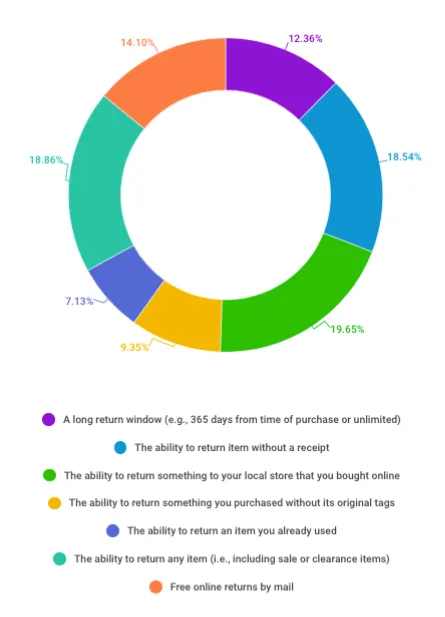 When it comes to having a customer-friendly return policy, which of the following would you say is least important?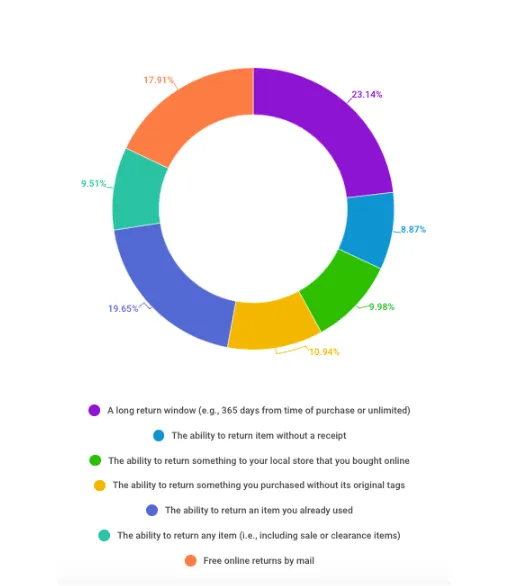 You may also want to think about widening your return window. While consumers in our survey didn't place huge importance on it, stores that offer more time for returns and refund a larger percentage of the original cost are the most effective at increasing overall sales, according to a study on return policies by the University of Texas-Dallas.
Here are a few steps you can take to make sure your return policy is right for your customers:
Do your research.
Before you create your return policy, make sure to do some research. Check out what your competitors' policies look like and aim to meet or exceed them. Be sure to read up on recent return policy studies to stay up to date on what consumers are looking for.
And don't be afraid to go straight to the source. Ask your customers for their thoughts on what they look for in a return policy and what would keep them coming back.
Set the standards.
Keep a documented outline of what items you accept for return, the condition they must be in, where they can be returned, and the timeframe (if any) in which they must be returned.
Make it clear.
After you've solidified your return policy, clearly communicate it to your customers. Make sure there is no question in your customers' minds as to what they can and cannot return. You should also be clear about whether you offer money-back refunds or store credit. Then make sure the policy is posted in your store and on your site.
Return policies are a big part of your store's customer service. If you provide an easy and convenient shopping experience, you'll have no problem getting customers through your doors.