When customers open up their purchases from Botanic and Luxe, an earthy lifestyle boutique in Santa Cruz, California, the package instantly connects them to the store, no matter where they are. "It makes the customer feel seen," says co-owner Ariel Stirm. "Every package feels like a gift, even if it's just for yourself."
The unboxing experience is when shoppers open up a package, take out what's inside, and in some cases, record the moment and share it on social media. And it's a huge opportunity for you to stand out and extend your brand. In fact, our Future of Retail report found that 74% of retailers plan to improve the unboxing experience this year.
For eCommerce businesses, unboxing is a particularly effective way to make your brand stand out, since the package is the first physical interaction customers have with your product. If you offer a subscription service that sends physical products, unboxing is also a core part of your business model, since the experience of opening the box is also how you market your service.
So what does a creative unboxing experience look like in action? We'll break down what unboxing means and how creative small businesses are using that moment to make their brands come to life.
What is unboxing and why is it so popular?
Unboxing builds excitement for customers and gift recipients, and it has the potential to bring your brand in front of countless other people if your customers record their unboxing experience and share it with their followers. And it's a strategy retailers and consumers are increasingly interested in, according to data from our Future of Retail report.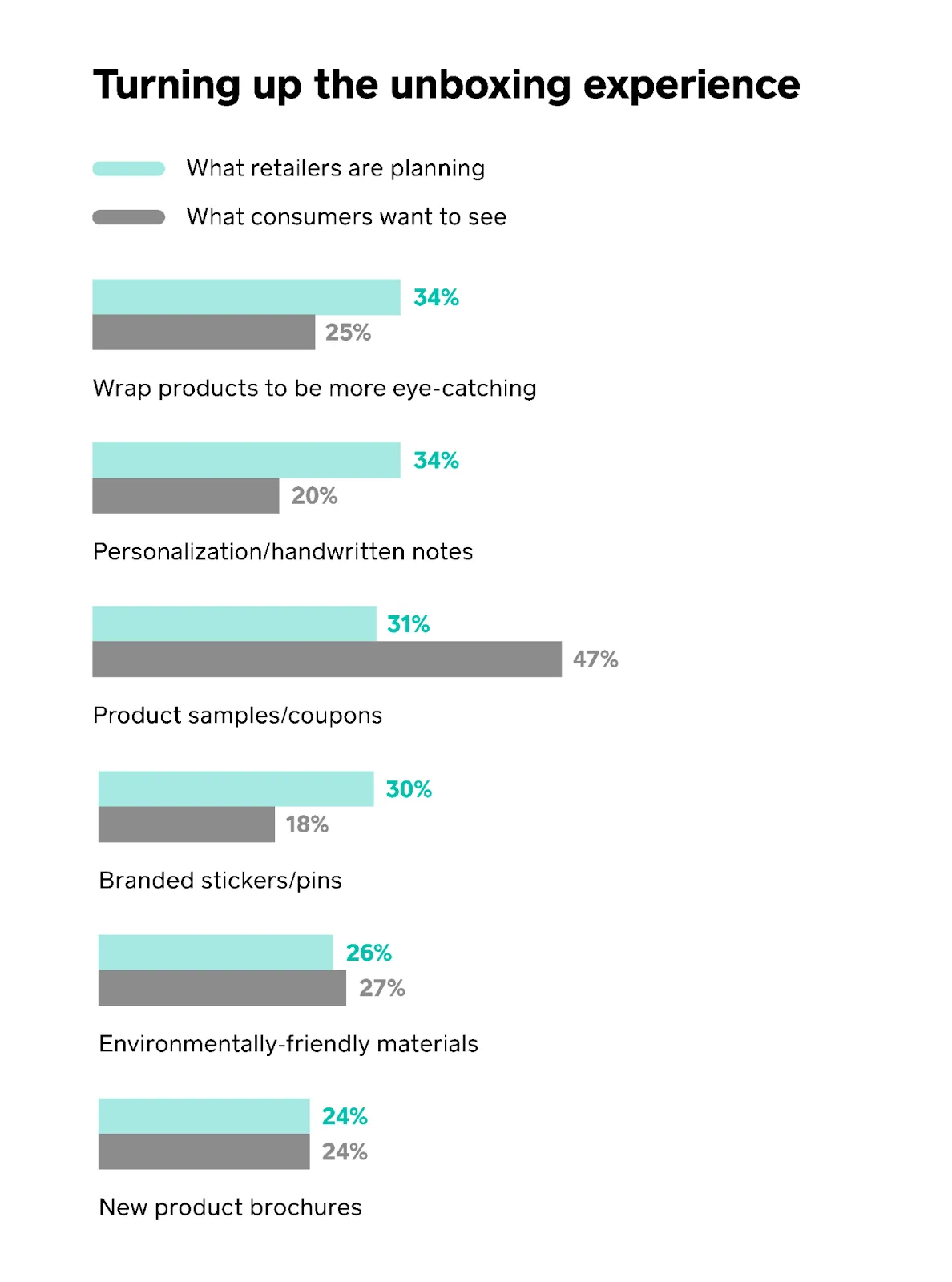 If you sell in multiple places, unboxing allows you to extend your brand across your in-store shopping experience and online presence. Creative unboxing experiences recreate some of those meaningful in-store moments shoppers have with displays, coupons, and merchandising that make your goods so hard to resist.
4 ways to make your brand come alive through the unboxing experience
Opening up a package, even if you know what's inside, still feels like an adventure. A memorable unboxing experience gives customers something they didn't expect and, in some cases, can make them feel like they got even more value out of your products. Done right, it also connects customers personally with your brand, since they can feel like it's an extension of their own personal brands, pushing them to share it on their social channels.
We talked to small businesses to hear how they use the unboxing moment to connect customers with their brands.
Make sure your brand is represented on all parts of the package
Branding is at the heart of memorable packaging experiences. For Hi—Lo Liquor Market, a new take on the corner store located in the Los Angeles area, their clean-yet-vibrant brand has attracted customers who feel like it represents their lifestyles. "I think people start associating themselves with the brand. You kind of feel like it's your own, you know?" says Arvin Haruthunian, the operations manager.
And their packaging is a way to continue to build on that connection with customers.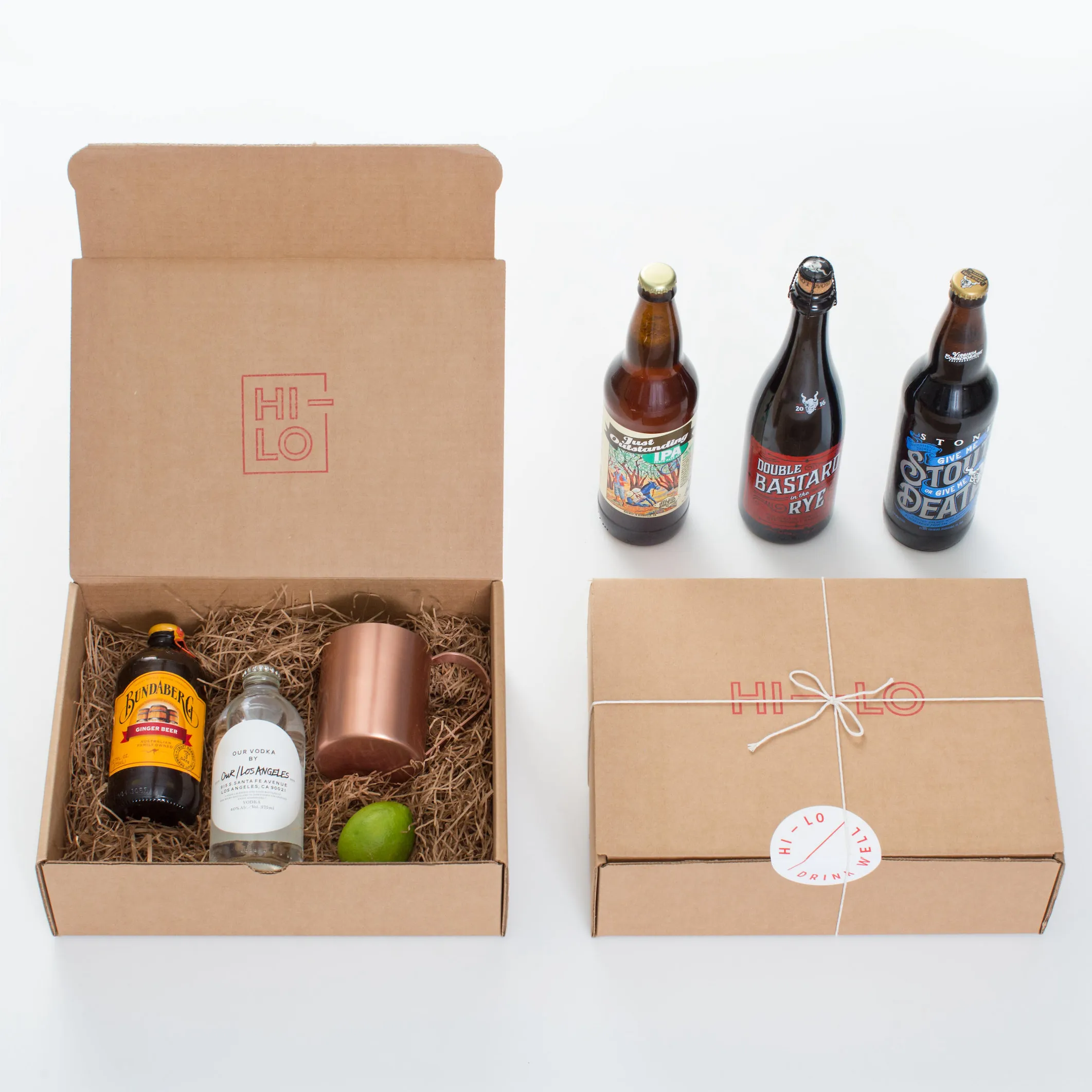 "It feels like your store when you walk in. We try to connect that with our shipping, packaging, merch, so it's all consistent," says Haruthunian. Their packaging includes branded elements like stickers, coasters, and recipe cards for mixed drinks, all tied to the same aesthetic customers find in store. "We want it to look and feel the same way in the store as it is with the packaging."
For businesses with brick-and-mortar locations, packaging is an opportunity to extend the in-store feeling beyond four walls. At Botanic and Luxe, each element of their packaging is branded and connects with the same vibe of their flagship brick-and-mortar store. "We feel that [packaging] is a really important part of the brand because we can't talk to each customer," says Ariel Stirm, the co-founder. "It's our only way of communicating how our brand feels in person."
That package includes branded tape and stickers, khaki tissue paper, a handwritten note that says "thanks for supporting our business," and a card that says their business repurposes the packaging.
Get creative with the box and packaging materials
You want your package to feel like an experience and look organized enough to photograph well. 
Maison Danel, a San Francisco tea salon and patisserie, needed to figure out a way to package up their popular afternoon tea service so their community could continue to enjoy it during shelter in place. So co-owners Danel and David de Betelu created a bento box where each part of the tea service, like tea sandwiches and jams, have a special spot in the box. "You can now take the experience with you, or get it delivered, versus not being able to come to the tea salon for that experience," says David.
Botanic and Luxe reuses the shipping materials they get from suppliers to create more eco-friendly packaging. "When you lift up the nice piece of tissue paper that we put on top, we have reused packaging below," explains co-owner Ariel Stirm. "We have a little custom card explaining that our packaging is reused because we want people to understand why it looks like that," she explains.
Give something extra, and make it personal
At Briggs and Brighton, a South Carolina-based jewelry company, owner Bethany Dorn adds a handwritten note to each purchase, despite it being hard to scale. Our research found that 34% of retailers like Briggs and Brighton plan to add a personal touch to their packaging experience in 2021.
"It comes from me directly," says Dorn. "It's a genuine thank-you for purchasing and spending your hard-earned money on my product." Customers end up posting the thank you note and package on social media. "As a result, people feel seen and appreciated," she says. "Because they are."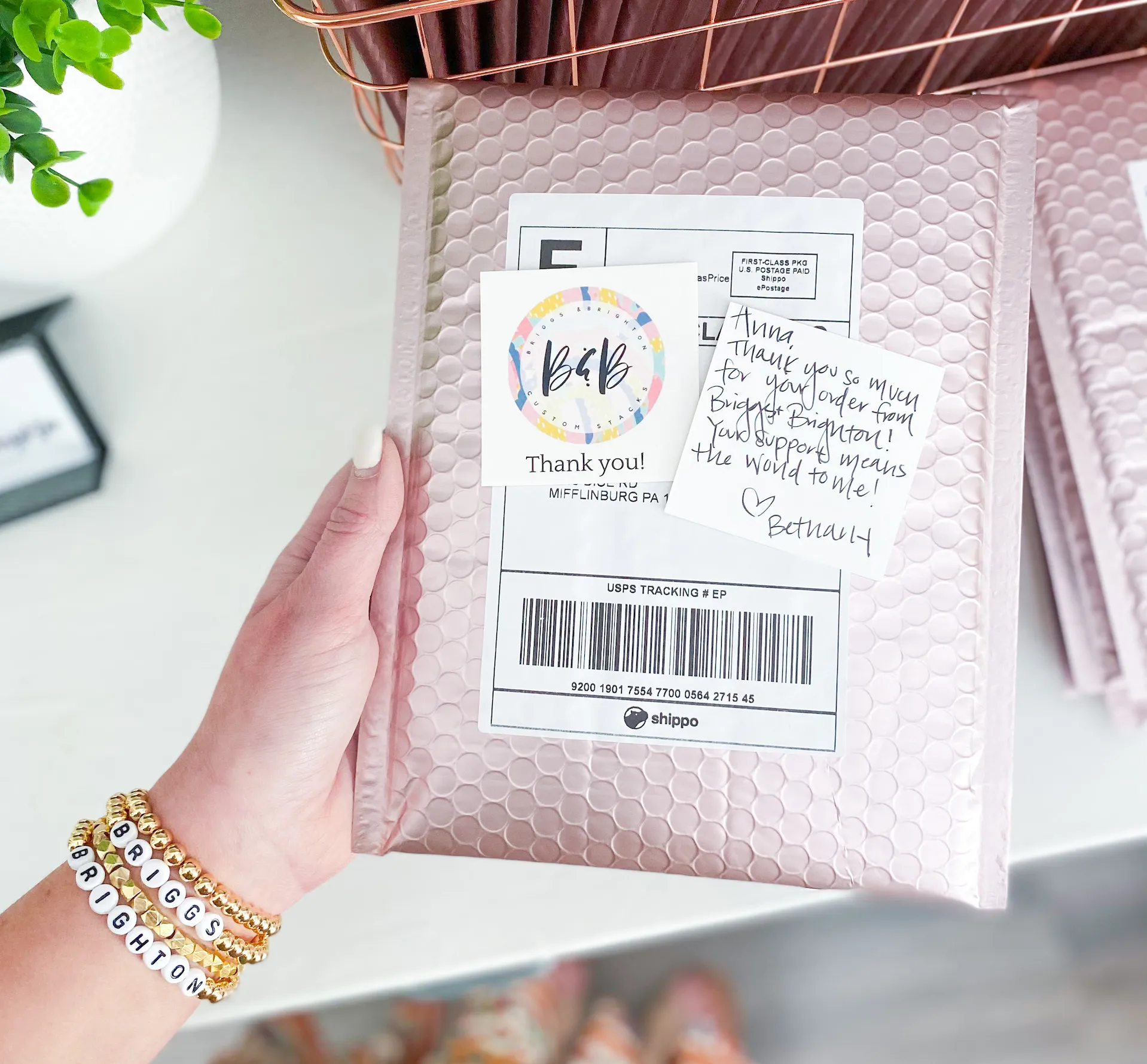 Botanic and Luxe adds a dried eucalyptus leaf and rose to each package, making the unboxing experience memorable and tying the packaging itself to the earthy, California-vibe of the brand.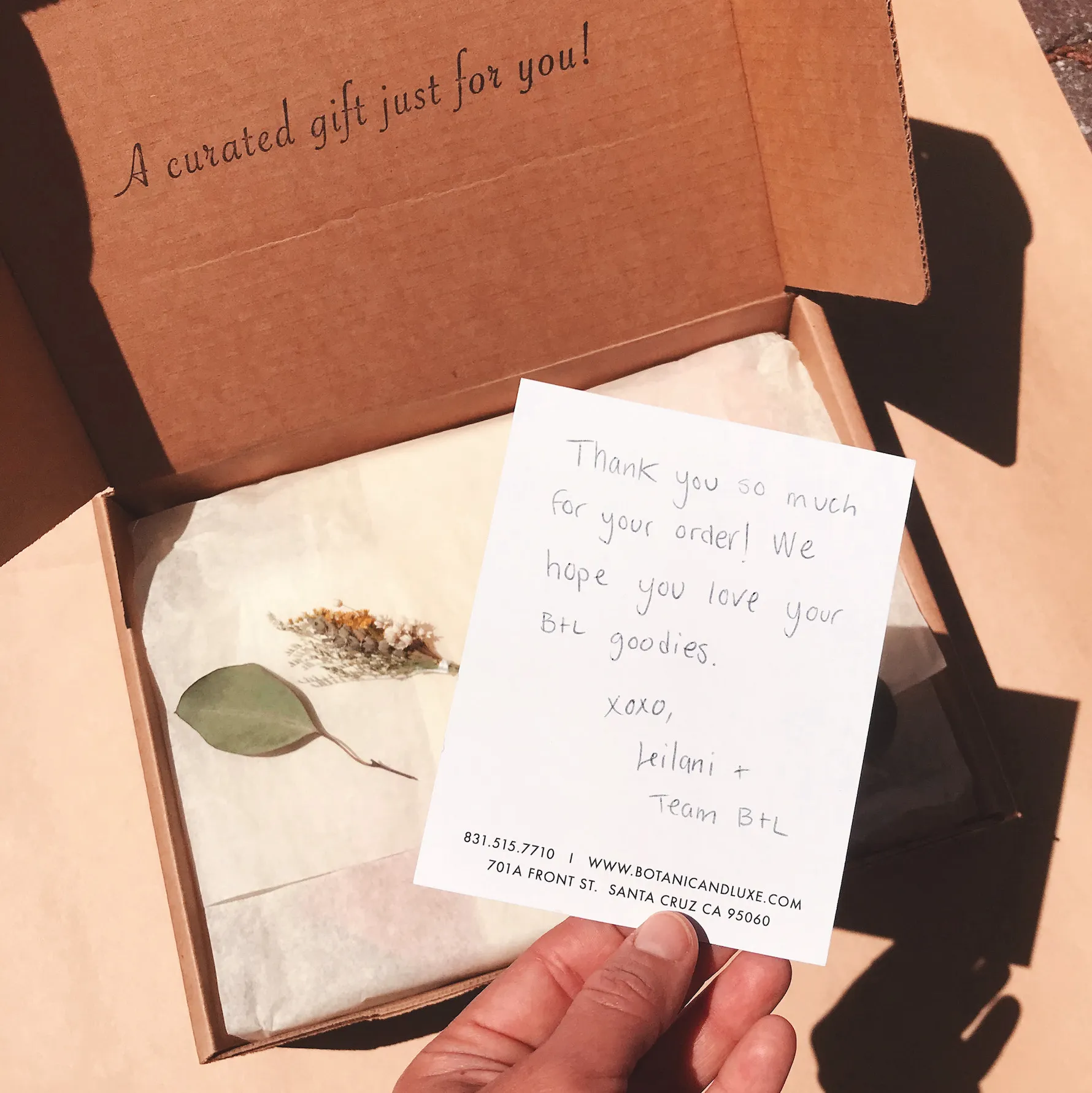 Similarly, Hi—Lo Liquor Market includes coasters and branded stickers, along with a recipe card, which adds more value to customers' experience with Hi—Lo.
"We have branded cocktail cards — no one else is really doing it — where it's like, here's the suggestion of products you can get and here's the cocktail recipe to make it," explains Haruthunian.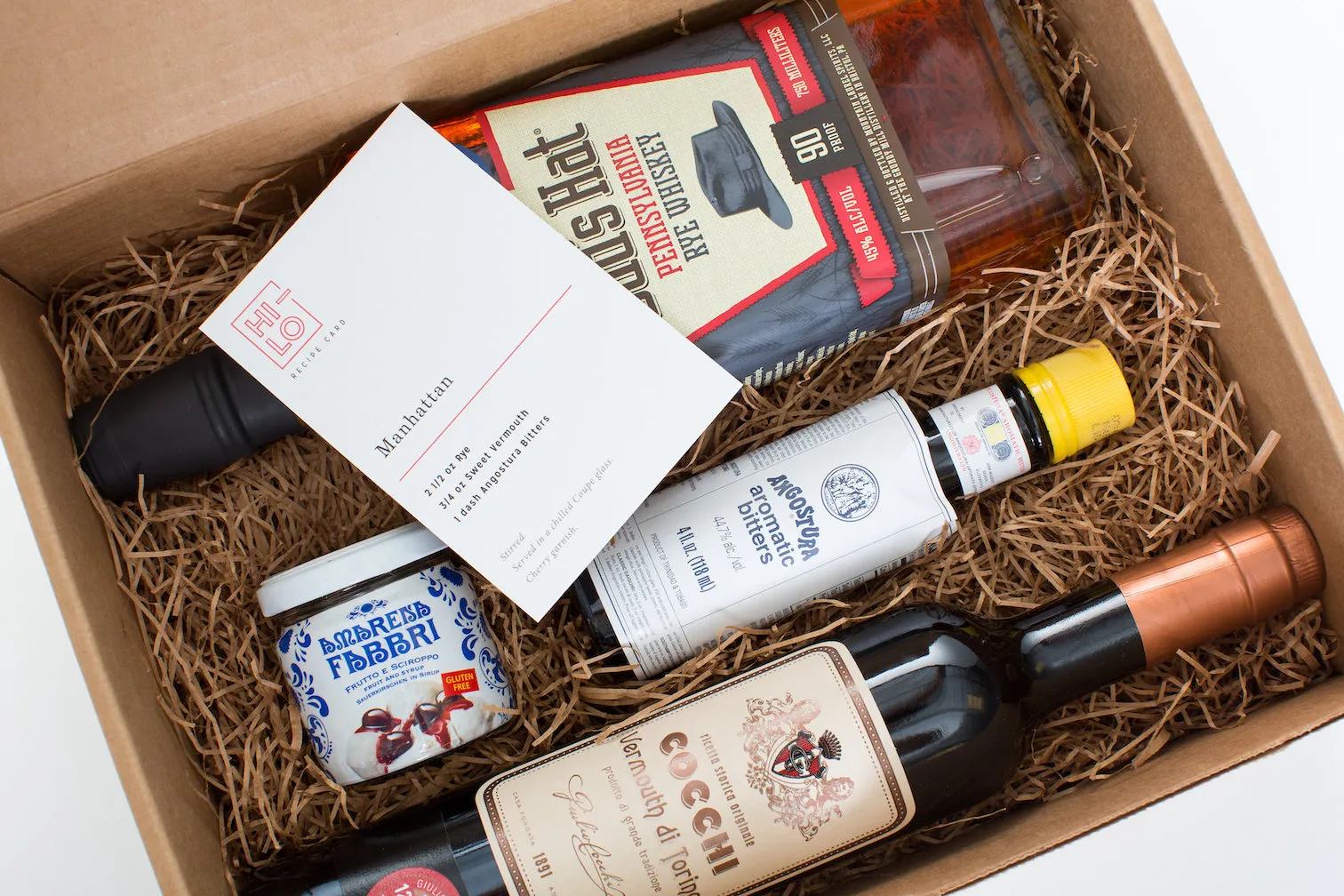 Encourage customers to share their unboxing experiences on social media
When your unboxing experience is unforgettable, it can be hard for customers not to share it with others. That's why the business owners we talked to recommend making it easy for customers to share their purchases with the world, particularly on visual platforms like Instagram.
"We get a lot of [Instagram] tags," says Haruthunian. "These posts lead to new followers, and new followers lead to new business. I have no doubt that Instagram is one of the key motivators for new business."
In addition to telling customers which social account to tag, it's also important to engage with them to encourage posting. Stirm of Botanic and Luxe says they share Instagram posts of customers' unboxing photos and videos, thanking them for taking the time to spread the word about their business online.
---
Every part of your customer experience is a chance to win people over. Use the unboxing experience to market your brand, create a fun experience, and make customers feel like your brand is now a part of their own personal brands.
While it does take an initial investment, the sellers we spoke with prove that creating a memorable unboxing experience can pay off — well beyond that first thrilling moment.