Table of contents
As a small business owner, you're always juggling multiple functions — and you're constantly on the go. Mobile apps help you keep up with crucial aspects of your business. Here are 15 of the best retail apps to help you grow and manage your business.
The best free apps for retailers
Free apps are a great launching point to give you baseline information about your business and streamline your day-to-day tasks — without spending a fortune on a software platform.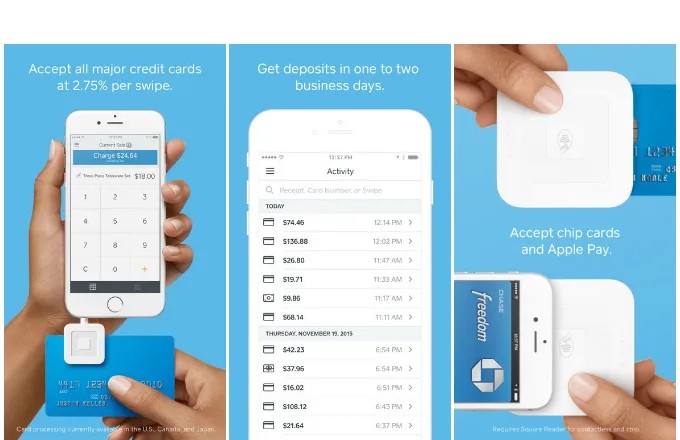 1. The Square Retail app (pictured)
Square for Retail includes everything great about Square's free point-of-sale app — like integrated payments — as well as tools that cater to the specific needs of retailers. The app comes with powerful inventory management set up for multilocation management, stock alerts, and in-depth reporting. In addition, Square for Retail provides tools that help you maintain better relationships with your most loyal customers by creating customer profiles, customer groups, and customer notes.
Monthly fees: Free for 30 days; $60/month/register after trial
Available: on iOS and Android
2. MagicPlan
If you're opening a new storefront or looking to change up your existing one, MagicPlan can help by quickly creating professional floor plans and budget estimates. Just snap some photos and the app measures the room and draws everything up. You can also add objects and photos to generate more detailed estimates. Users think the app is simple and easy to use, and it gets praise from commercial contractors, small business owners, and design hobbyists alike.
Monthly fees: None, but floor plans must be purchased individually at $2.99
Available: on iOS and Android
3. Genius Scan
Signing and scanning documents can be a bit of a pain; it requires that you be near a scanner, which isn't always easy when you are a busy business owner. With the Genius Scan app, your phone becomes a scanner. Simply sign your document and take a picture with the app. The app saves the image as a high-resolution PDF or JPEG that you can email right from your phone or save to a cloud storage app like DropBox or Google Drive. It even has filters that increase contrast, ensuring that PDFs sent are actually legible. Users love that it saves them from hauling documents back and forth.
Monthly fees: None
Available: on iOS and Android
4. Google Drive
If you're already using a Gmail account for your business, you have free access to the G Suite. That includes Google Drive, which lets you keep all files related to your business in one place that you can access from your laptop, tablet, or phone. You can also set sharing permissions to allow people to view, comment, or edit documents, and you can view files offline. This allows you to collaborate safely and easily with clients or employees anywhere.
Monthly fees: None
Available: on iOS and Android
5. Snapseed
Instagram is one of the most important social media channels for retailers. But to stand out in people's feeds, you need impressive shots. Snapseed is an app that comes with a huge selection of editing tools and exceptional filters to make your product photos pop. Users love that it can make any ordinary photo look professional, and that updates are continually being made to improve functionality, filters, and tools.
Monthly fees: None
Available: on iOS and Android
The best retail apps for payments
Using an app for payments allows you to accept customer transactions from anywhere, with any major credit card.
6. Square Point of Sale (pictured)
Square's free POS app is a hyperintelligent system built specifically for small businesses. The Point of Sale app lets you ring up customers in seconds and includes basic inventory management features and in-depth reporting. Square Point of Sale also lets you send professional online invoices (which are free to send) straight from your mobile device. Use the Square Point of Sale app as a mobile POS on a smartphone or a tablet at your counter.
Monthly fees: None (pay 2.6% + 10¢ per each swiped, dipped, or tapped transaction, 2.9% + $0.30 per invoice paid online)
Available: on iOS and Android
7. Zoho Books
Zoho Books helps you create and send invoices, get quotes from vendors, and track payments. You can also upload expense receipts and bill directly from the app, then categorize them from your phone. The app has real-time updates so employees across multiple locations can see the same info, reducing communication errors.
Monthly fees: $9/month/organization for up to two users, up to $29/month/organization
Available:on iOS and Android
8. Xero
Xero's accounting app helps you take care of bills and expenses, pay employees, and manage purchase orders. Your data is saved in the cloud, so you can access it from your phone, tablet, or laptop; that also means that if any of your devices are ever lost or stolen, you won't lose any of your information. Xero's accounting app helps busy business owners handle expenses quickly and easily, even letting them see their cash flow in real time. Users call it a life-saving accounting app.
Monthly fees: $9 per month to reconcile up to 20 bank transactions, and up to $70 per month for the premium plan
Available: on iOS and Android
The best apps for inventory management and shipping retail goods
The first step in a successful transaction is to make sure you have what the customer wants to purchase. Good inventory management is crucial to ensure that you have the right products available, when and where you need them.
9. Shopventory
Shopventory is an inventory management system that integrates with your point-of-sale system. The software has analytics that let you see your profit margin at a glance across a time period, item, or category so you can optimize your inventory better. For example, Shopventory can identify the items that aren't selling well, so you know what you should discount or discontinue. The easy-to-use system is best for small and medium-size businesses.
Monthly fees: Basic plans are free for one location, with paid plans starting at $24/month for businesses with one location
Available: on iOS and Android
Many times, a transaction ends with payment at your cashwrap. But if you sell online or over the phone, you need to fulfill orders and ship items, too. Shipping services are a great way to manage costs and ensure your goods get where they need to go.
10. ShipStation
ShipStation is a huge time-saver when it comes to shipping. It streamlines your fulfillment processes with batch label creation, connections to the top shipping carriers, and custom tracking emails to customers. The web-based system is hosted in the cloud, which means you can access the data anywhere (you can even get order alerts on your Apple Watch). Small business owners call ShipStation a fast, easy-to-use solution.
Monthly fees: from $9 to $145/month
Available: on iOS and Android
11. AfterShip
AfterShip is a free mobile app that lets you track packages across more than 370 carriers including UPS, FedEx, DHL, USPS, DPD, TNT, China Post, and Royal Mail. It has tons of time-saving features such as bar code scanning, auto-detect courier detection, and free push notifications that keep you up to date on your package's status. Users think it's a must-have for any seller who buys and ships products globally.
Monthly fees: None
Available: on iOS and Android
12. Shyp
Avoid unnecessary trips to the post office with the Shyp app. The company's couriers come to your door to pick up what you need to ship, package it, and then send it at the lowest price. Although the app is currently only available in San Francisco, Los Angeles, New York, and Chicago, customers love the 20-minute pickup service and convenience.
Monthly fees: $15 for a one-item pickup, $10 for two items in one pickup, $5 for 3+ items in one pickup, with a 5-percent discount for 20+ items per month, and 10 percent off for 50+ items per month.
Available: on iOS and Android
The best apps for managing employees
Managing employee schedules and keeping track of timecards can get pretty complicated. These apps can help simplify the process.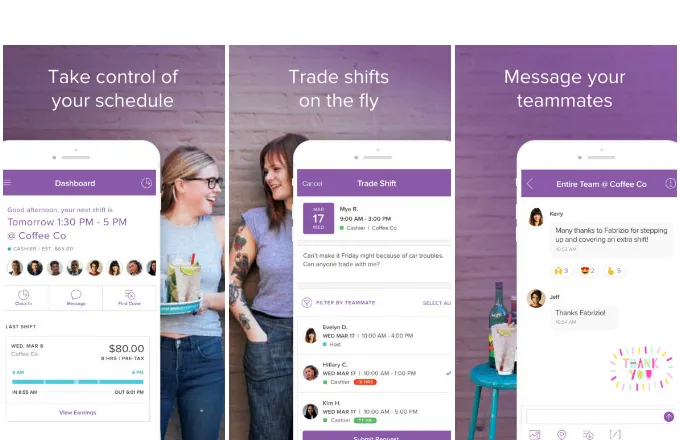 13. Homebase (pictured)
Building employee schedules manually can take a lot of your time. But with Homebase, you can schedule out your team in seconds. You can also view the clock-in status of all employees, add or edit their timecards, and track scheduled and actual labor costs to keep an eye on your employee overhead. The app is also convenient for employees, since it gives them better access to schedules, shift trades, shift covers, time off requests, and availability.
Monthly fees: None
Available: on iOS and Android
14. Deputy
Deputy's mobile apps help you plan shifts, clock employees in and out, and notify your employees of schedule updates. (A bonus feature: You can also send friendly reminders/push notifications to remind employees of upcoming shifts.) Employees love how they can see hours worked and planned time off, and communicate with their fellow team members all in one place.
Monthly fees: None
Available: on iOS and Android
15. Humanity
Humanity is a complete workforce management system that includes staff scheduling, leave management, staff training, and employee communication tools. If you're managing employees across many locations, the GPS clock makes it easy and gives managers peace of mind that employees are checking in from the right location. Humanity also integrates with your POS to create labor forecasts, giving you a better idea of how to optimize employee schedules for traffic and sales.
Monthly fees: Management software starts at $33 per month
Available: on iOS and the Humanity website