Table of contents
As businesses look for new ways to reach and serve customers, artificial intelligence (AI) is becoming more prominent. Research shows that 61% of marketers have used AI in their marketing activities and that more than half of all Americans between the ages of 12 and 44 will use generative AI by 2025. While tools like ChatGPT have been synonymous with the use of AI, it's important to note that AI is much bigger than any one tool. McKinsey describes AI as a "machine's ability to perform the cognitive functions we associate with human minds." In other words, everything from Siri and Alexa to functions such as autocorrect can be defined as AI, and similar tools and technologies make it possible to streamline your marketing efforts.
What is AI in marketing?
Generally speaking, AI in marketing is powered by natural language processing (NLP) and machine learning (ML). Natural language processing works by teaching computers to understand text and spoken words. Machine learning works by teaching computers to learn from experience through data and algorithms. With these two technologies working together, marketing tools and platforms are able to produce copy, to gather customer insights, to optimize the customer experience, and more.
Why use AI in marketing?
If you're already hitting your marketing goals or are a bit wary of AI, you might wonder whether investing time and energy into AI is worth it. Using generative AI in marketing can help simplify the efforts of business owners. With copy generators businesses can make the brainstorming and content generation processes easier, saving time and leaving room to analyze what works. Generative AI can also be useful for marketers who may have a skill gap with certain platforms, such as Instagram. Creating the perfect caption or social media post isn't as easy as it looks, but platforms like ChatGPT can help you understand the best place to start. 
Research from Insider Intelligence shows that 58% of marketers who use generative AI for content production see increased performance as a benefit. With increased performance businesses have more time to build on marketing processes that are already in place, to implement new processes quickly, and to zero in on what matters most to customers.
Examples of how to use AI in marketing
Conversational Commerce: Communicating with customers directly where they are takes your marketing from outreach to relationship building. Conversational commerce tools enable your customers to ask questions, to inquire about orders, or to book appointments from your website or app. LiveChat, which is available to Square sellers through the Square App Marketplace, lets you track analytics and real-time previews of pages that customers browse to help you craft a better understanding of the customer journey. Other tools, such as Square Messages, help you take care of customer appointments by confirming, rescheduling, and canceling bookings automatically via Square Assistant.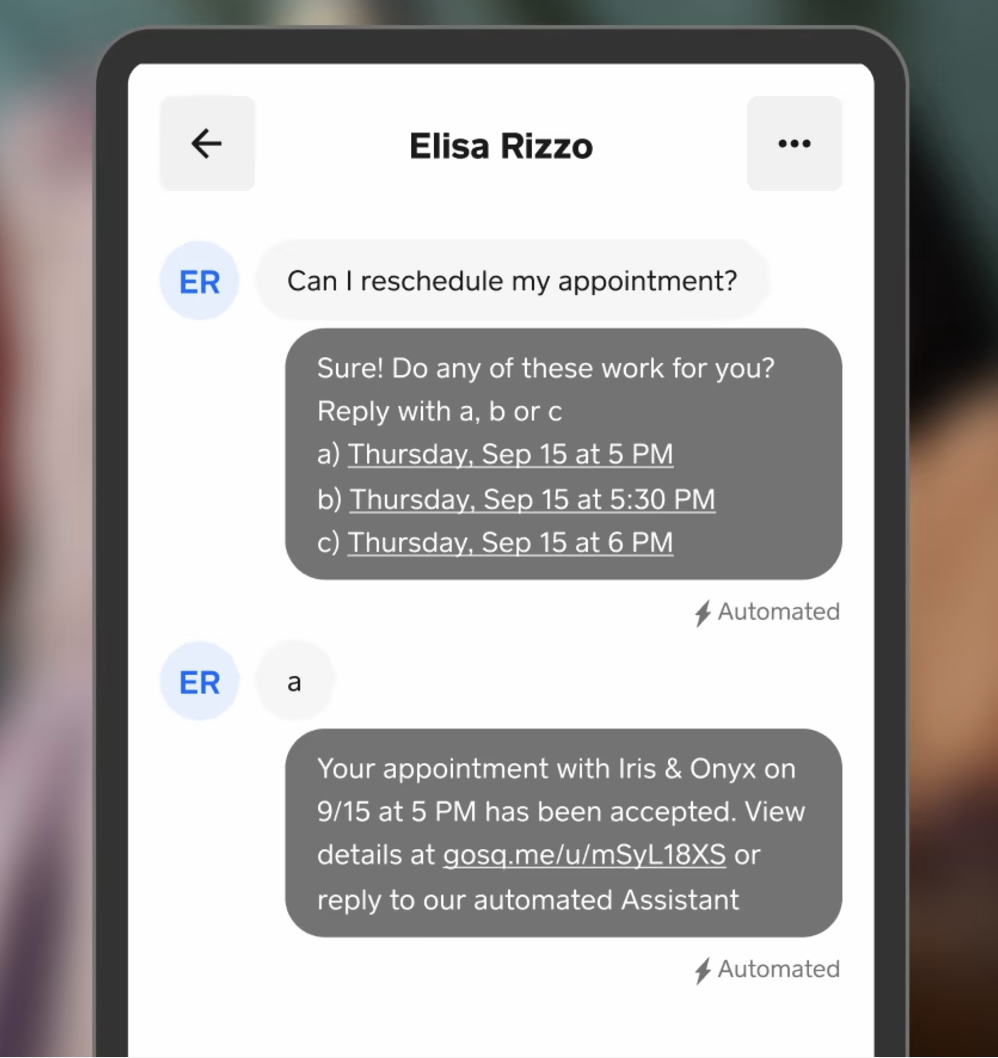 Email Marketing Campaigns: It's no secret that email marketing is crucial to any marketing strategy. Make sure that your messaging stands out from top to bottom with engaging text and imagery to improve campaign performance, to drive traffic to your store, and to increase sales. Tools such as Square Marketing have features powered by OpenAI that can help write marketing emails for you. Whether it's the subject line or the body text, AI can help you brainstorm the best messaging and save you time and energy in the long run.
Product images: Imagery can make or break your products. Since it's a consistent asset across platforms, it's important to get it right the first time. Eliminate distracting backgrounds and adjust factors such as lighting and sizing to present your products in the best light and to reinforce your brand everywhere you sell. Square Photo Studio lets you edit and customize photos with features such as an AI-powered background eraser and easy-to-use styling tools. This enables you to sync the final image to your website and other marketing channels with ease.
Customer insights: Customer insights are key to your business and to your marketing. Copy-generating AI tools like ChatGPT can help you learn more about potential customers and can perform preliminary market research when prompted with the right information. Say you want to gather demographic data on customers most likely to order from your bakery. Your prompt would look something like: "I want to start a bakery in Chicago where my customers can order a variety of cupcakes, cakes, and pies. Act as a market researcher and give me information on the demographics of people most likely to order baked goods in Chicago — including age groups, income, education, gender, and specific location."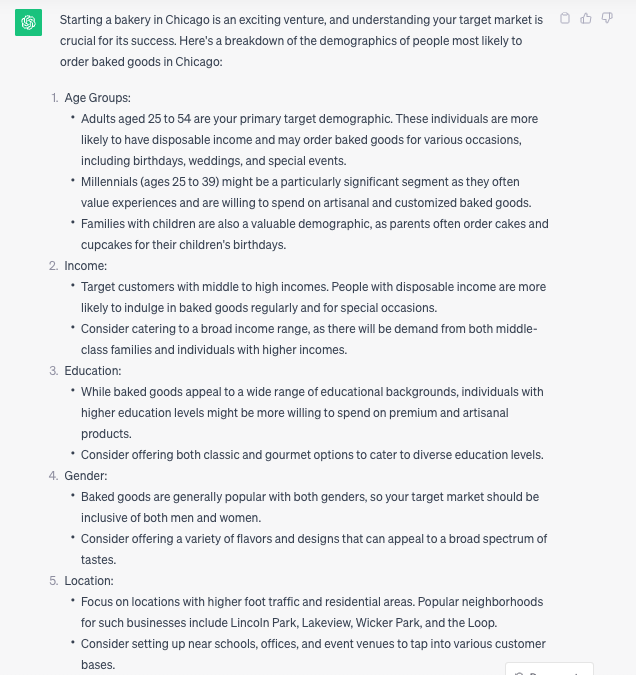 The above image previews the results ChatGPT provided based on the aforementioned prompt. It's important to be incredibly specific when prompting AI tools for results. If you plan to use AI tools for preliminary market research, be sure to follow up with another round of market research through professional channels. 
Content Creation: Creating social media content, blog articles, video descriptions, and more can sometimes be a tedious undertaking. Tools like ChatGPT can give you a leg up and lay the foundation for you. With prompts such as "write a 100-word Instagram caption about the difference between consignment stores and thrift stores in a friendly tone and include relevant hashtags," ChatGPT can draft text for you to begin thinking about how to approach your caption. Since you may not be the only person looking for the same kind of caption or content, it's important to use content created through ChatGPT or other tools as a starting point and to add to or edit the content. 
AI marketing factors to be aware of
While AI comes with a lot of pros, there are many things that still need to be figured out with the burgeoning tool. Bias, misinformation, and privacy concerns are three of the biggest issues surrounding the technology today, particularly ChatGPT and similar tools. Since the tool is trained with public information, it's prone to error and even plagiarism. This is why it's crucial to use public AI tools as a starting point and not as your final product. Human oversight can help protect your business and ensure that your brand's individuality and messaging remain at the forefront of all your content.