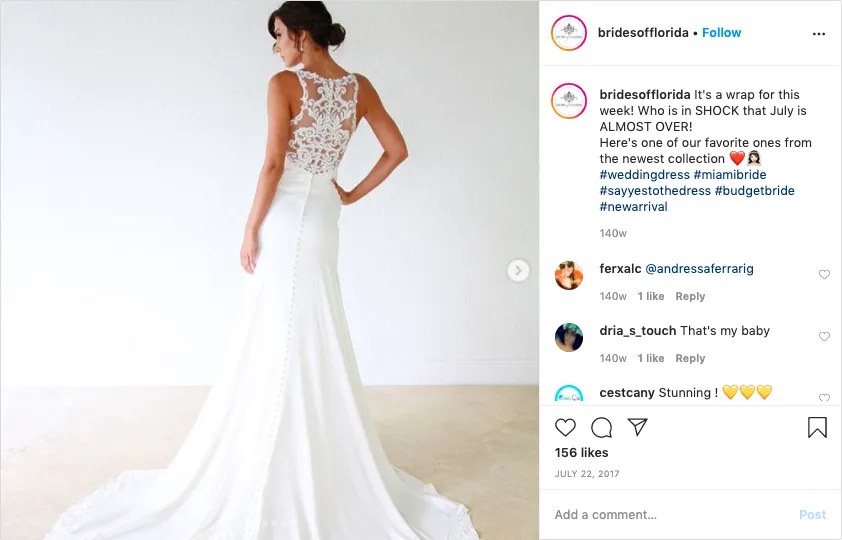 Three years ago, Macarena Diaz was happy in the small, 550-square-foot store that she rented for her shop, Brides of Florida. But when larger stores started moving into the mall and Macarena was given 90 days to move, she wasn't sure where her business would go. Then she received an offer for financing through Square Loans.
"Square Loans came in at the perfect time," said Macarena.
With the funds through Square Loans, Brides of Florida was able to move across the street into a 2,000-square-foot store. The space has made all the difference. Not only can Macarena and her staff see more brides and do fittings, but also they have more space for inventory.
Learn more about Square Loans.
Get a loan to grow your business.
Thirty-one percent of businesses that receive loans through Square Loans1 invest it in inventory. Similarly, Macarena used her next loan through Square Loans pick up a new collection of dresses at the bridal market in Chicago.
Macarena also notes that the new funding enabled her to purchase collections from designers like Vera Wang, which she hadn't been able to offer before, in some cases because higher-end designers had minimum purchase requirements.
As a result, she's been able to offer dresses at higher price points — her highest-price dress used to be $4,000, and now it's $8,000. This means more revenue for Brides of Florida and a larger variety of dresses (in a wider range of prices) for its client base.
"[Square Loans] was easy for me to understand," said Macarena. "They let you know this is how much you're going to pay for this amount of money, and this is how much is going to come out of your sales at the end of the day."
She believes that Square Loans helped propel her business. "It makes all the difference when you feel like a company trusts you and believes in your business."
1 This online survey of 7,000 Square sellers who have accepted loans through Square Loans was commissioned by Square Loans and conducted by Qualtrics. The survey has an overall margin of error of 1–2% at 95% confidence interval. Participation in the survey was optional and all data was self-reported by study participants. Responses and insights gathered were shared with Square Loans in an aggregated and anonymous manner. Respondents participated in the study between January 9–11, 2017.
Square Loans, LLC and Square Financial Services, Inc. are both wholly owned subsidiaries of Square, Inc. Square Loans, LLC d/b/a Square Loans of California, LLC in FL, GA, MT, and NY. All loans are issued by either Celtic Bank or Square Financial Services, Inc. Square Financial Services, Inc. and Celtic Bank are both Utah-Chartered Industrial Banks. Members FDIC, located in Salt Lake City, UT. The bank issuing your loan will be identified in your loan agreement. The individual authorized to act on behalf of the business must be a U.S. citizen or permanent resident and at least 18 years old. Loan eligibility is not guaranteed. All loans are subject to approval.