Martha Stewart devotees, rejoice — the domestic maven opened her first cafe this morning in New York City. Martha Stewart Cafe, which serves up pastries and coffee hand-picked by Stewart herself, is located on the ground floor of her corporate HQ in Chelsea. And we're excited to share that the cafe is using Square to take care of business.
On to the food and drink. Of course we'd expect nothing less, but the cafe's offerings are pretty top notch. The pastry menu varies daily, featuring treats from some of Stewart's favorite cafes, including ChikaLicious (you've gotta check out these dough'ssants), Baked, Bien Cuit, and Balthazar.
As for the coffee, the cafe has partnered up with Kobrick Coffee, a family-owned, New York–based roaster, to source the beans (from Trieste, Italy, no less) for the custom Martha's Blend. It's also worth noting that Stewart personally vetted her baristas, so you know your latte is going to look fancy.
And then there's the artisanal tea, courtesy of Wei Bertram of Connecticut-based Arogya Tea. The signature offering here is Martha's Breakfast Blend, a unique combination of Assam long leaf and Chinese black teas.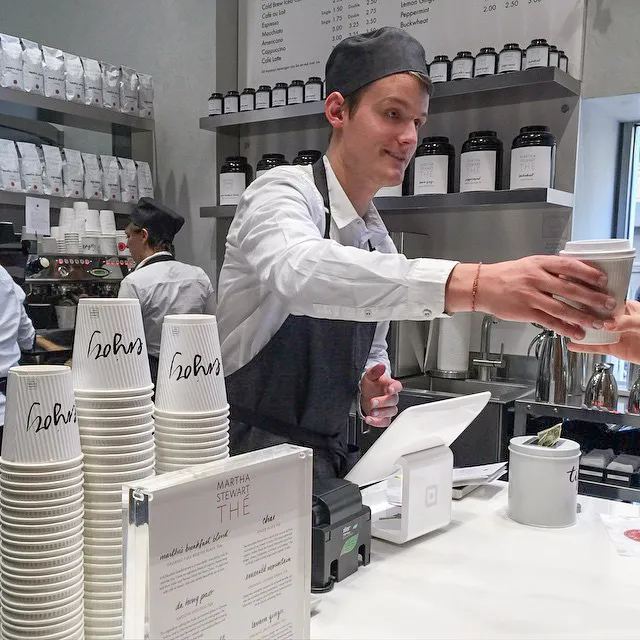 "I am thrilled to open the Martha Stewart Café," says Stewart. "It's a place inspired by my world travels where anyone can come and enjoy a smooth, well-balanced, beautifully handcrafted cappuccino, latte, macchiato, or just plain Americano. In addition, you must try our artisanal teas — they are the finest available anywhere."
So if you're in the neighborhood, check it out. And welcome to Square, Martha.