Whether we're buying groceries, books, or a lamp, eCommerce is ubiquitous to our daily lives — especially in recent months. If you own a brick-and-mortar business, you may have begun the shift to bring your business online.
But we know that what works for one business may not work for another. That's why we're introducing Square Online Checkout, an online checkout link or button that allows you to accept payments without having to build an online store.
Square Online Checkout quickly generates a checkout link or button for any of your goods, services, memberships, and more. Whether it's your first product or your newest offering, you can post the link anywhere online — email, text message, an existing website, or your social media channels.
Why use an online checkout button?
eCommerce isn't going anywhere, and an online checkout link is a quick way to tap into the digital economy. Adobe's Digital Economy Index recently found that consumers' digital purchasing power (the amount consumers can buy with a set amount of money over a period of time) has increased 20% since 2014. Consumers are shopping online with a fervor, increasingly looking to purchase goods and services from their laptops and mobile devices.
Ride the eCommerce wave
In March 2020, the digital economy grew faster than the economy as a whole. According to Statista, in 2020, global eCommerce sales are projected to reach over $4.2 billion. Consumers are looking for convenience, and online shopping fits the bill. Taking your business online ensures your products and services are more accessible for new and current customers, and can increase sales and brand visibility.
Protect your business
With the rise of eCommerce comes the unfortunate increase of card-not-present (CNP) fraud. Juniper Research forecasts that the annual CNP fraud growth rate will rise 14% annually through 2023, and a recent report by Verizon shows that 43% of data breaches target small businesses.
When you use Square Online Checkout (or any Square product), data security, dispute management, and fraud prevention are all included in the flat processing rate, to help your business combat fraud from bad actors, in person and online.
How to use Square Online Checkout:
Once you've created a checkout link or button, you can share it on whichever channels you choose.
On social media
A checkout link can be added to your Instagram bio, in a direct message, or within a Facebook post. This allows you to sell featured items and services or provide a way for supporters to donate via your social media channels.
Justin James Muir, a portrait photographer, teaches in-person photography classes. In response to COVID-19, he shifted to an online class offering. His followers can use the link in his profile to purchase the class.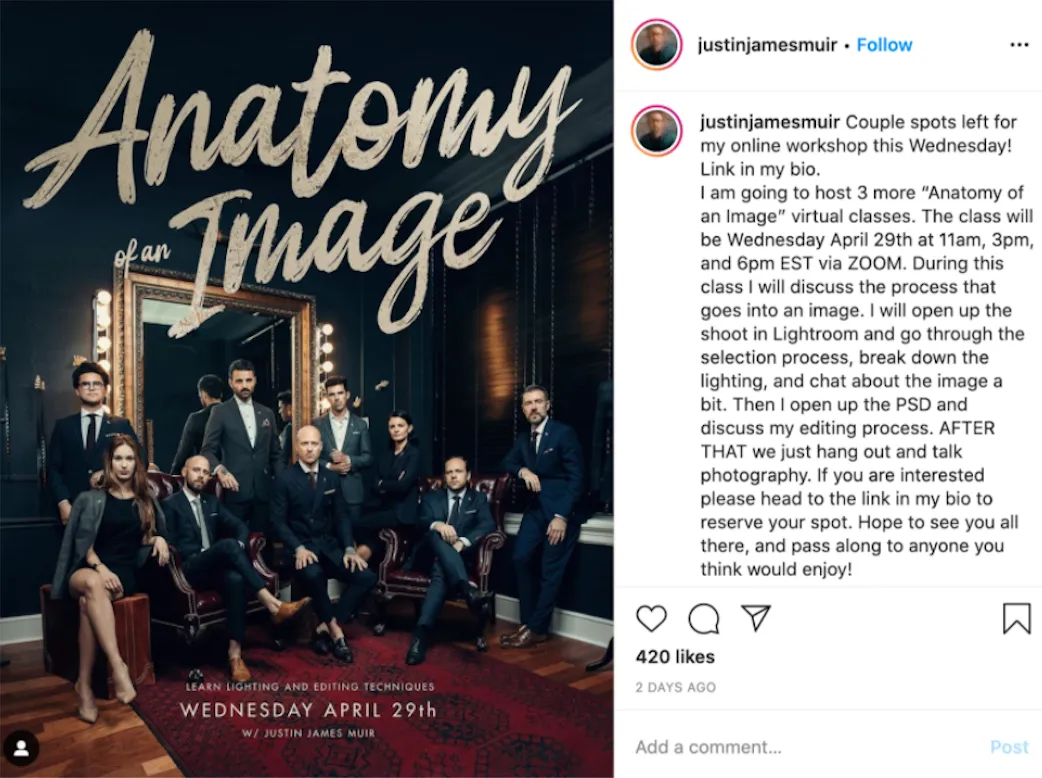 Over email
If you announce a new product or service in an email campaign or e-newsletter, embed a checkout button or link to allow customers to purchase the offering directly from their inbox.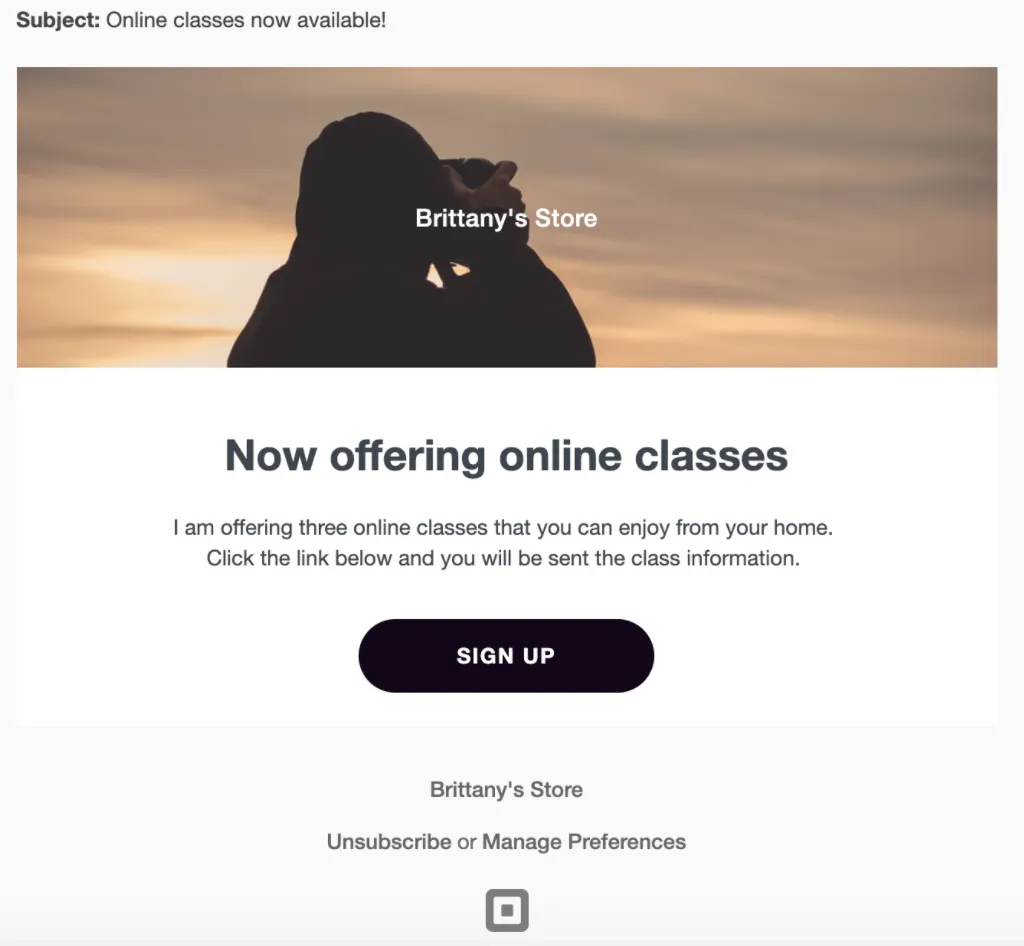 Through an existing website
If you have an existing website or blog, you can easily add a link or checkout button for seamless online purchases.
Justin James Muir also added a checkout button to his website. Customers can purchase the online course using the button, which launches a checkout flow on the existing page.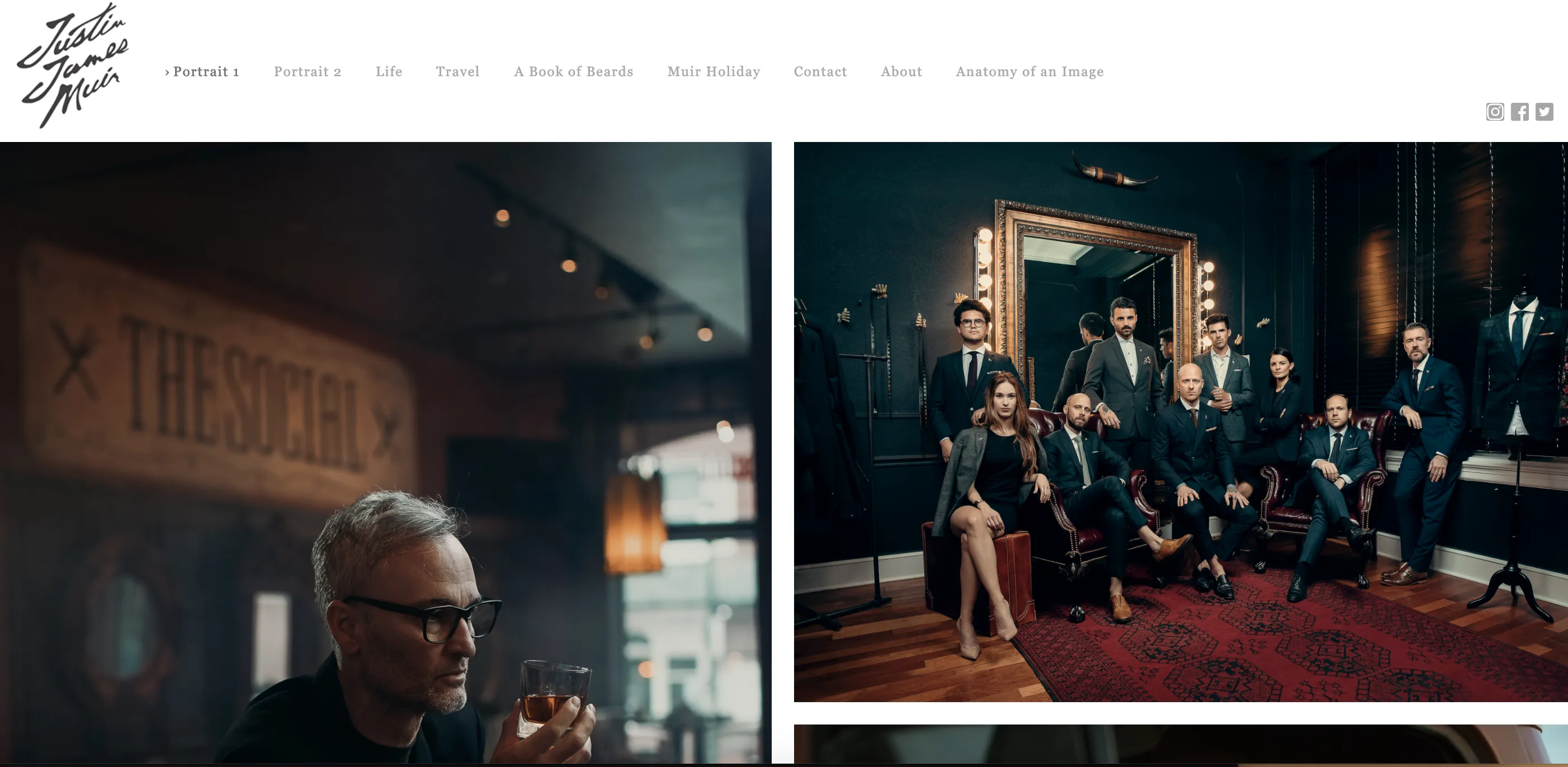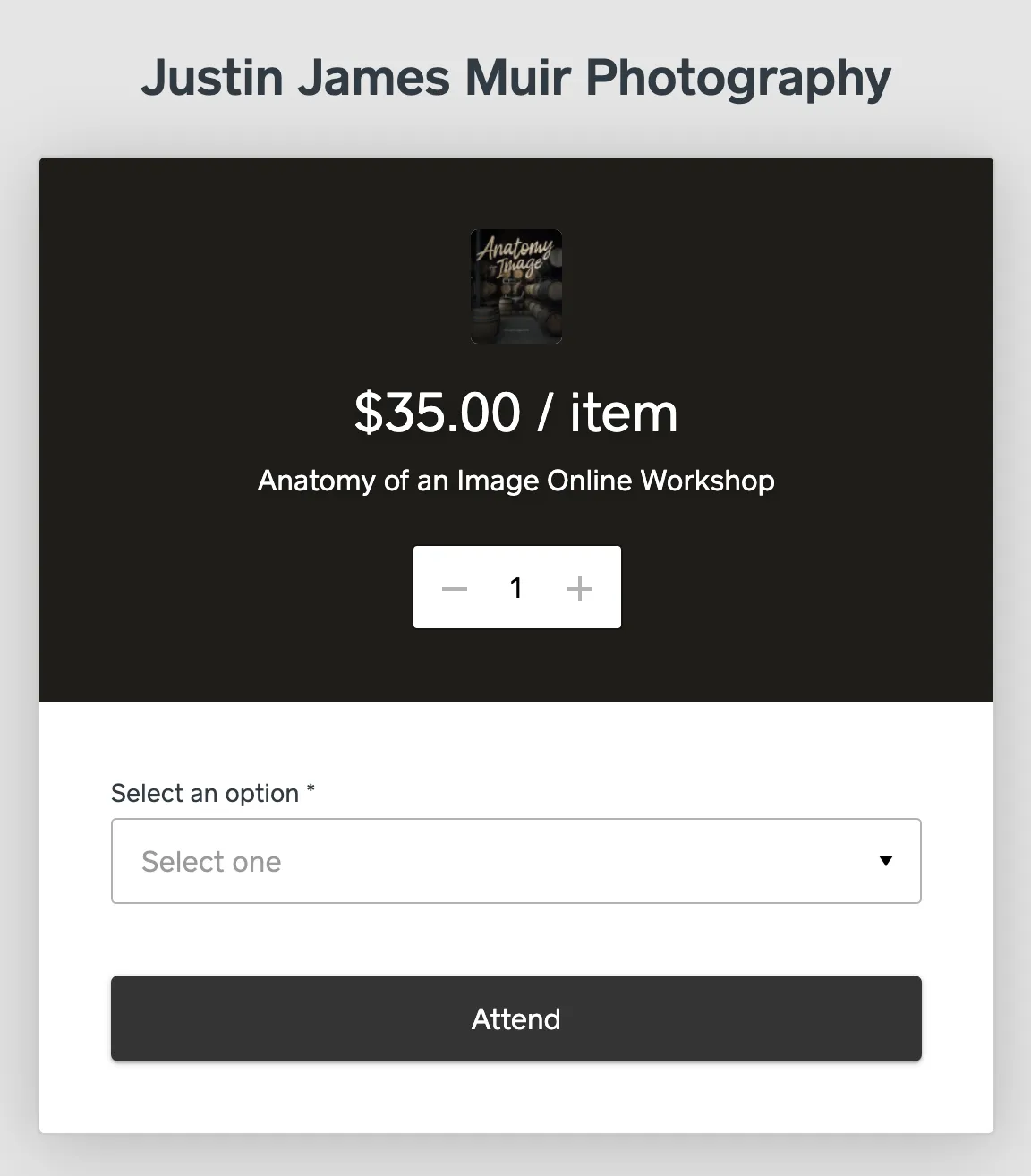 Here are some other benefits of Square Online Checkout:
Easy to create: To create a Square Online Checkout link, just give the product or service you want to accept payment for a name and a price.
Shareable link or button: Turn almost anywhere online into a new sales channel. Bring eCommerce to a social media post, email, website, blog, portfolio, and more.
Sell to many: Simultaneously sell on multiple channels and accept payment from multiple customers. Go beyond one-to-one payment tools.
Beyond selling: Accept donations and membership dues as a one-time payment, or set up recurring payments.
Hassle-free transactions: No special apps to download. Simple checkout means customers only have to enter three pieces of info to complete a purchase. Accept all major credit cards and debit cards, plus Apple Pay and Google Pay, for an even more streamlined checkout experience.
No monthly fees: Pay only when you make a sale — just 2.9% + 30¢ per transaction.
How to get started
You can create a link to start selling in seconds, with just four simple steps:
Create a link for any goods or service you want to accept payment for.
Give the link a name and a price.
Share the link by pasting it into an email, social post, Instagram bio, text message, etc. Or save the link as a button and put it on a website, blog, portfolio, etc.
Customers click the link and get taken to a simple checkout page requiring only three pieces of information: name, email, and payment details.
All your customers have to do is click the link, then enter their payment info. And just like that, you get paid — fast.
Learn more and get started with Square Online Checkout.