Big congrats to the Girl Scouts of the USA. Fast Company just named them one of the world's top 10 most innovative nonprofits. They were particularly lauded for their new Digital Cookie program, which helps teach online marketing and e-commerce skills.
We're also thrilled to see Girl Scouts across the country using Square credit card readers for their in-person transactions. We caught up with Melissa Pepe, leader of Troop 8722 from Girl Scouts of Greater Los Angeles (who sent us a fun picture via Twitter), to see how this cookie season is going.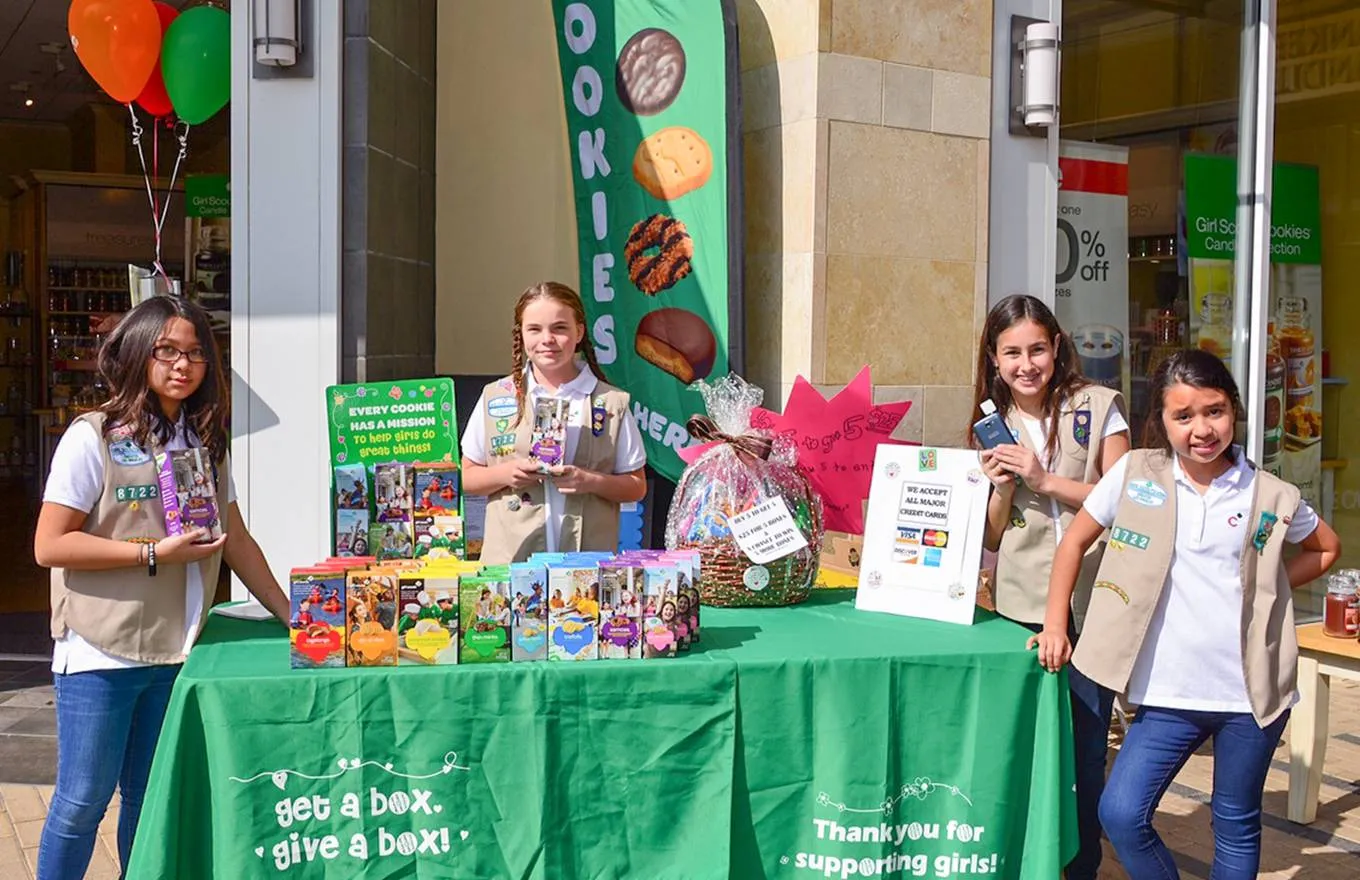 How's business?
The troop is very close to our goal of selling 3,000 boxes! This is the first year we've used a Square Reader and it's made a huge difference. When someone says "Oh, I'd like some but I don't have any cash on me," the girls love saying, "Oh, but we have a credit card reader!" The troop has made $700 additional dollars over last year from credit card payments on Square. It seems small, but every box counts.
What badges are you working toward this season?
The girls have been working on our marketing and business plan badges.
How did you come up with your business plan?
The troop sat down and wrote a mission statement, along with our goals for the season. Square comes in here too — we talked about how taking credit cards fits into our business plan. What's a bottom line, and how does taking credit cards help with that? Yes, you have to pay a small fee, but you make more sales. So it's worth it.
How did you come up with your marketing plan?
The girls thought about how they could market the cookies beyond just making a poster. When and where would people really want to buy? They zeroed in on Super Bowl Sunday and went door to door. We're also trying to sell in front of new locations. This year, the troop will be at Williams-Sonoma in Beverly Hills one day. The girls are really excited about that. We'll see if we get more sales there than in front of a grocery store.
We're also experimenting with the idea of an upsell. The girls write thank-you notes and draw pictures on gift bags. When someone buys $20 worth of cookies — that's four boxes — they give the bag as a thank-you. It's been really effective!
How does social media play into your marketing plan?
We thought a lot about the idea of a "personal sale." One thing the girls are trying is using their parents' Facebook pages to help sell. So a girl could post: "Hi, my name's Alex and I'm selling cookies again this year." Then post pictures of the cookies, along with the price, and say, "Please respond here and I'll deliver them to you!"
How have you seen girls in your troop grow from selling cookies and making these business plans?
It takes a lot of courage to ask people if they'd like to buy cookies. The tenets of Girl Scouts are courage, confidence, and character, and selling cookies helps with all of those things. It puts them out there, and out of their comfort zone. Sometimes just saying one more thing gets people to buy a box. When that happens, the girls will say "wow" afterwards and have that much more confidence going forward. It's more than just buying a box of cookies.
Does it also teach them teamwork?
Definitely. We play to everyone's strengths. Some girls are big talkers, so they do a lot of the selling. Then there are girls who are more shy and prefer to do things like set up the table and arrange the boxes and signs. Every job is important, and we teach the girls to work together as a team.
How else has Square been helping out this season?
What I like most is that I can look at all our sales activity in Square Dashboard. Then I show it to the girls. They're constantly asking me, "How much did we sell today on credit cards versus cash?" It really motivates them to think about how they can beat last weekend's numbers. Or what they did differently on a certain weekend to get more sales.
Do Thin Mints still reign?
It's always Thin Mints. But Samoas are a very close second.
Learn how to get a Square Reader to help your troop sell cookies this season.