One of the best social media platforms to directly connect with your customers is Twitter. But with over 350 million people and 67% of B2B businesses on Twitter, there's a lot of noise to cut through to reach your customers. When you do reach your demographic though, Twitter can be a valuable tool to engage with them.
One of the hardest parts is just getting started. It can be a little overwhelming to figure out what's what and think about Twitter through the lens of your business and not as a personal account. If you're just getting started using Twitter for your business, here are the top things you should consider.
#1 Create an account for your business
Your account is a representation of your brand and your business. While Twitter doesn't offer specific features on its platforms for businesses, there are specific ways you can set up your profile to represent your business authentically. 
A few key elements of your account are:
Your profile photo: Most businesses opt to have their logo be their profile photo, but that doesn't mean you can't think creatively. Experiment with using your brand colors or other images that are key identifiers of your business.
Your header photo: You should think of your header photo as more of a billboard that you can change on a semi-regular basis. Use this space to advertise promotions or campaigns. Also, make sure that the photos you use are high-res and not pixelated, and in JPG, GIF, or PNG file formats. The recommended dimensions from Twitter are 1500×1500 pixels. 
Your display name: This appears above your @. While this name can be changed at any time, it's recommended businesses keep it consistent for their followers and customers to easily identify or search for your business. A best practice is to have your display name be the name of your business. 
Your account name (this is your @): This is your Twitter handle and the name that shows up when your business is tagged in a Tweet. Your @ name should also be the name of your business, or as close to it as possible. 
Your bio: You only have 160 characters here, but you can make them count. Tell people what your business does and why they should follow you. A common practice for businesses is to include their company tagline. 
Include a direct link to your website: You can include a link on your profile to wherever you want. This can be your homepage, or even a menu page if you're a restaurant. 
Include your location: Even if your business is online-only or has multiple locations, citing the location of your HQ can help build a local following.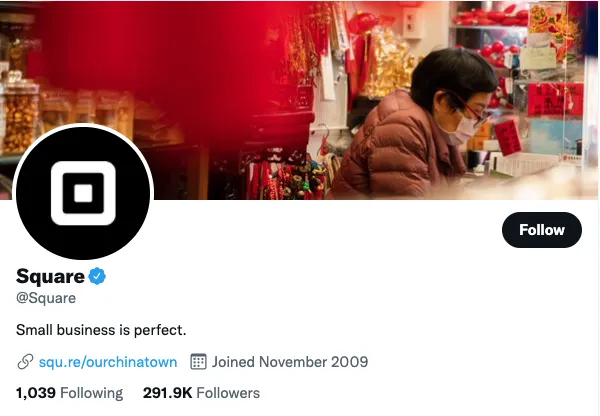 #2 Pin a Tweet 
Twitter offers a feature that enables you to "pin" a tweet at the tip of the feed on your profile. Your pinned tweet is one of the first things people see when they visit your profile, so be strategic about it. Pin a tweet that highlights something you want your followers — or visitors to your profile — to focus on. Examples of things you can pin are:
A new location opening
A product launch or new menu item
A sale or promotion 
Partnerships with other brands
Launching new branded merchandise
Pinned Tweets are not permanent and you can unpin a Tweet and pin a different one at any time.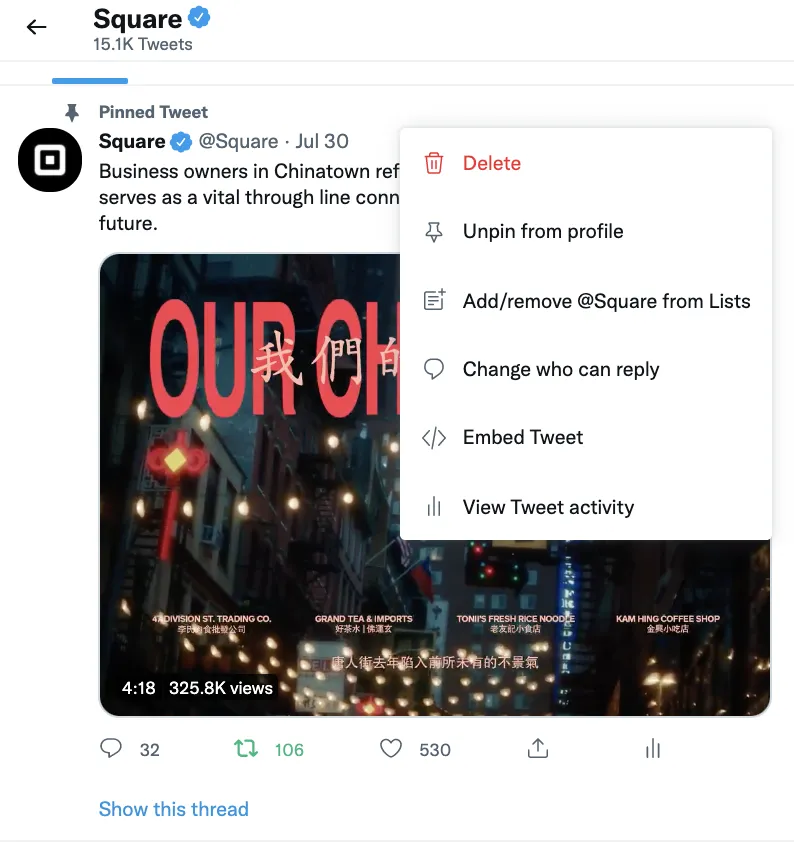 #3 Find your style or tone
Twitter is all about your words, so your tone of voice is key. Your tone of voice is the words you say and how you say them consistently across your business. The tone represents your brand personality and helps you connect and communicate with your audience.
Before you start tweeting, decide if your business is straightforward and serious or funny and playful, or what the perfect mixture of both is that represents your brand. Keep in mind who you're trying to reach and what will resonate with them. Most importantly, do what feels genuine to your brand, because customers can spot inauthenticity from a mile away.
Also, keep in mind that during the pandemic you might need to alter your communication style. 
#4 Engage with your audience
Engage with your customers on your social channels the same way you would if they came into your store. A positive customer service experience online is just as important as it is in-store.
If customers reach out to you through Twitter for support, make sure you've created a process for responding to them in a timely manner and where to direct them to receive further support. 
Twitter is a fun and easy place to naturally connect with your customers, so don't hesitate to respond and interact with them. As your brand grows, you'll feel closer to the community on Twitter and get a deeper understanding for how to use it to achieve your strategic goals in a natural way. 
#5 Keep tabs on your industry 
Beyond communicating with your customers and building your brand, Twitter can be a huge tool for you to keep tabs on your industry, competitors, and important cultural moments. With Twitter Lists you can create different curated lists that show you tweets from a specific subset of accounts that you've grouped together, giving you a quick snapshot of what's happening in a corner of Twitter that's most relevant to you. 
You can add any public account to a Twitter List, even if you don't follow them, which is helpful for keeping tabs on competitors. Lists can also be private, and accounts that you add to a private list are not notified when they are added. 
To create a list, click on Lists in the navigation bar. Then click the Create New List icon. Next give your List a name, then select whether you want that List to be private or public. If your List is public, others can follow it. From there, click Next. Then search for people you want to add to your list. 
#6 Get verified
Being verified, signified by a blue checkmark next to your profile or business name, can be a helpful tool in establishing your legitimacy, but don't stress too much about it when you're first starting out. Focus on building your following and finding your place in the different Twitter communities, and from there, the blue check will very likely come. 
When you're ready, you can apply to be Verified. You can do this from Settings in your account. There are specific criteria to keep in mind, which include proving your authenticity. A few ways to do this are:
With an official website: Provide Twitter with your business's official website that references your business and your Twitter account. It's helpful if you've embedded a link to your Twitter from your company website. 
Official email address: Include an official email address that has a relevant business domain. 
ID verification: A photo of an official government-issued identification document. 
Verification is not guaranteed and is at the discretion of Twitter to decide if it's granted, but don't be discouraged if you're not verified immediately. Continue to build your following — and your brand — and then try again.