Table of contents
Your online reviews can be a make or break for your business. Good reviews may convince new customers to give your store or services a try. And bad reviews may keep your business from growing. But equally important is where you give customers the opportunity to review your business.
Twenty-eight percent of consumers said that Google Reviews is their favorite source for online reviews, according to our recent survey. This percentage is even higher among Generation Z: 41 percent said that Google Reviews is their favorite review source.
Consumers see Google Reviews anytime they use the Google search engine, which might explain consumers' preferences. If a consumer wants to know the best stationery store and Googles it, the first thing that comes up is a list of stationery stores near them with star ratings and reviews.
Our survey of 1,800 U.S. consumers — which highlights trends on how they discover, choose, and recommend new businesses — found that after Google Reviews, customers' favorite sites for online reviews are Facebook (26 percent) and Yelp (22 percent).
There's an interesting age divide on this though: 35 percent of millennials and 30 percent of Gen Xers cite Facebook as their favorite source, while 27 percent of xennials (the microgeneration between millennials and Gen X) and 24 percent of 53+ prefer Yelp.
Our data also showed that the average customer checked business reviews online or via an app pretty frequently. Twenty-two percent of respondents checked reviews a few times a week and 23 percent checked a few times a month.
How often do consumers look up reviews on a website or app?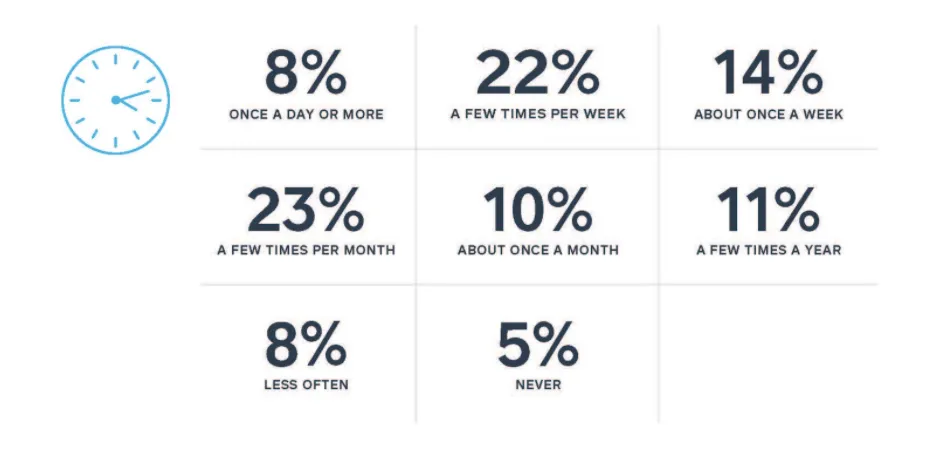 There's even evidence to show that positive online reviews have more weight with consumers than recommendations from their friends and family. Thirty-one percent of respondents said that positive online reviews are extremely important. In comparison, only 19 percent said reviews from friends and family are extremely important. Younger generations — Gen Z, millennials, and xennials — put even more emphasis on this.
So, it's critical that you are deliberate in your approach to online reviews.
First, you need to make sure that you set up pages where customers can review you:
Verify your business on Google Reviews. This is critical for your discoverability since Google accounts for the lion's share of search volume. By claiming your page and encouraging customers to write reviews, you are more likely to make your business more visible in search results.
To best present yourself on Yelp, be sure to claim your business's page. You can then respond to reviews and measure the frequency that people visit your page. According to Yelp's data, the average business had a bump of $8,000 in incremental revenue by claiming its free Yelp Business Page.
Setting up your Facebook business page is also free, and Facebook automatically converts your business page to desktop and mobile. You'll also be able to add a call to action that directs your page visitors to do something like visit your website or call your store.
Once you have all of your pages set up, you might prioritize the site you'll focus on most. If you're targeting millennials, for example, maybe you're spending a bit more time cultivating your Facebook reviews. If you want xennials to frequent your business, you might focus on Yelp.
But whether you prioritize a review platform or not, you want to work on building up your customer reviews. Your first instinct may be to ask for reviews, but note that Yelp takes a hard line against this. (That means no discounts or gift cards for reviews and no emails asking for a five-star rating — they have software to detect this behavior.)
So instead of asking for reviews, make sure your business is set up to earn excellent reviews. Our survey found the two things that cause customers to leave negative reviews are lack of cleanliness and rude staff. So make sure that your store is tidy and your staff is friendly. To garner tip-top reviews, you might think about offering something extra special, like complimentary beverages or snacks or hosting special events.
Last but not least, you want to stay active on review sites and set aside time to reply to customers reviews — the good and the not-so-good ones. This shows people that you're attentive and it helps to bolster your business's reputation. Read more about how to develop a strategy that is not only proactive, but also helps you react to reviews.