Table of contents
Sales are heating up in Palm Springs and the Coachella Valley.
From 2014 to 2017, April was consistently the largest grossing month for all Square sellers — across a variety of business verticals — in the Coachella Valley, Palm Springs, Palm Desert, and Joshua Tree areas.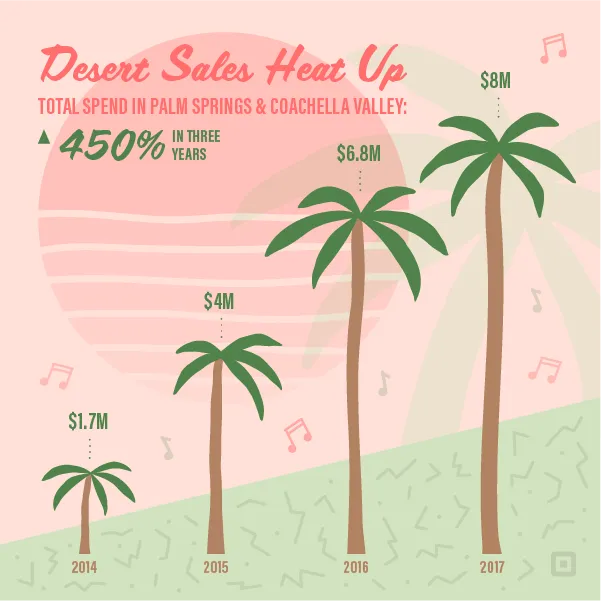 April is when festivals like Coachella and Stagecoach take place in the area. And as the festivals have gained in popularity (and attendance), so, too, have sales grown. Total spending with Square sellers in April has grown by 450 percent since 2014, and sellers' April sales grew by 2.5 times over that same period.
While not everyone lives near the Coachella Valley, wherever your business is, chances are, there are large events, festivals and conventions throughout the year. Whether you choose to have a physical presence or not, these events can be an opportunity for you to reach a new customer base, increase sales, and forge strong bonds with nearby businesses.  
Here's how to get started and increase your sales during local festivals and events:
Drive awareness with a local guide
Band together with other local businesses and distribute a guide to local hotels and Airbnbs so tourists know where to find great coffee, snacks, last-minute supplies, and attractions to visit in their downtime.
Post your guide on social media and include event hashtags and your location. This helps increase your visibility to potential event attendees on channels like Instagram and Facebook. You might want to consider paid advertisements on social media, too.
Offer event specials
Create promotions for locals and tourists alike to take advantage of the event. For example, a movie theater might provide a matinee special for locals to take a break from festival traffic, or for guests to get out of the heat.
A retail store or salon might offer a discount or special party for event-goers to get their apparel and hair in order. You might even consider using a daily deal site to draw customers in for a yoga class or lunch special. Don't forget to share your deals and steals via social media and email marketing.
Have a physical presence
If it makes sense for your business, you could sponsor and/or have a physical presence at the event. This could be anything from parking your food truck to creating a pop-up shop or just manning a booth with your products.
You might even join together with other businesses to offer a hangout spot for participants to relax and recharge. Don't be afraid to think outside of the box, but stay true to your brand. Running shoe brand ASICS, for example, sponsored a pre-festival hike at Coachella in 2017.
Offer event specials
A new flavored coffee? A special salad on a stick? A limited-edition festival shirt offered only during the event? It's up to you to create limited, one-of-a-kind offerings for the event to generate buzz. Give away free samples or offer items for purchase just during the event.
Encourage UGC
Don't forget that word-of-mouth referrals are a powerful marketing tool, especially at in-person events. Consider offering a free or full-size sample in exchange for concertgoers' UGC (user-generated content). Encourage them to snap a photo with your product and booth, and share it with your business's hashtags. Learn more about the power of user-generated content campaigns.
Follow up
To keep your business top of mind after the event ends, consider holding a contest and give away a prize in the weeks following. Collect customers' email addresses to ensure that you can follow up with a friendly message and a notification if they are a winner. Keeping customers engaged helps boost sales long after the event ends.
This data is sourced from hundreds of thousands of transactions from hundreds of Square sellers.