If you're hoping to successfully grow your small business this year, you need to stay on top of the newest trends. Not sure where to start?
Salesforce surveyed nearly 500 small and midsize business (SMB) leaders in the U.S. to find out how fast-growing businesses find, win, and keep customers, and we learned some interesting facts about how you can follow their footsteps. Here are three trends that will transform your small business's growth in 2018.
Growing SMBs are more likely to use a CRM.
Want to get a head start on your road to growth? A CRM, which stands for customer relationship management software, is the way to go. Small business owners may be wary of adopting new technology due to time and resource constraints. But if there's anything we've learned from our research, it's that CRM is the key differentiator between stagnant businesses and growing businesses. In fact, growing SMBs are twice as likely to rely on CRM in their daily lives than their stagnant counterparts — meaning CRM is essential when it comes to success.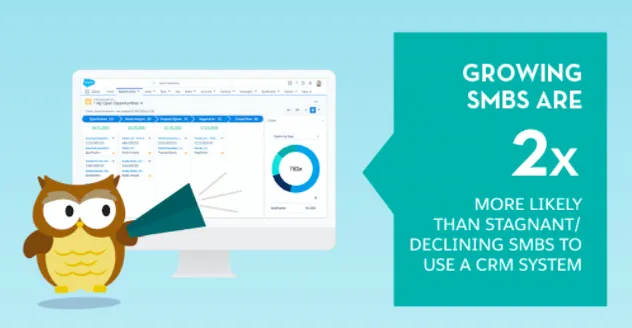 Connecting all your data on one platform is critical to personalization.
Eighty-seven percent of SMBs believe customers want a personalized experience. And 90 percent of SMBs also believe it's extremely, very, or somewhat important to their customers to receive a consistent experience across every interaction (including in person, online, email, mobile, and social media).
That's where connecting your data comes in. When surveyed, a whopping 82 percent of SMB leaders said it's important to connect their business data in one place (half of them said it's absolutely critical). When all your data is connected and shared across sales, service, marketing, support, and operation teams, you have a single view of your customer. That single view allows you to create personalized, authentic, and consistent experiences for customers based on the context of their needs, wants, and pain points.

Artificial intelligence is transforming the customer experience.
Did you know that 52 percent of customers are likely to switch brands if a company doesn't try to personalize communications? Even though artificial intelligence (AI) technology is still nascent, it has a promising future — it makes customer interactions smarter and more relevant. And interestingly enough, fast-growing SMBs are more than twice as likely to use AI as their stagnant counterparts.
Whether you're using AI for automated responses to basic customer support questions, predictive forecasting for sales, or automated recommendations for customers, it's the best way to be prepared for the future of business. Next thing you know, you'll be more productive than ever, stride past your competition, and easily gain loyal customers.

Looking for more facts on how you should transform your business growth this year? Check out our full infographic to see these trends in one easy-to-read snapshot:

Learn more about the technology trends affecting SMBs in 2018 by downloading the full Small and Medium Business Trends report now.
Salesforce can help you find customers, win their business, and keep them happy so you can grow your business faster than ever. Learn more about our small business CRM solutions or follow us on Twitter @SalesforceSMB and join the conversation with #SalesforceEssentials.