Table of contents
This article is for educational purposes and does not constitute legal, financial, or tax advice. For specific advice applicable to your business, please contact a professional. Nothing in this article constitutes tax or accounting advice. If you have questions about Form 1099-NEC, please consult a professional.
Staying up to date with tax filing guidelines is essential to running your business. This is especially true when paying sole proprietors and operators of single-member LLCs. 
With the recent reintroduction of Form 1099-NEC, employers are working with a different form than they're used to when it comes to paying independent contractors and freelancers.
Before the 2020 tax year, employers used Box 7 of Form 1099-MISC to report non-employee compensation for sole proprietors and other self-employed parties. Now, non-employee pay is reported using Form 1099-NEC: Non-employee Compensation.
What is Form 1099-NEC?
The IRS reintroduced Form 1099-NEC — which had fallen out of use in the 1980s — to simplify non-employee compensation reporting. The IRS requires you to file Form 1099-NEC for each person in the course of your business to whom you have paid at least $600 during the year in: 
Services performed by someone who is not your employee (including parts and materials)
Cash payments for fish (or other aquatic life) you purchase from anyone engaged in the trade or business of catching fish
Payments of legal fees to an attorney
In general, you don't have to issue 1099-NEC forms to C Corporations and S Corporations. But there are some exceptions, including legal, medical, and health care payments. 
How do I file Form 1099-NEC?
Form 1099-NEC can be filed online or by mail. A version of the form is downloadable and a fillable online PDF format is available on the IRS website. You can complete the form using IRS Free File or a tax filing software. 
In Box 1 of Form 1099-NEC, you will enter the individual's non-employee compensation (NEC) of $600 or more. This includes fees, commissions, and prizes and awards for services they performed as a non-employee. A sample version of the form (with sample information filled in) is below.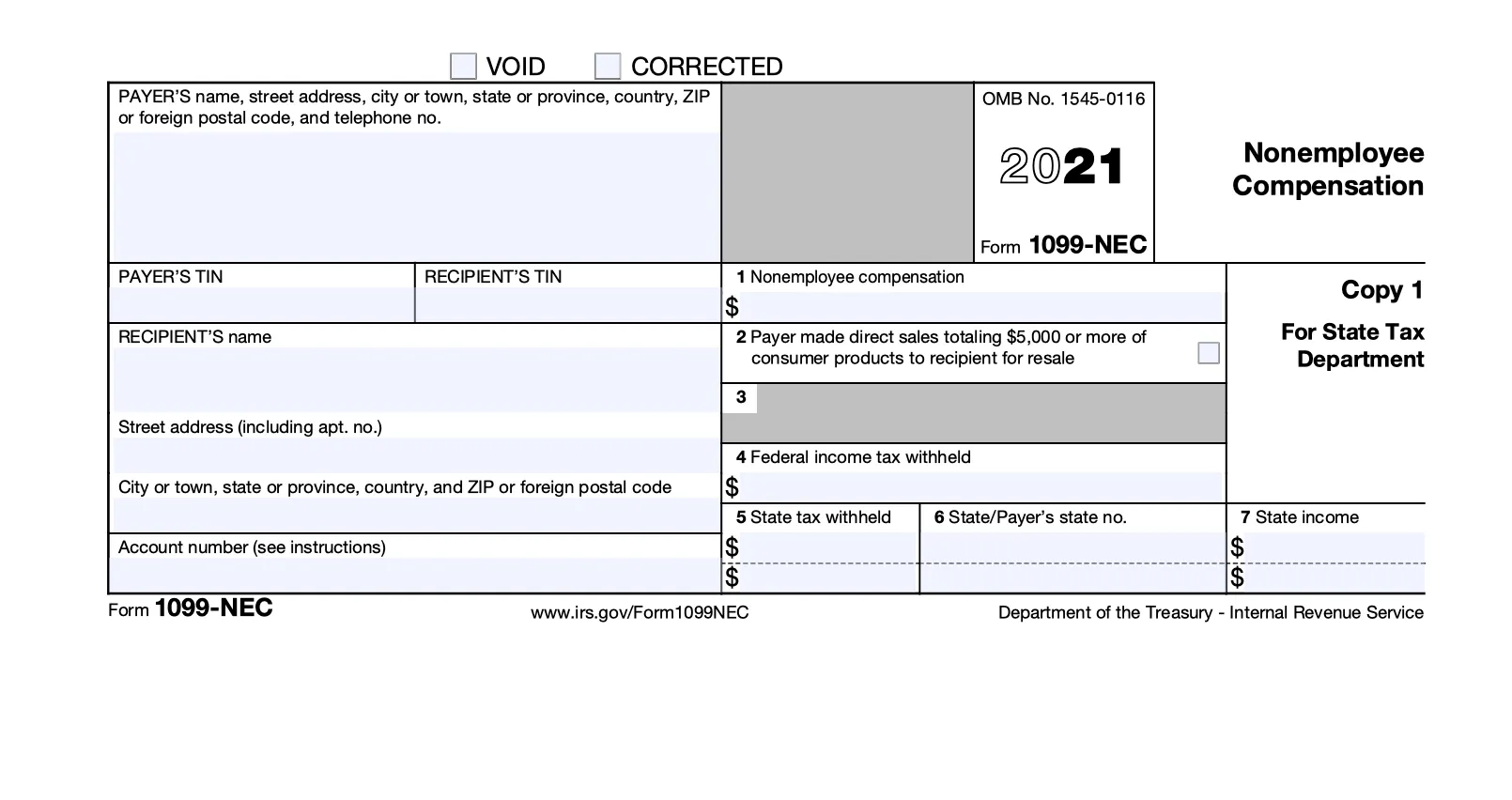 When do I file Form 1099-NEC?
You are required to file Form 1099-NEC on or before January 31, 2022, using either paper or electronic filing procedures.
When do I Use Form 1099-NEC vs. Form 1099-MISC?
Now that Form 1099-NEC has been reintroduced, business owners need to understand its distinction from Form 1099-MISC. 
Essentially, Form 1099-NEC is now used for reporting non-employee compensation for services, whereas Form 1099-MISC is now used for reporting "miscellaneous information" such as royalties, rents, and prizes and awards that are not for services performed.
It's worth noting that while payments to an attorney go in Form 1099-NEC, there are some instances in which payments to an attorney are reported in box 10 of Form 1099-MISC. The IRS provides clear instructions for filing both Forms 1099-MISC and Form 1099-NEC that address payment to attorneys and other considerations. 
Form 1099-NEC and Form 1099-MISC are just two of the multiple tax forms you may need to file to make sure you're compliant.
If you pay your independent contractors through Square's online payroll service, however, Form 1099-NEC will be generated, filed, and mailed to the mailing address provided for each of your contractors at year-end, enabling you to focus on your business instead of worrying about tax filing guidelines.