Table of contents
Time to fire up that grill — Memorial Day is less than two weeks away. But as a small business owner, there's something else you'll want to kick into gear — your email marketing efforts. For many, Memorial Day signifies not only the start of summer but also a time to snag some really good deals. Here are some ways you can put Square Marketing's email marketing templates to work for the holiday.
Offer a discount on winter and spring merchandise
Clearing out cold-weather items to make room for summer merchandise? Why not make some money in the process? Lots of people use Memorial Day as an opportunity to shop deals for the fall and winter months ahead. Send out an email to let your customers know you're clearing house with a sale.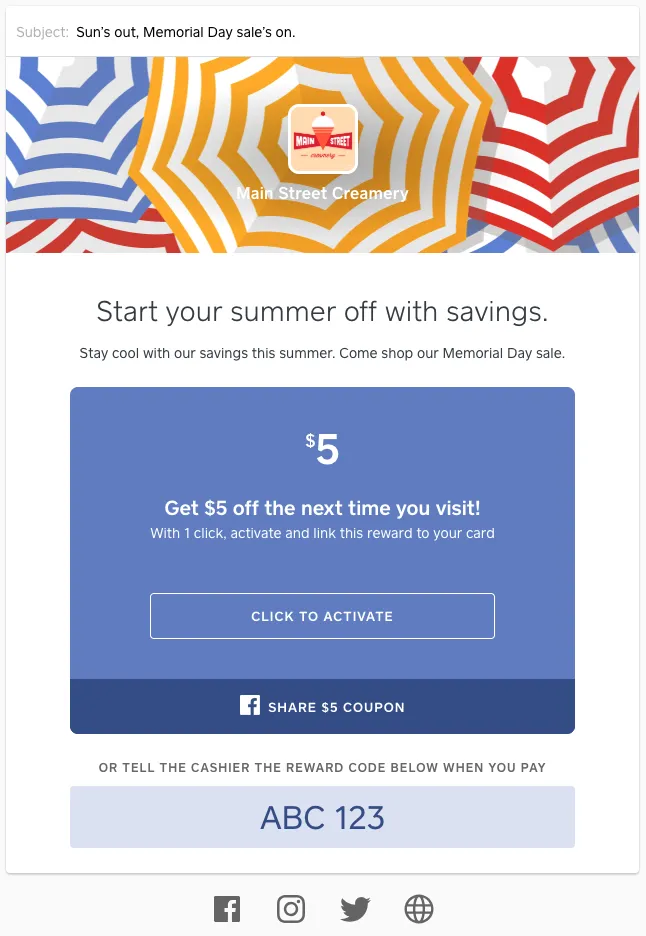 Encourage summer purchases
Do you sell hot dogs? Popsicles? Squirt guns? Remind your customers that your shop is the go-to destination for Memorial Day goods. This will keep your business top of mind as people prep for their holiday get-togethers now and throughout the summer.
It's even better if these things are on sale. Email your customers to let them know that not only do you offer the best stuff, you offer it at the best price.
Curate Memorial Day merchandise
It's always fun to give your customers a little something extra. If you're a grocery store, try including a Memorial Day recipe that stars one of your best-selling items. If you're a clothing boutique, feature a picture of a put-together outfit that would be perfect for a Memorial Day BBQ. Curating your goods in the context of the holiday shows that you're relevant — and an expert at your craft.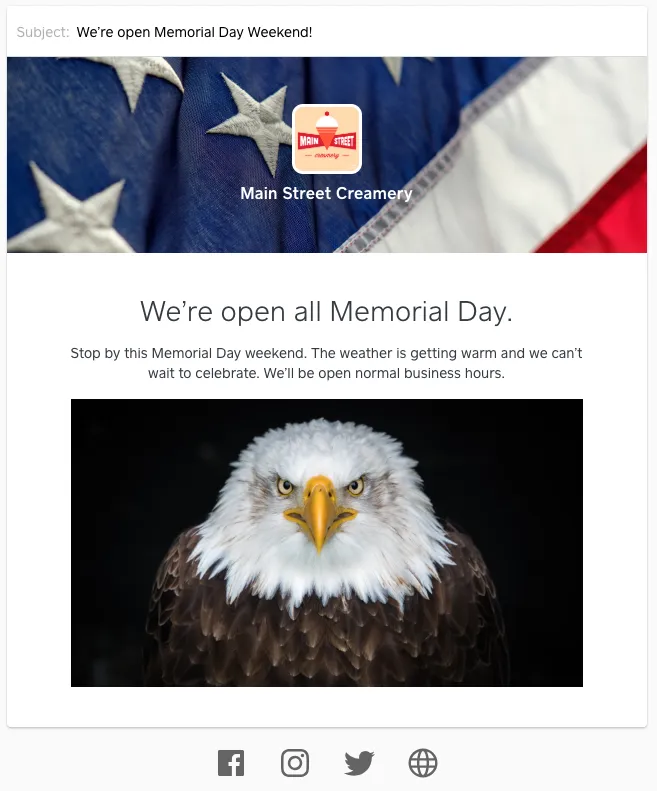 Offer VIP treatment
Square Customer Engagement automatically segments your customers into three buckets — loyal, casual, and lapsed. This helps you target the right people with the right message every time. Consider hosting a sale just for your most loyal customers — the ones you already know love your offerings. Making them feel special will make them even more loyal.
Host an event
Square Customer Engagement has an email template tailored for event invitations. And what better occasion to host a soiree than Memorial Day, when people are off work and looking for somewhere to chill in their neighborhood. In your email, let people know what sort of fun stuff is going down at your event — things like happy hours, raffles, and giveaways.
Whichever way you spin it, Memorial Day is a great time to reengage with your customers via email marketing.