We're constantly releasing tools to help you start, run, and grow your business.
In February we launched a bunch of cool new features. To make sure you're getting the most out of Square, here's a roundup.
Get rewarded for sharing Square Payroll with your friends
Refer friends to Square Payroll and receive a $100 Amazon.com gift card when they send their first pay run. New customers also get their first month of Square Payroll free. Track your progress with the new Square Payroll referral dashboard.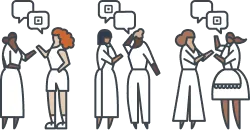 What's new with Square for Restaurants
Time-based discounts: Now you can schedule discounts for items, so you can run happy hour and other specials based on the time of day. Automatically apply discounts based on the time or schedule you choose. Apply discounts to categories, individual items, or entire menus with built-in flexibility. Select which employees and roles have permissions to apply time-based discounts. Find these new custom features when you click Create a Discount in your Discounts tab.
Live Sales: With the Live Sales tab, you can view the overall performance of a shift in real time. Live Sales includes closed checks (with and without a finalized tip amount) as well as open checks. Since the Live Sales report reflects open checks, to view finalized sale amounts, head to the standard Sales report in your Square Dashboard.
Category Rollup reports: Now when you create a Category Rollup, you can group and view the sales for several categories at once. Category Rollups are visible from your Category Sales and Item Sales reports online, and also display on your in-app Employee Shift and Close of Day reports. Learn more about Category Rollups.
Close cash drawers from anywhere: Now you can can close your cash drawer remotely, either using Square Dashboard or your point of sale. Additionally, if you've had a cash drawer open with no ability to close it, we've closed it, so you can worry less and sell more. Learn more about closing your cash drawer remotely.
Create pickup orders that are surfaced in Square POS, with the Orders Push API (beta)
Orders Push is a new API that enables developers to create orders that are displayed in Square Point of Sale (iOS only) or Square Dashboard. Developers can integrate their own order-ahead mobile or web app with Square Point of Sale. Learn more about the Orders Push API beta.
Square Reader SDK update 1.1
We recently released version 1.1 of Square Reader SDK, which supports saving a card on file. Now Reader SDK can save customers' credit card information at checkout to create a seamless purchase experience for returning customers and enable recurring payments. Learn more about version 1.1.
Want to know about other recent product launches and updates? Take a look at the hottest features we launched in January.