Table of contents
Being able to take payment from your customers on the go is a major advantage for any business. But what if the wi-fi goes down or you're selling burgers at Splendour in the Grass and there's zero reception?
Say hello to offline payment processing. This feature enables you to carry on taking secure payments even when there's no service, meaning you can continue doing business with no interruptions.
With Square's offline mode you can carry on selling even when you're not connected, and any sales you make will process automatically as soon as you're back online. Offline payments are processed automatically when you reconnect your device to the internet and may be declined if not processed within 24 hours.
Why do I need offline credit card processing?
While connectivity issues are more common for mobile businesses, even the best setup brick and mortar stores, cafes and restaurants can encounter loss of mobile reception or wi-fi issues and as a business owner you want to avoid any trading disruptions. Setting up offline payment enables you to carry on taking orders even when your signal drops out or is non-existent. Say goodbye to missed sales!
Accept payments offline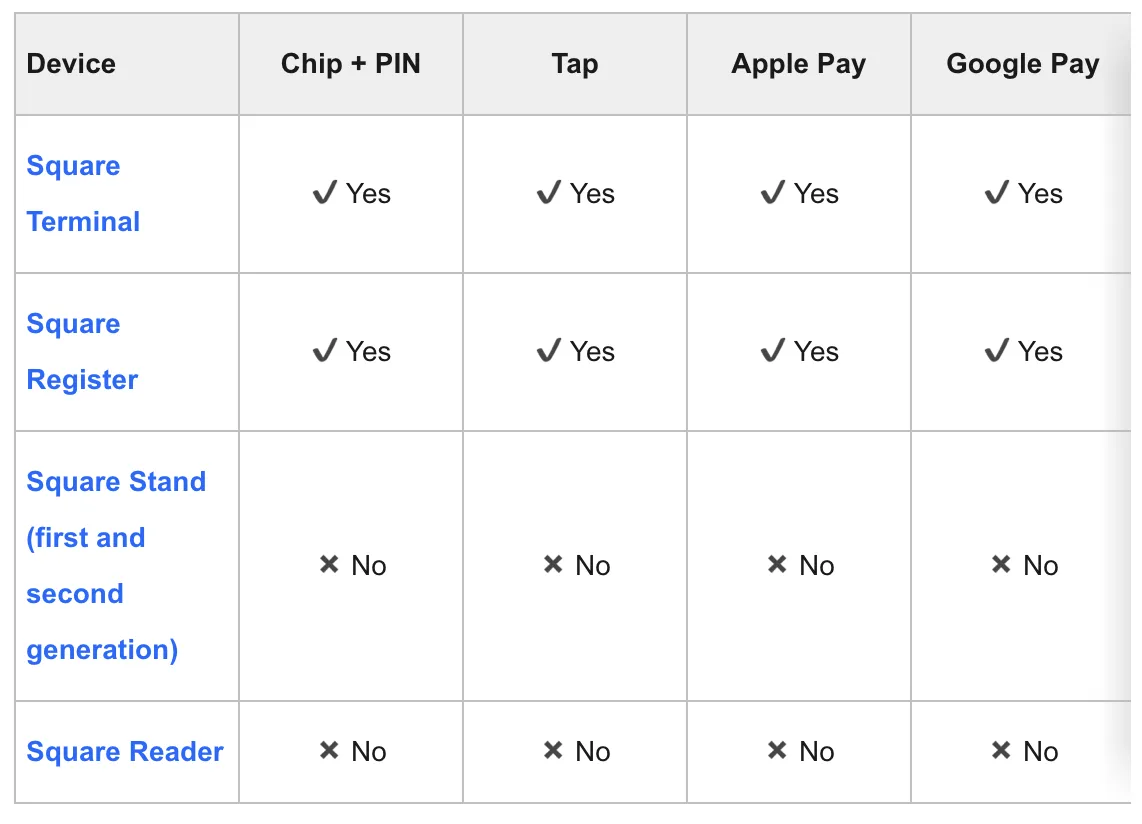 How do I get started with offline payments?
Setting up offline payment processing is straightforward and can be done through Square's Point of Sale app. The POS software is free and works on both Apple and Android devices.
To enable Offline Mode on Square Point of Sale from any device:
Tap ≡ More from the navigation bar.
Tap Settings > Checkout > Offline Mode.
Toggle on Allow Offline Mode.
Review the information, then tap Allow Offline Mode.
Tip: You can set a payment limit per transaction for offline mode. Simply enter this next to the per transaction limit. The maximum limit per transaction is $50,000.
Once you've enabled offline mode, your Square device automatically switches to offline when there's no internet connectivity. There's an orange bar at the top which indicates that you're offline.
When you're ready to take a payment offline, customers can pay using a contactless debit or credit card, chip or PIN and Apple Pay or Google Pay.
Viewing offline payments
If you want to check in on your payments, view them in your in-app payment history while you're offline where they show up as pending. Once you regain connectivity, they will process automatically and you can view completed transactions in your Square dashboard. Digital receipts and payment notification emails are also sent as soon as you're back online.
Tip: It's worth remembering that you can't cancel a pending transaction, so if someone changes their order post-payment, let the payment go through once you have connectivity and then refund it.
Important things to remember with offline payment processing
When you take credit card payments offline, there is a small risk of expired, declined or disputed payments. Card issuers can't talk to Square Point of Sale without the internet, so you won't necessarily know if someone enters an incorrect PIN or if their card has expired. However, you're responsible if any transactions later fail when you're back online. Setting a transaction limit while offline is a good idea because it reduces your exposure if a payment doesn't go through.
If you're worried about being caught out by declined transactions, double-check card details to make sure they're not expired and write down the customer's name and number on the back of the receipt – that way you can get back in touch with them if you need to. You can learn more about offline payment processing here.
Tip: don't log out of your Square Dashboard while you're offline as any pending payments will be permanently lost and the funds won't be transferred.
Learn more about offline mode here
Credit card compliance
You don't need to worry about whether your customer transaction data is protected when you take offline payments. Online or offline, Square encrypts and protects all transactions.
You may have heard of PCI DSS compliance, which is the global standard for ensuring secure credit card payments. All businesses which accept credit and debit cards in Australia need to be compliant.
Square takes care of this compliance so you don't have to. Our software provides end-to-end encryption provided you use Square to process all customer transactions, data and payment details.
What this means in practice is that if you submit an offline transaction, it is encrypted and can't be decrypted until it reaches the bank's servers. Any offline credit card transactions submitted for authorisation are securely deleted from the mobile device as soon as you're back online.
On top of that, all customer and transaction data is also encrypted. The card number or security numbers are never fully displayed to the seller either, regardless of whether you're online or offline.
Offline Mode is a valuable tool in your business arsenal, allowing you to keep trading even when the internet doesn't work. Whether you're a static bricks-and-mortar shop or a mobile business visiting dozens of different places in a day, it makes sense to have the feature switched on. With offline mode enabled in the background, forget about service interruptions and concentrate on doing what you do best instead.