Table of contents
Have you noticed your business is listed on Google Maps, but you're not sure how to edit the information? Are you looking to get your business to rank higher in local Google searches? By optimising your Google Business Profile (formerly known as Google My Business) for a strong search strategy, more potential customers can find you online. After all, businesses are found, on average, through 157 direct searches each month and 852 discovery searches.
A Google Business Profile is an indispensable (and free) tool for a strong local SEO strategy — and one that every local business owner should be using to maximise local orders from Google Search and Maps.
Here's everything you need to know to set up and optimise your Google Business Profile.
What is a Google Business Profile?
Your Google Business Profile is your business listing that appears in Google Search and Maps when users search for keywords that match your business.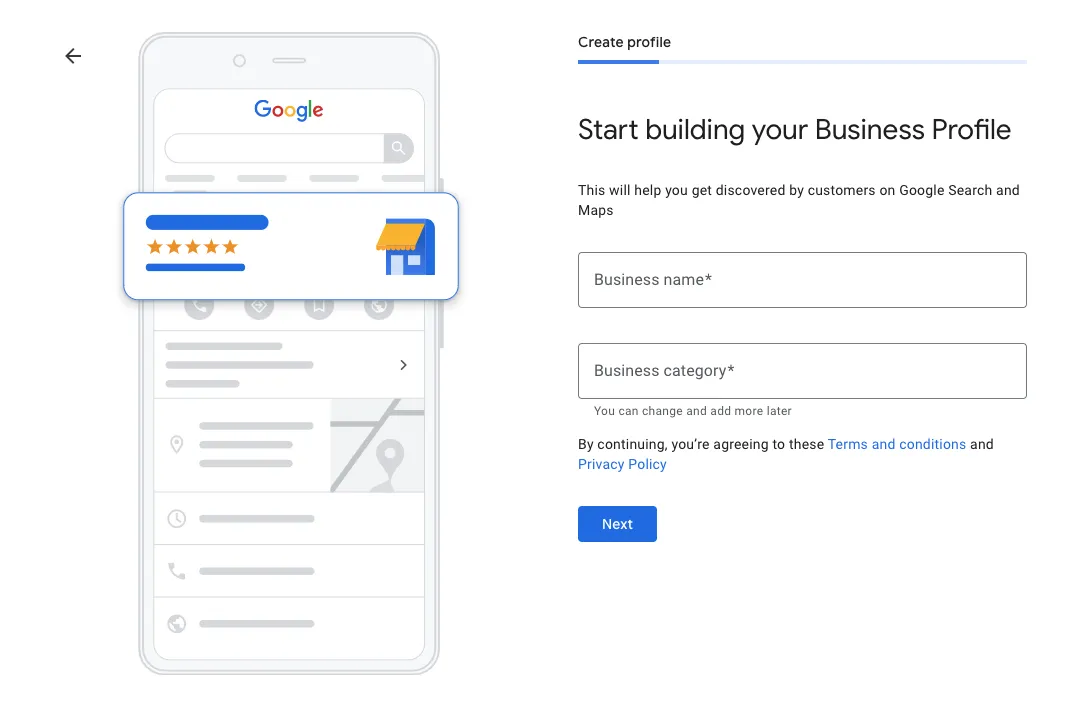 When you search for your own business using Google Maps, you may see your Business Profile appear, even if you've never set up an account. A Business Profile is automatically created when anyone adds a business to Google Maps (yes, even a complete stranger can mark your business location). If you don't add information to your Business Profile, Google will do its best to automatically populate it with any data available online.
You can control what Google displays in your Business Profile to ensure all details are accurate and optimised to help you rank in local search results. You can also interact with customers and access valuable insights about your local search performance, search queries, and more.
Getting started: Adding or claiming a business
To add or claim your Google Business Profile on Google Maps, head to www.google.com/business.
Google's setup page will walk you through the process step by step. If your business is already listed, this is when you'll be able to claim the listing. Otherwise, you'll set up a new Business Profile.
At the final step, you will be asked to verify your business. Postal verification is the most popular option. Some businesses are also eligible for phone or email verification.
How to choose Google Business Profile categories
Your business categories are extremely important, as they have a big impact on how Google ranks your business in local search results.
Your categories also determine which features Google makes available to you in your Business Profile. For example, hotels get access to the "star ratings" feature and restaurants have the ability to add a menu, while educational institutions aren't able to receive Google reviews.
Google allows you to select one primary category and nine secondary categories. You can always change, add, or remove categories in your Google Profile, so don't worry about your choice being permanent.
Choosing your primary category
Your primary category has the biggest impact on your search rankings. If you're feeling stuck on which category to choose, try the following tips:
Make a list of your business's most relevant search terms and phrases.
Search for your relevant terms in Google and identify which of your competitors appear in the first page of search results.
Look at competitors' Business Profiles to see what they are using as their primary and secondary categories.
Don't be afraid to experiment. Try one category for a few months. If your rankings aren't improving, switch to a different primary category to see if it resonates better with your local audiences.
Choosing your secondary categories
Use your secondary categories to cover all other services your business offers. Here are some tips for optimising your categories:
Choose only categories that are truly relevant to your business — irrelevant categories can harm your rankings and confuse users.
Consider a slightly less popular category to allow you a better chance of ranking higher over a larger area on the map. For example, the category "Hair Salon" may be highly saturated among local businesses. If your salon offers hair extensions, opt for the specific category of "Hair Extension Technician," as there may be less competition, making it easier for your business to rank for this search term.
Include services on your profile
Add services to your Business Profile to allow users to see what you offer at a quick glance. This will improve your chances of appearing in local searches. When you go to add services in your Google Business Profile, Google will suggest services for you based on your business type. If you don't see a service listed, you can also add your own custom services.
Google Business Profile image size and content recommendations
Adding images to your Business Profile is valuable for improving user engagement, showing off your business's best face, and signaling to Google that your business is active and relevant.
One BrightLocal report revealed that businesses with more than 100 photos on their profiles get 520% more calls than businesses with fewer photos. Google itself reports that customers are more likely to request driving directions to businesses that have photos in their Business Profile.
Upload images in a JPG or PNG file format, and follow Google's image size recommendations:
File size: Between 10KB and 5MB
Dimensions: At least 250 pixels x 250 pixels; recommended size is around 720 pixels x 720 pixels
Logo image dimensions: 720 pixels x 720 pixels (logos are square, so upload a square image for best quality)
Cover photo dimensions: Around 1024 pixels x 576 pixels (cover photos are landscape orientation)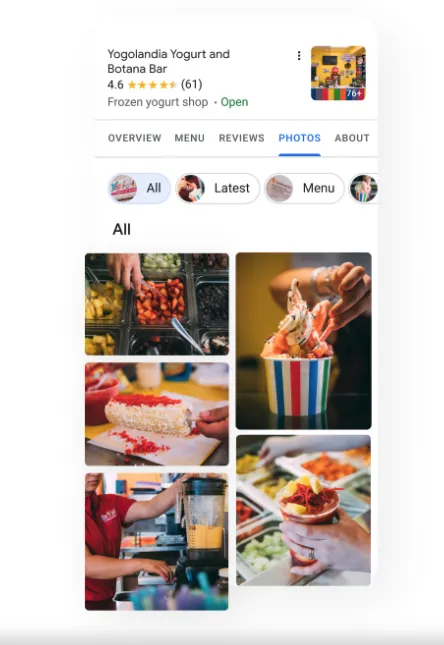 Create a strategy for regularly adding new photos to your listing. Google rewards businesses that actively add to their Business Profiles by ranking them higher.
Google Business Profile dashboard overview
When you log into your Google Business Profile, you'll see a dashboard where you can access valuable insights. The menu on the left-hand side allows you to navigate to each area of your Google Business Profile, including info, reviews, photos, products, services, and more.
Visiting the Insights section will open a dashboard full of helpful data about your Business Profile.
Insights dashboard
On the Insights dashboard, you will see data revealing:
How customers come to your listing
How many people view your listing on Google Maps and in search results
What types of actions users take when viewing your listing
Customer opinions of your business, based on reviews and user feedback
Revisit the dashboard regularly to see how user behavior changes as you optimize your Business Profile. For instance, you may track:
How many customers request directions to your business after clicking on your listing
Which days of the week customers most often click to call your business through your listing
How many customers visit your website after seeing your listing
The information displayed on your Insights dashboard reflects all views from the past 28 days. You can go further into the Insights tab to review information in more depth.
Making the most of Google Maps
To optimise your Business Profile for Google Maps searches, focus on improving the following four features in your Google Business Profile account.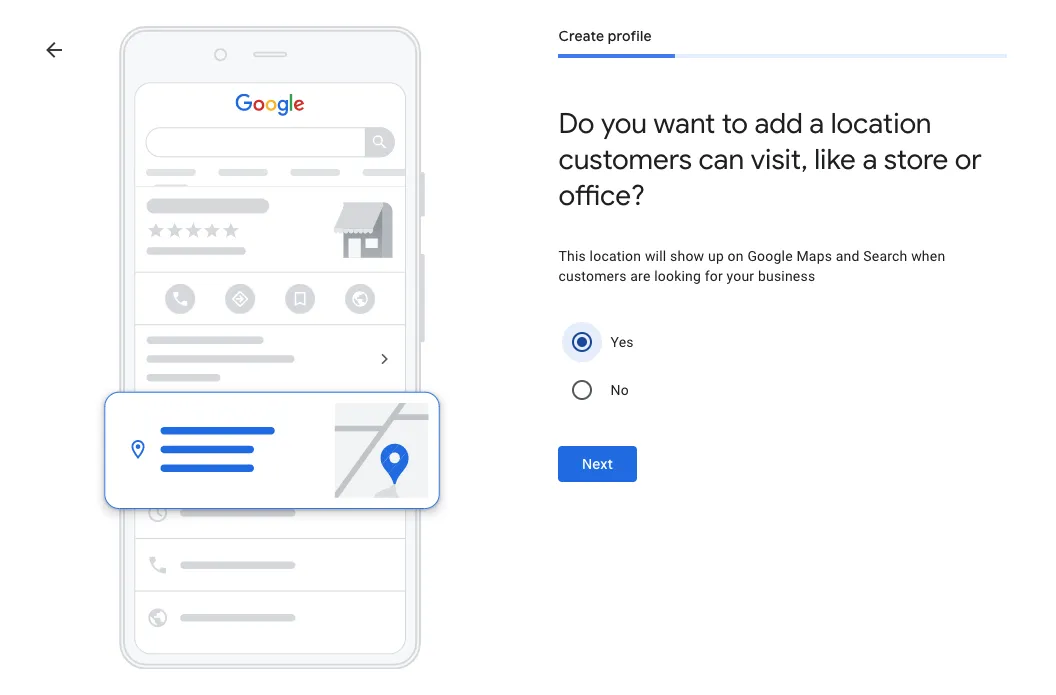 Business title
Make sure your business title accurately reflects your "real world" business name. If it naturally includes keywords related to your services or location, that's even better, but don't force it. Google may penalise your rankings if your business title doesn't match your true business name.
Business category
Your primary category is the most influential to Google Maps results. If your business isn't ranking as high as you'd like in Google Maps, try changing your primary business category to target more specific searches.
Google reviews
To help rank a business listing, Google will consider:
Total quantity of reviews
Average numerical "score" (star ratings)
Appearance of relevant keywords in reviews
While you don't have control over what customers write in their reviews, you can encourage your customers to leave reviews on Google to increase your total number. You can use Square Marketing to send automated email and text message campaigns that prompt customers to give reviews at key points in their lifecycle with your brand. You may even incentivise customers by offering a special deal or reward for those that leave a Google review.
Website URL
Google will scan the URL you've connected to your Business Profile to check for relevant keywords in the meta title and the quality of links that drive back to that page. The more relevant keywords and high-quality backlinks, the more evidence Google sees that your business is relevant to users.
Consider this when choosing which page to link as your website URL in your Business Profile. Depending on the nature of your local business, it may make sense to link a location-specific landing page with a highly relevant meta title or a service-specific landing page that has plenty of high-quality backlinks driving to it.
Google Maps misconceptions
There are some features that are commonly believed to help boost Google Maps rankings, but actually don't factor into search results. The following aspects don't impact your Google Maps rankings (although they may still be valuable for other reasons):
Adding keywords to your business description
Adding more service areas to extend your reach
Geo-tagging your images manually before posting them
Google Product Listings
Listing your products directly within your Business Profile is a great way to display your offerings quickly and easily to users. You can set up Google Product Listings in Square, making it easy for customers to find you in search results and be directed straight to your Square Online website to make a purchase or learn more about your product line.
Once you're validated, you can then manage your Google Product listings directly through your Square Dashboard.
Order with Google
If you are a food or beverage business that meets the criteria discussed below, your Square Online ordering page is automatically integrated with Order with Google. Order with Google allows potential customers to more easily discover and order directly from your Square Online ordering page using Google Search and Maps.
When potential customers find your business via search, they'll be able to order right then and there, directly from you, rather than having to click multiple pages or use a third-party app. That means you build stronger customer relationships and avoid high marketplace commissions.
Managing multiple locations on Google
If your business has more than one location, Google allows you to manage all of them from a single Business Profile.
To do this, set up a location group account by linking all of your locations under the same login. This is more valuable than having separate Google Business Profiles for each location, as it shows Google that these locations operate under one brand. Linking your locations also avoids duplicate information about your business in separate accounts, which can be a red flag and potentially hurt your rankings.
Before adding more business locations, wait to ensure that your main location is verified. If you or someone else has already made a separate account for your different locations, you can simply transfer them in Google and connect them to the same master account.
Setting holiday hours on your Google Business Profile
When your business closes early for a holiday or opens later in the summer, it's important to update this in your Business Profile to ensure a smooth user experience.
GMB has a few features for setting your business hours:
More hours
Special hours
Temporarily closed
Permanently closed
If your physical location is closed but you are still offering pickup or delivery services, don't mark your business as temporarily closed, as you will no longer show up in Google search results.
More hours
The "more hours" feature is for businesses that provide specific services at times different from their normal operating hours. If your delivery hours extend past the hours that your brick-and-mortar location is open, indicate this using "more hours."
Special hours
The "special hours" feature is for setting holiday hours or other temporary changes to your business's operating schedule for particular days. Google allows you to set holiday hours in advance, so you can plan ahead as soon as you know what your holiday operations will look like.
Simply go to "special hours" in your Google Business Profile and select individual days to mark your business as closed or to adjust the hours on that day. When users search on the given holiday, your Business Profile will then indicate that what they're seeing are holiday hours.
Don't ignore your Google Business Profile
As a local business, ignoring your Google Business Profile is leaving an opportunity on the table. While the Google algorithm is advanced, it can only make educated guesses about your business information to populate your Business Profile.
When you use a Google Business Profile to take charge of how your business is represented in Google Maps and search results, you can optimise your listing to improve your search rankings, leading more customers to find you organically. Since a Business Profile is free to set up and simple to manage, it's a win-win. Potential customers are going to find your business on Google either way, so make sure they get the best possible first impression.