Everyone knows that Aussies are passionate about their coffee. But while working In the seaside suburb of Somerton Park, South Australia, Amy and Ben Stephan had to travel more than 30 minutes each morning to secure their favourite brew. The building they operated their clothing wholesale business from had space, and they knew locals valued quality coffee as much as they do. So, they opened a cafe, Good Day.
Fast forward two years and the walls are packed to the rafters with pots, and plants adorning the shelves, they have expanded online and even have their own line of merch! We recently visited Good Day to talk about food, retail and multi-channel expansion.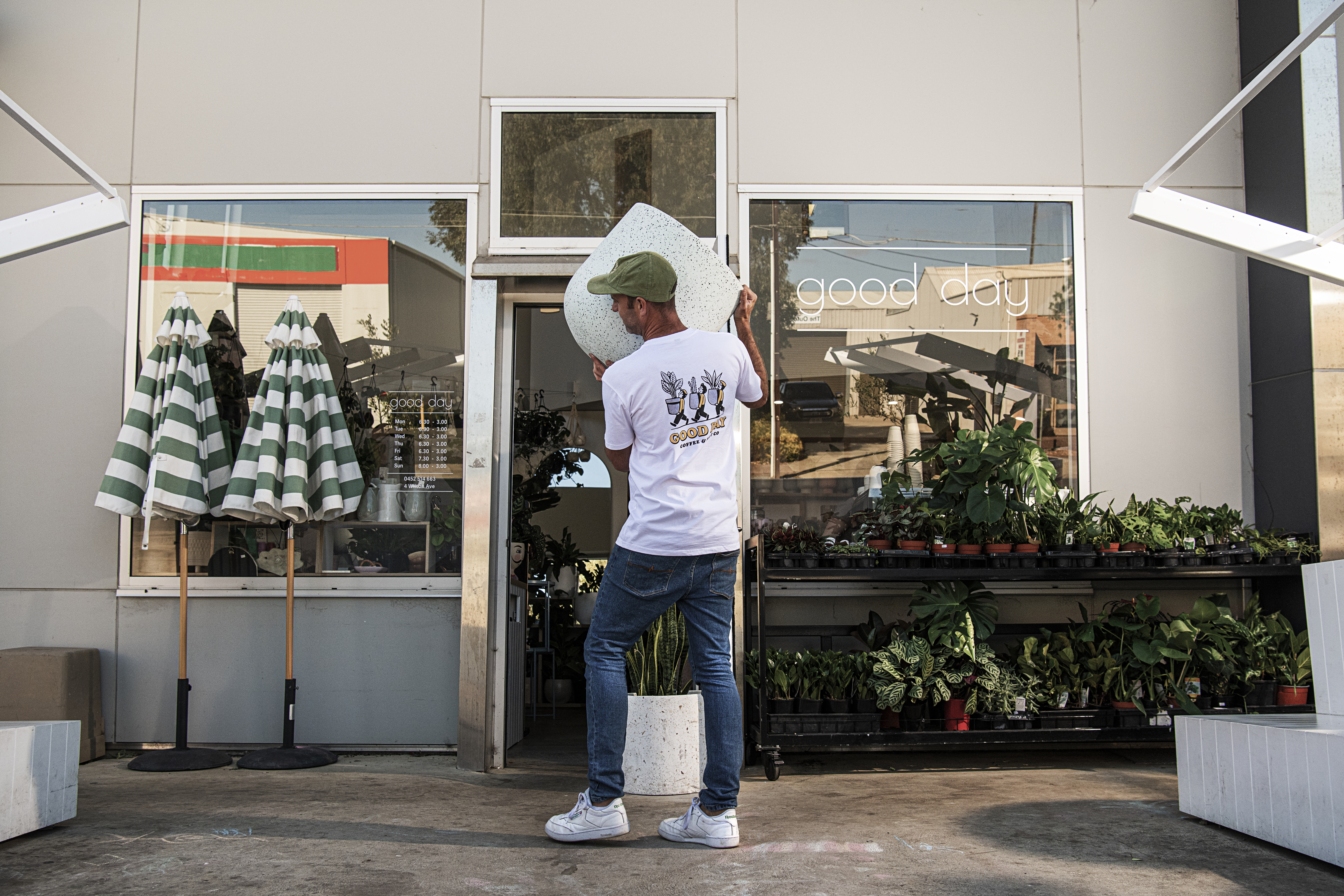 SQ: Firstly, tell us all about Good Day, how did it all start?
A&B: Good Day is a coffee, plant/pot and lifestyle shop in Somerton Park, South Australia. We opened 5 years ago when we decided that other people in the area must be as addicted to quality coffee as us. Unfortunately, we had a good 30 minute round trip to get it. We had space in our building where we run our clothing wholesale agency, so the decision was made to start the coffee shop!
SQ: How have you evolved since first opening your doors?
A&B: We started by serving good coffee, but when building the shop fit-out we needed greenery. I believe our words were "why not try and sell plants before they die…" This was the beginning of a quick evolution to selling retail items such as pots, plants and eventually homewares and art. Today we stock hundreds of plants and also have thousands of pots! Amy has done an amazing job at curating the collection as an extension of our beachy roots.
Throughout all of this, we have stayed focused on making sure our coffee is the best in the area, because one bad coffee can turn a customer off for life. We are also very close to adding a selection of wine and beer, (plus a few nice gins) for those who are all coffee'd out for the day.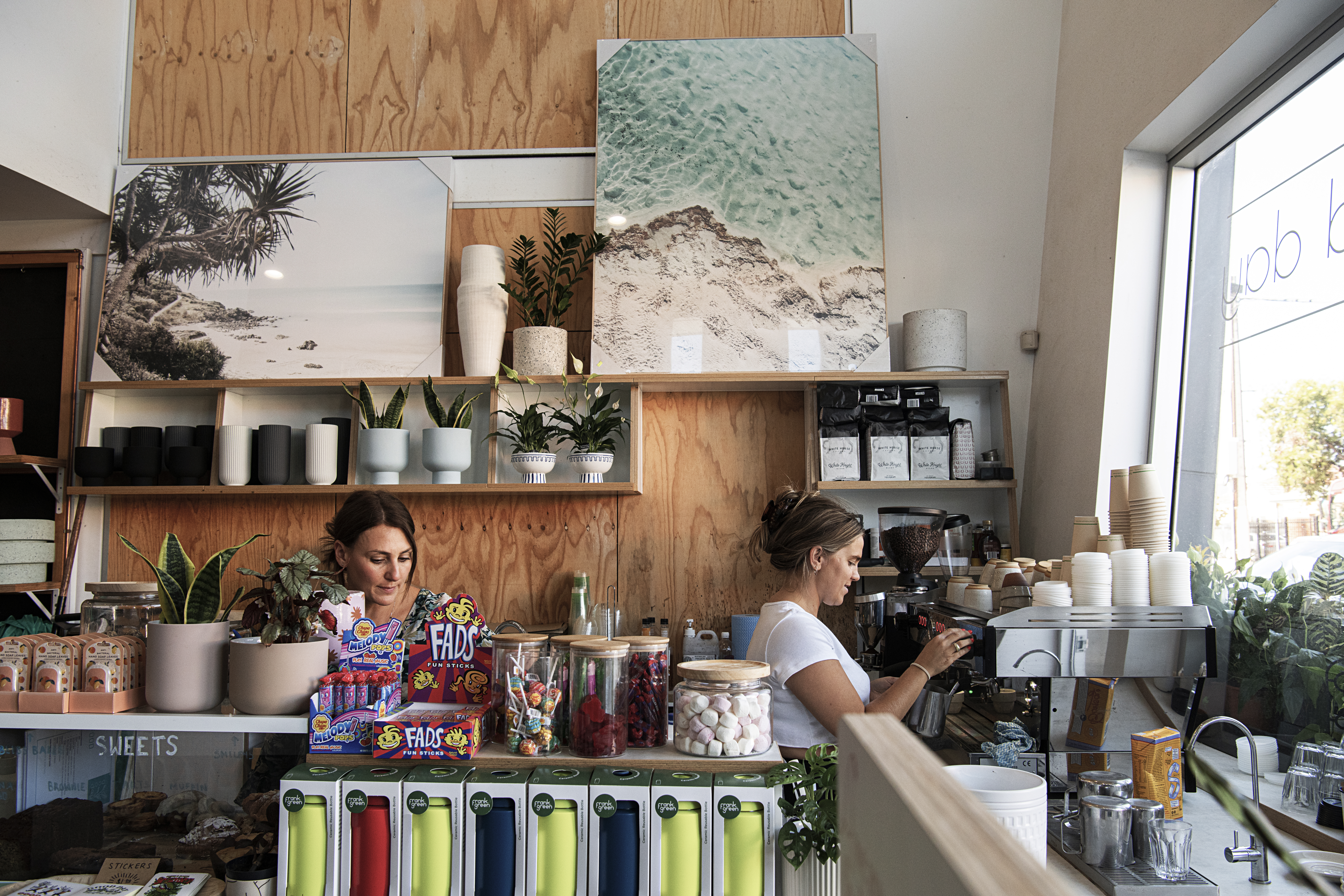 SQ: You have refined your brick and mortar space to accommodate your growth, tell us more?
A&B: We honestly just couldn't fit! Two years ago we knocked a hole in the wall and built a room in the rear warehouse to accommodate our ever-expanding product lines. We also built storage for our pots in the building next door. It felt like something was being added every week for the last year. New shelves, a new kitchen, bigger and better coffee machines, more warehousing and even a new outdoor dining area.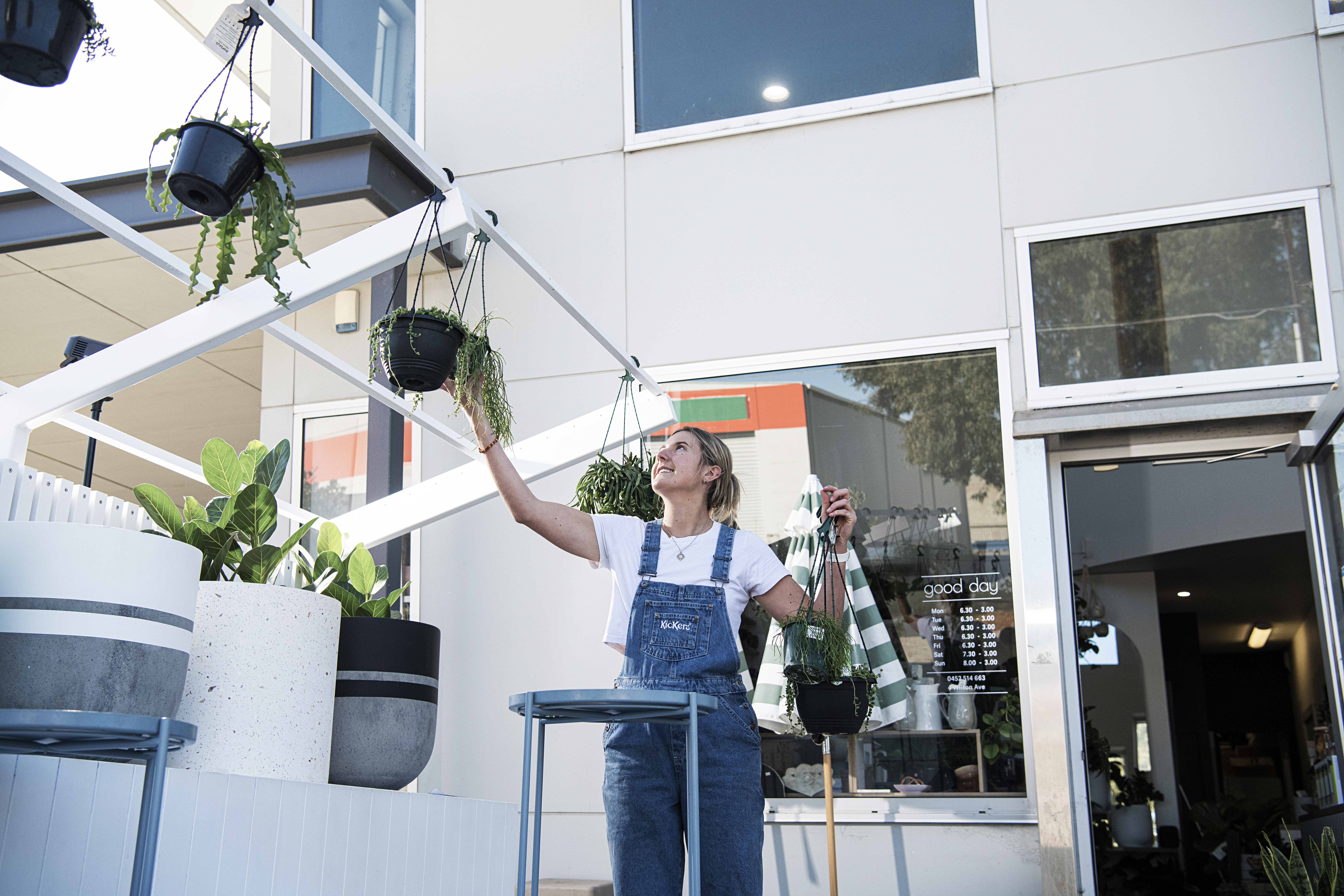 SQ: Tell us about your merch?
A&B: Coming from a clothing wholesale background, our good mate @nickcurldesigns has created rad designs which were too good to not print on tees and jumpers. Our customers love them, with some selling out straight away and going to reprint!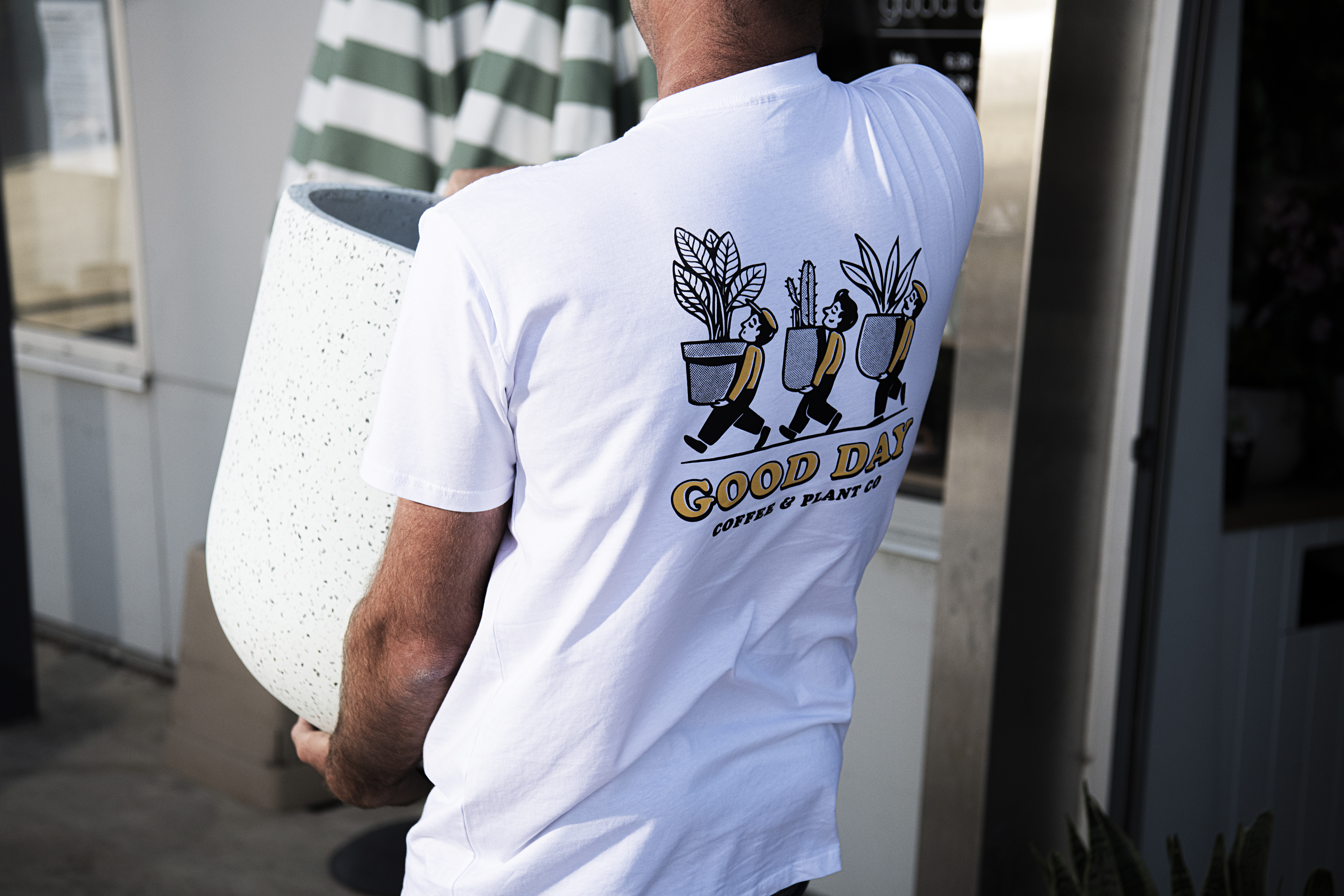 SQ: You have created an engaged online following in a short time. How has this helped your business grow?
A&B: We honestly wouldn't be where we are right now without social media. You can't put a price on the reach, engagement and the ability to target key demographics and locations. We love running competitions, which in turn, can boost your reach quite quickly. We are fussy with the look and feel of our social channels as it's a direct reflection of our business. It is a process to get right, especially while serving, chatting to customers and making hundreds of coffees each day!
SQ: Top three social media tips for fellow retail business owners?
Run competitions to help grow your audience
Real people and stories win every time, product shots don't
Sell the dream
SQ: Why did you choose Square to help power your business?
A&B: We used Square before we even opened up our shop. We have used many different POS systems and find Square is the best for simplicity, features and pricing.
Last year we had a pot clearance sale and it was so busy we couldn't keep up with just the one Square Reader, the line was out of the shop! We ducked out to Officeworks and had a second one up and running within 20 minutes, including travel time! Try and get that from the banks.
Square is our Point of Sale and Payments system, we use it for all sales and coffee/kitchen orders. It has the flexibility to print a docket for a customer, plus one to send directly to our barista. We also love the fact that 90% of our receipts for customers are now sent as paperless emails or text messages.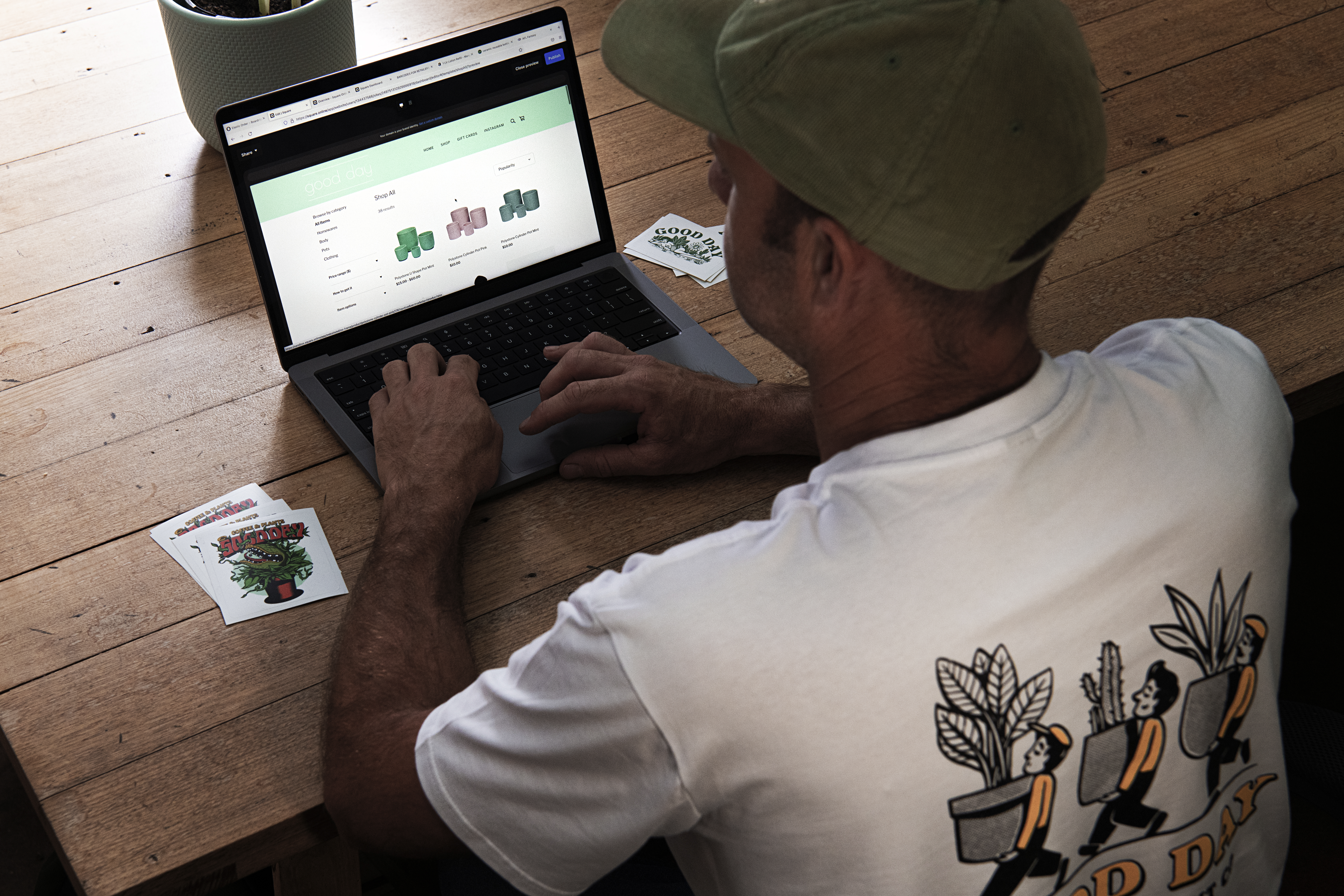 SQ: What made you decide to add an online channel to the mix?
A&B: Online wasn't on our radar in the beginning. We knew there was a market there, but needed to make sure our brick and mortar location was correct first. There has been a big shift in the last 5-10 years towards online shopping, and Covid lockdowns have fast-tracked this in Australia. Now that our product lines have expanded, it's time to evolve and jump into the online market.
We have just launched our website using Square Online. Since all of our products are already in our Square POS, all we had to do is make sure the photos are up to standard and stock levels are correct. It has been easy to design the website and we are working through the many third-party apps that can help us with things like shipping and tracking. We are excited to see how this channel grows and adds sales to our business in the coming years!
SQ: Any exciting future plans that you can share with us?
A&B: The only thing better than a Good Day is Good Day's… This may be happening sooner than first planned, we will keep you posted!
Want to know more? Read more business stories, plus tips and tricks to action in your business on Townsquare.