Melbourne's small businesses are as diverse as its neighborhoods. Sellers south of the Yarra River are used to a more commercially savvy, affluent customer who loves shopping along kilometres of hardcore retail shops. Visit the north side of the river and you'll discover Melbourne's bohemian culture with an edgier mix of alternative fashion, galleries, cafes and bars.
We spoke with two Melbourne-based sellers who use Square Point of Sale to find out how they selected their locations, who they serve, and why their neighborhoods are unique.
Jacqui Vidal opened Signed & Numbered in Prahran, in the popular Greville Street retail precinct in 2010. She sells limited edition prints from local and international emerging and established artists. With two prints shop in Melbourne — the second located in iconic Degraves Street — and an online store, Jacqui says she, "aims to challenge preconceived notions of how art is viewed and ultimately enjoyed."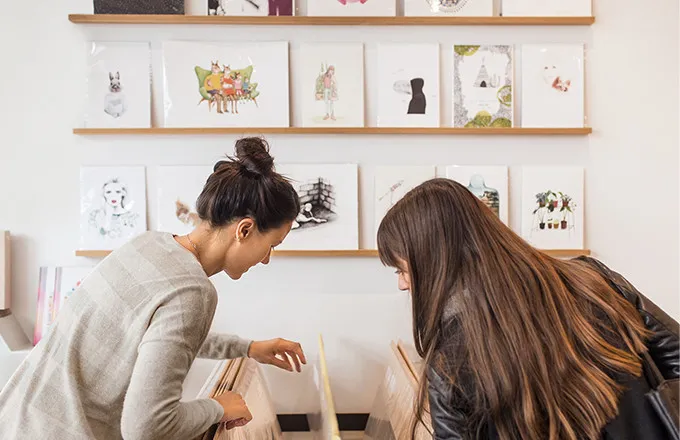 "Our print shops showcase works on paper from illustrators, fine artists, photographers, painters and street artists in a new and inviting way," says Jacqui. "Much like a record store displays records, the shops are designed to allow people to browse through works in a casual environment, handle them and appreciate their quality up-close."
Signed and Numbered's Prahran store has been welcoming art enthusiasts for over five years. "Over that time we've been lucky enough to see familiar faces pop in time and time again," says Jacqui. "It's always nice to have a chat with our regulars, see what's new in their lives and show them new limited edition prints that arrive almost weekly. A real community, Greville Street is full of owner-operator small businesses that specialise in their own unique niche markets. All the business owners on the street show a real passion for what they do!"
Meanwhile, Jacqui's Degraves Street shop is in the central business district, nestled in one of the city's iconic laneways. "Our Degraves Street store caters to city-dwellers and tourists," she says. "Our customers come from all corners of the world. It's an interesting space to work and the perfect environment to open your eyes to new worldly perspectives!"
Kustom Kommune's co-owner Jimmy Goode built the very first communal motorcycle workshop in Australia — on Easey Street in the heart of Collingwood, north of the city. Motorcycle enthusiasts pay for a yearly membership, which gives them access to a fully equipped workshop where they can work on their bikes, share stories and tips with like-minded individuals and learn skills in a collaborative environment. It also has a bar, regular BBQ smoke outs, and branded clothing — all to attract new customers, and keep members coming back.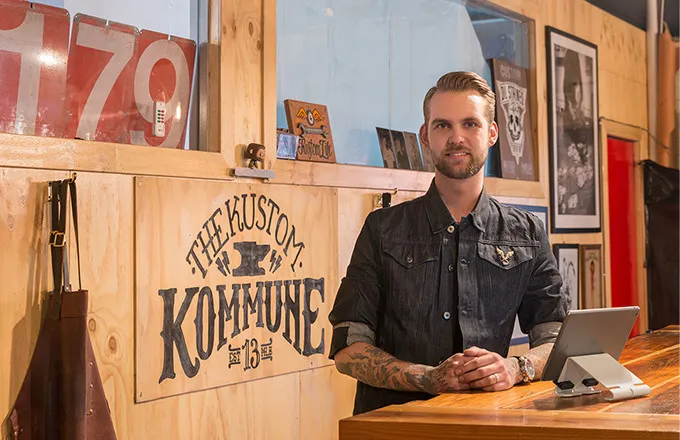 "Kustom Kommune has helped put Collingwood on the map as an inner city Moto-destination," says Jimmy. "Since the space launched in 2013, numerous other motorcycle-inspired startups, retailers and cafes have opened in the area."
Goode chose Collingwood as it's close to the city, has great public transport and has a young demographic. "Space is prime in Collingwood," Jimmy says. "Few houses and apartments have garages, and some don't even have parking spaces. Kustom Kommune is a great solution for people in these situations."
Retail and small businesses in Collingwood often have a definite edge over those on the south side of the Yarra. We asked Jimmy how being located in this area helped shape the business' look and feel.
"Kustom Kommune is a little bit grungy, just like the area, and we take pride in being very open to our greater community," he told us. "Collingwood is very community-focused. Everyone knows everyone and people are always there to help. We regularly open our space to local artists, photographers and creatives to use as needed. I love the area and it has shaped our space. As we open new spaces our aim is to take a little bit of Collingwood with us."