Table of contents
You're no doubt familiar with contactless card payments, and even more prominent now across Australia is phone payments. No more need for cards, or wallets at all! Samsung Pay, much like Android Pay or Apple Pay, is one such app that means quick and simple card payments can be made straight from your phone, meaning that along with being cashless, we may well be on our way to being a completely wallet-less society!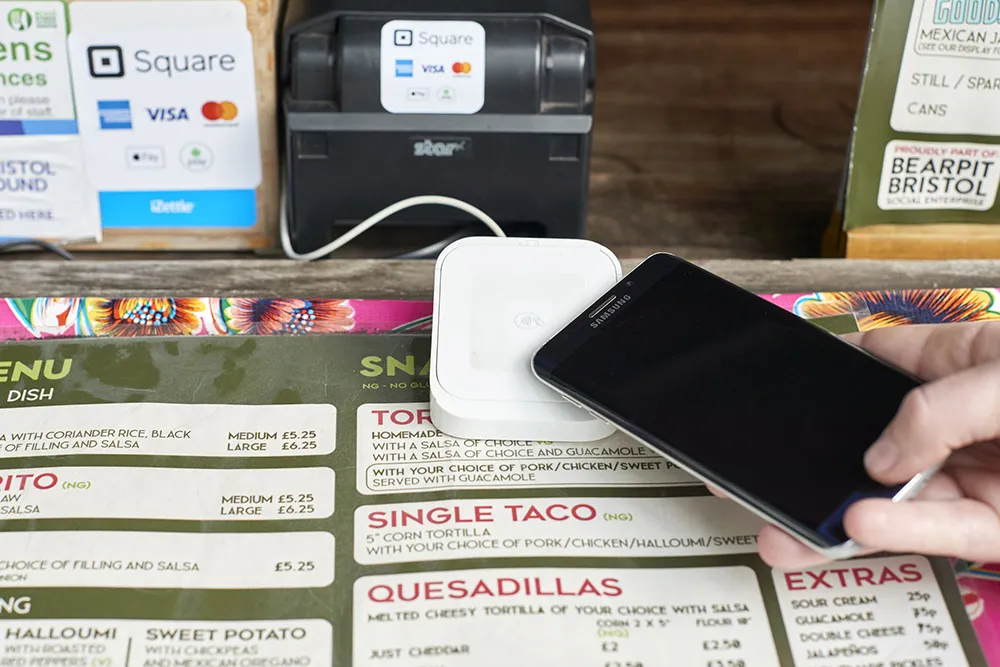 What is Samsung Pay?
Samsung Pay is a payment app designed for the latest Samsung model phones, just as Apple Pay is designed for iOS. It works in the same way as other digital wallets and allows you to store your debit or credit card in your phone, which you can then use to pay for things by holding it over a card reader like Square Reader.
Samsung Pay is also compatible with loyalty cards and gift cards, so you can store all your cards digitally and have your funds easily accessible from one single app. All payments made will be stored in the app, helping you keep track of your purchases.
Who accepts Samsung Pay?
You can use Samsung Pay in any shop that accepts contactless payments and updates and offers from businesses using Samsung Pay can even be browsed from the app.
Transport authorities in most Australian states support the app for payments made on trains, buses and trams, and there are also a large number of banks and card companies that support the use of their cards for Samsung Pay.
Which devices work with Samsung Pay?
The app works with Samsung's latest models from the Galaxy S6 and onwards, including:
Galaxy S21 models
Galaxy S20 models
Galaxy Note 20
Galaxy S10 models
Galaxy S9 models
Galaxy S8 models
Galaxy S7 edge
Galaxy S7
Galaxy S6 edge+
Note 5
Galaxy A8+
Galaxy A7
Galaxy A5
And much more.
The exclusivity to its latest models has to do with the levels of Samsung Pay's security, which requires the hardware needed for biometrics, i.e. an iris scan or fingerprint to authorise payments.
How do I use Samsung Pay?
It's quick and easy to get started with Samsung Pay:
Download the app, and sign in using your Samsung account
Confirm your security IDs, including a fingerprint or iris scan and a pin number
Photograph the cards you want to upload, including credit, debit, loyalty and gift cards
Your cards are now ready to be emulated, head out to any shop and pay by holding your phone over the reader while pressing your finger to the home button (debit cards may also require you to access their PIN number).
Swipe left or right to sort through your uploaded cards or select a dedicated "travel card" for TFL.
Is Samsung Pay safe?
Cards stored in Samsung Pay are still protected against fraud by their issuing banks, and if your phone is lost or stolen, you can lock your cards or erase them from your phone using Samsung's Find My Mobile service.
Every card uploaded to Samsung Pay is also protected by tokenisation, so your real card number is represented by an ever-changing series of figures. As such, no purchase ever uses the same information. This means that even if fraudsters got a hold of your purchase data, the card number used will have changed multiple times since then. Samsung Pay uses the Knox system to implement these security measures.
Samsung Pay vs Android Pay
Samsung's most obvious competitor is Android Pay, which is compatible with Samsung phones that are Android 4.4 and above. Samsung Pay offers Samsung users another option for adopting a digital wallet.
One significant difference between Samsung Pay and its competitors is in its technology. While other digital payment systems work with NFC technology, which requires shops to have contactless-enabled card readers, Samsung can also accept Magnetic Secure Transmission (MST) payments. This notable addition to Samsung Pay's technology means that any payment terminal that accepts cards, will also accept Samsung Pay. So, even if you go to a shop not enabled for contactless payments, the app can still present your card in its magnetic stripe form and complete a payment. There are some exceptions to this, such as cash points which require cards to be completely inserted into the machine. It's also important to note that some newer versions of Samsung don't support MST.
Accepting Samsung Pay
Want to accept Samsung Pay payments at your business? You'll need a contactless card reader — Square Reader costs just $59 and allows you to accept Chip and PIN, contactless and mobile payments including Samsung Pay.