The owner and director of Grumpy Donuts, Elise Honeybrook, tells us that "donut" is the universal word for happiness — and after seeing her range of flavours, we tend to agree. Grumpy Donuts, based in the inner-Sydney suburb of Camperdown, has built a solid reputation on being more than just putting anything on a donut: "If you chuck some M&M's on top, what makes it unique? Where's the effort?" Elise told Broadsheet Sydney in a recent interview.
After making the transition from an online-only donut-order business, Elise and her partner Scott opened their brick-and-mortar location in September 2016 — and picked up a Square Reader for contactless and chip to help them accept payments and run their point of sale. Over a year later, we caught up with her to hear how the donut business is going.
What's the most important thing about operating a good donut business?
Our business is bringing super-good quality, handmade, yeast-raised donuts to our hungry customers. We try to keep the flavours interesting and we create them from scratch with real ingredients, and we change the flavour offerings every day. We have such a wide range of customers — we're fortunate that "donut" is truly a universal word for happiness, so most people are super into what we've got to offer.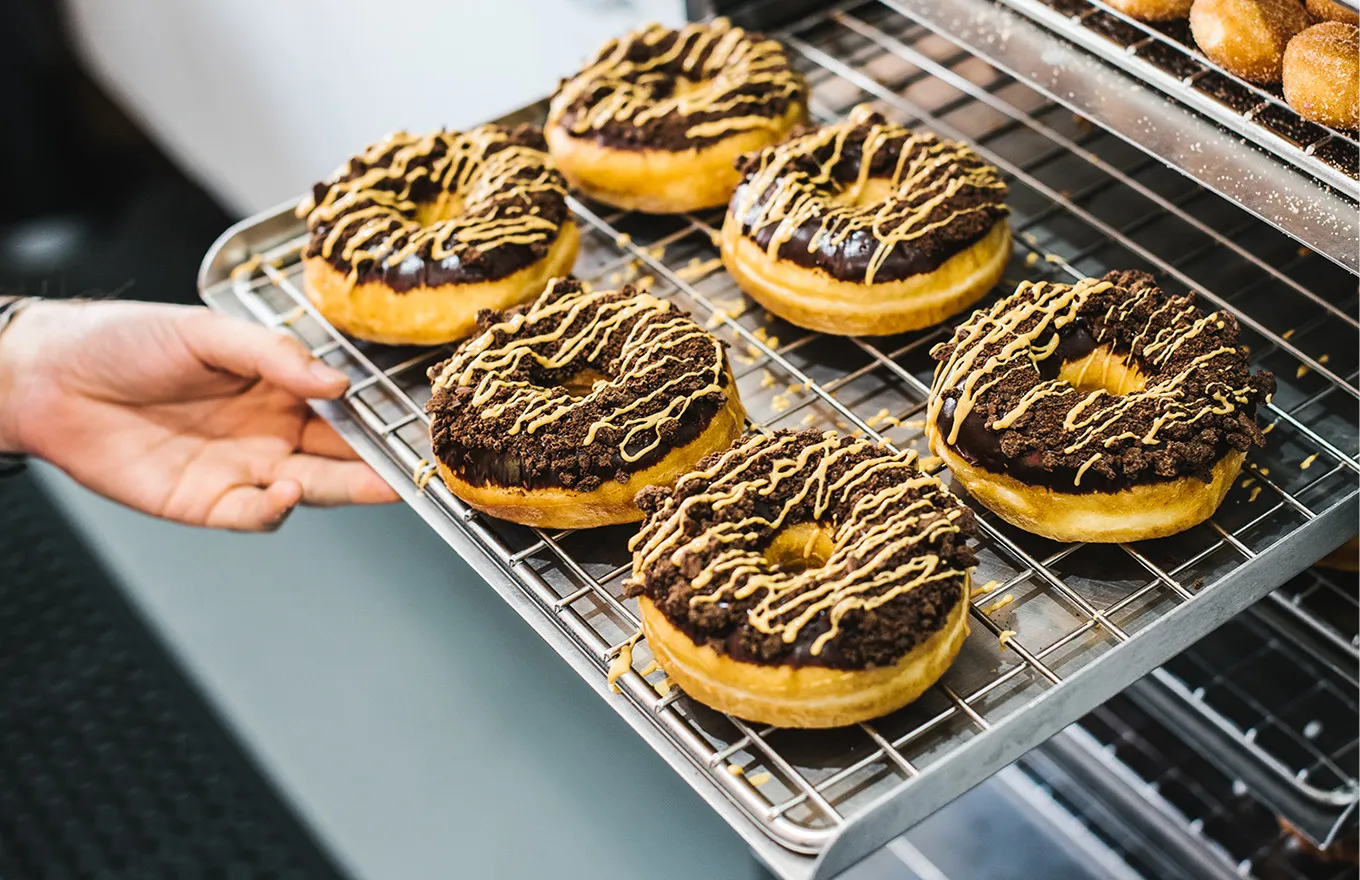 You started out online-only with regular deliveries. What was your work/life balance like then? How did you manage?
Our work/life balance was essentially nonexistent before we were able to graduate into our shopfront. Working from a small rental kitchen with the wrong equipment meant we had to work long and awkward hours to get out the quantity that we needed to (although that didn't stop us from selling out each week for deliveries). We got to bed around 3 p.m., started work at midnight, worked in the kitchen until 6 a.m., went straight out on our early morning cafe deliveries, stopped home for a quick change and then went back out delivering to the rest of our customers from 9 a.m. to 1 p.m.
Scott would often have the pleasure of moving on to start a shift at his other job from early afternoon to late evening. He would get home at 10 p.m. and start working again at midnight. Holding down two jobs with those kinds of hours is never easy. We managed to get through that stage pretty unscathed, but it definitely wasn't easy, and it made this part of our journey so much more appreciated.
How did you approach the transition from online to brick and mortar?
We started out super-slow (totally tactical) with our approach to this business. Initially we were only taking orders for Fridays and working full-time jobs around our Friday production. Very quickly that changed to two days a week until we knew we'd outgrown that model. Eventually we moved into our shopfront.
The donut marketplace is rapidly becoming competitive. What sets Grumpy Donuts apart?
I believe we already have set ourselves apart from the rest. Our focus on quality ingredients, creating things from scratch and intense quality control with our dough means we are able to remain a reliable source for great donuts every week. We also put a lot of energy into doing everything we can for our customers — our staff knows that they are the most important part of our business, so creating relationships and going above and beyond as much as we can for them really allows us to build a different kind of business-to-customer relationship.
What was the biggest thing that surprised you when you opened your shop late last year?
How difficult staffing is! Everyone told us that staffing would be the most difficult part of the business once the shop was open, but it still manages to shock me how it constantly keeps me on my toes. The hospitality industry can often be quite a transient one when it comes to employees, so sometimes you've got to accept that you need to go with the flow.
What made you choose a POS and payments platform like Square over a traditional EFTPOS terminal?
We legitimately love Square. When we were designing the space, the thought of having one of those hideous bank terminals on our counter sounded really unappealing! I loved the option of having something neat and clean-looking on our counter, which was simple to use for both our staff and customers. The transaction fees are really competitive; we can accept any card with a chip and the POS app is a dream to use — it's so easy to train our staff.
How has Grumpy Donuts grown, and where do you see the business in a year's time?
We're keeping up with five days of full trade after coming from only two days of a much smaller quantity each day. We are really pleased to see that the demand is there to support this.
The slowest process has been the goal we've been wanting to achieve from the moment we opened, which is getting myself and Scott out of the kitchen and on top of the business so we can focus on expanding and running it to its full potential. This is where we see our future — fully staffed without needing to be there on a day-to-day basis (the dream!). Scott and I would like to spread our wings and expand our empire to reach beyond donuts one day.
Photography by Alana Dimou.