Table of contents
To get more insight on how to run social media effectively, we sat down with Nick Dimichino, head of social media at Square (he's the brain behind Square's US Twitter, Instagram, and Facebook accounts). Here are five ways he recommends using social media to build your brand and your audience.
Create a conversation piece
Create an area at your pop-up or brick-and-mortar store with social sharing in mind. A neon sign, a printed wall, a piece of unique art, or a beautiful coffee bar are all "Instagram worthy" shots for customers and free content for you (just be sure to get the necessary permission before sharing others' photos on your channel). Prominently display branded hashtags and your social channels for tagging nearby, and consider incentivising customers with in-store social media displays, by sharing the best images on your brand channels (which will encourage others), and even giving away coupons or products to reward loyalty.
If your business is strictly online, you can encourage social content from customers by including a conversation piece in product shipments (as easy as adding stickers or your branded hashtags), or by holding contests on social with a specific theme or featuring your product. (Just remember, you may want to consult a legal expert before setting up a contest or free giveaway.)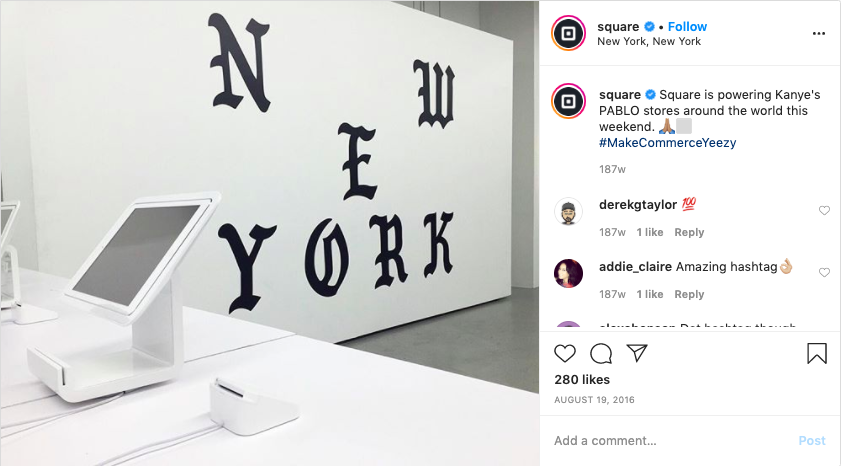 Build location specifics
Snapchat has over 166 million daily active users, so it behooves you to create a Snapchat geofilter for your brick-and-mortar locations, or even your HQ. Whether you're regularly active on Snapchat or not, you can create a geofilter for visitors to your space. The app also provides valuable data on how many people are searching for, seeing, and using your geofilters and tags.
Create a brand voice
The voice you use on social should be the voice of the person/people running your brand channels. Don't be afraid to showcase your true personality. If the voice isn't genuine, it's difficult to keep up with and sounds forced.
Square's voice reflects Nick's own slightly sarcastic and humorous side — his take on making payments fun, yet informative.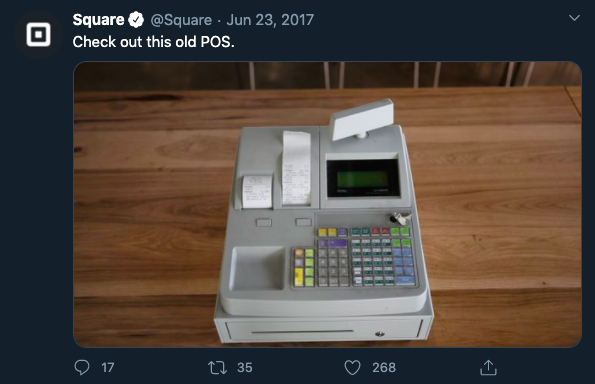 Keep everything together
If your business scales to multiple locations, it can be tempting to have separate social media accounts for each space. Don't. You should never unbundle your business or dilute social channels with multiple accounts. It's more work for you, plus it's harder to grow multiple channels at once.
Focus instead on building your brand and promote your locations through brand-sponsored content. Instagram Story takeovers from different store locations is a great way to promote various locations and introduce their employees, showcasing the differences between the locations.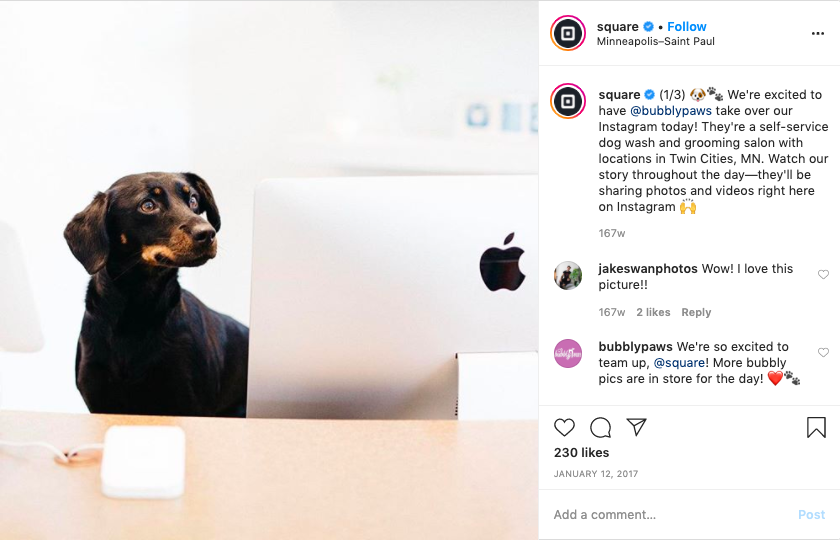 Send everything home
Your website is where the vast majority of your e-commerce functionality and online information should live. If you're running paid campaigns on social media, those campaigns should ultimately drive traffic to your site.