Square Sellers Cait Bousfield and Sam Rivait worked as barbers for years before they decided to open a small business together. Winnipeg's Good Fortune Barbershop is an inclusive, cruelty-free, LGBTQ+ owned and operated company, committed to elevating their industry while respecting the legacy and history of barbering in Winnipeg. The owners aim to provide "community-driven, thoughtful haircuts" in an environment where everyone is made to feel safe, supported and welcome.
Here, we speak with Cait and Sam about their work, their commitment to their customers and the impact hair can have on one's identity.
On the desire to do meaningful work that reflects their values
Sam: After working together in barbershops for over 7 years, we realized we knew what we wanted to do differently, and we knew what was missing in the culture of barbershops. We saw the gap. We would have people coming in saying they feel uncomfortable going to other places. We wanted to focus on a creating a space that was more inclusive in every way for queer, trans and racialized clientele.
When you spend more than 40 hours a week doing something, it's important to find how we can intersect what we do with what we care about to make a difference. It's in our personalities to try, and to care, so it was easy to put these things together to make people feel comfortable. Being community-focused, inclusive, and cruelty-free is so important to us.
Cait: Barber shops began as a place for community, and we are trying to take that narrative and make it accessible to all. We knew there was a need for a place like ours, but we didn't fully realize how important it was to people until we opened our own shop. Sam and I are always trying to push the needle forward, and we want to always keep learning to do better. We are really fortunate to be able to apply our hopes and dreams for our community in a tangible way.
Get Started with Square Appointments
A scheduling app that's easy for you, and your customers.
Sign up free
A scheduling app that's easy for you, and your customers.
On challenging the notion of traditional masculinity in barber shops
Sam: We've only ever worked for men, and when barbering in those spaces a lot of people would ask me if I'm sure I know what I'm doing. We wanted a place more inclusive to both staff and clientele. We painted our barbershop pink, and we've had men ask us to put sports stuff on the wall! Some men haven't had their masculinity challenged in this way before, and they can be shocked by it. I do think we are pushing the envelope.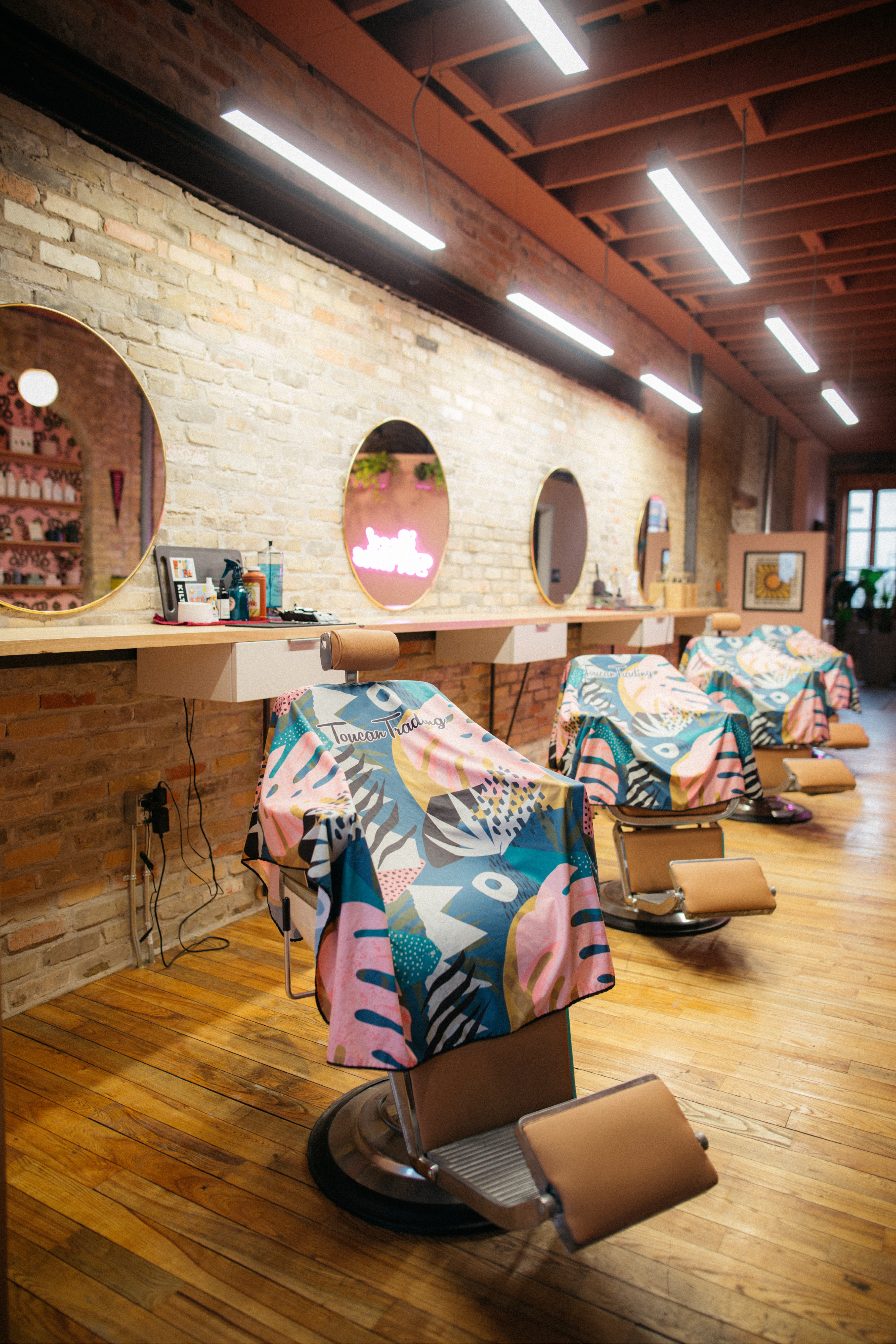 On how hair is important to one's identity
Cait: People don't realize the impact hair has on their self-image and self-esteem. It can be the big part of them making the move to changing their appearance. When we opened up our shop, one of our clients told us that they would sit in the mall to work up the courage to walk into a barbershop to get their haircut. We had a 14 year-old come in for a cut, and it was their first time getting a short haircut. Any other time they went to a barbershop, they were assumed to be a certain gender, and they were treated as though they were crazy for wanting their hair cut short.
Sam: People have said they are often talked out of getting a short haircut.
On what Good Fortune wanted to do differently than traditional barbershops
Cait: I saw a problem with how, traditionally, booking a cut is based on men's labeled haircut, not on length of hair. So, I started doing LGBTQ+ Hair Night so people didn't have to book a gendered haircut. They just put their name on a list and that's what we called them. Many people who never set foot in a barbershop before started coming in because of that. Our prices aren't gendered, and across the board they are à la carte. A haircut for everyone's the same price.
Sam: The LGBTQ+ nights were so cute, from really old men to teenagers with their parents who didn't know where to take them.
On how using Square helped them with the unique challenges of opening a business (including an online store) during the COVID-19 pandemic
Cait: First of all, everyone comments one how quick and modern it is. All of our customers are impressed when they pay.
Sam: They also comment on how it's so easy to use for us and for clients.
Cait: I spent two days when we went into lockdown setting up our website. It was so easy to do. We are selling way more merchandise than I expected, it was really easy and painless to set up the website using Square, and I'm not good at this stuff! I thought I would have to hire someone.
The online store has not only helped people get their products, it also gives people a place to shop when they want to support us. People are also browsing our offerings a lot more than they would in the actual shop. Square has been super convenient and easy, and we plan to better integrate it with our actual website. We're going to switch how we book appointments because we want to have everything based within Square. Doing our books at the end of the week is so easy!
Sam: We are also creating an eco-boutique of products that are all environmentally friendly and Canadian, local cruelty-free. Square helps us sell the products we believe in.
On supporting other queer-owned businesses and organizations in Winnipeg
Cait: We are lucky to be part of a thriving queer community here in Winnipeg, and we encourage staff and clientele alike to support the many amazing queer-owned businesses and the organizations that help LGBTQ+ folks in the city. We love the treats at Black Market Provisions, the beer at Good Neighbour Brewing Co., and Sunshine House provides amazing programming that fulfills people's community and recreational needs, with a focus on harm reduction and social inclusion.
On the experience they want for their customers
Sam: We always hope that our customers feel excited and welcomed, and we want them to get the haircut they really want, regardless of who they are, or what they look like, or identify with. I wear a pronoun pin every day. We are really conscious of not gendering people—it's really important to change your language. We want Good Fortune to be about more than cutting hair. Having a safe, inclusive space for everyone is what's most important.
You can find Good Fortune Barbershop in Winnipeg, and learn more about their mission online.