Square products used by Saint Aymes
Favourite POS features
Sister-duo and entrepreneurs Michaela and Lois have together created Saint Aymes, in the heart of Central London. Dubbed London's prettiest cafe and the OG of millennial pink cafes, Saint Aymes is now a powerhouse brand for all things women empowerment. Starting as a direct-to-consumer business, selling chocolates in 2016 online and through retailers, then pivoting their efforts to a physical experience, Saint Aymes now doubles as an events space with a focus on championing women, sisterhood and entrepreneurship.
Having initially been impressed with Square through an experience they had at St. Christopher's Place as a customer in a restaurant, they knew Square was the right choice for them as the terminal did it all: taking orders, payments, printing receipts and fitting in with the aesthetics of their cafe. It smoothed the day-to-day operations and improved servicing times.
Describing Square as a payments provider who has thought about the realities of what a business needs, find out how Square was able to not only keep up with business growth and transitions but also equipped them for it, below:
Challenges and how Square offered solutions:
Starting a business at any time can feel like an uphill battle, but even more so when you're trying to do something different. Saint Aymes required a payments provider with a full suite of products and services that could adapt as they required due to the nature and vision of their business.
Saint Aymes needed a payments provider who could:
Pay them quickly via bank transfer. Square offers next-business-day bank transfers.
Simple and clear pricing. Changes in customer base from locals to international visitors due to Covid-19 and flexible working, for example, made transparent pricing essential. With Square, you can accept any card or mobile wallet payment at just 1.75% per contactless or chip and PIN transaction, with no hidden fees. A feature that they felt was essential yet rare. One blanket fee has enabled Saint Aymes to accept all cards and forecast accurately.
Moving to an event space module following an online store and cafe. Square offers a total business ecosystem and when you take payments, you can choose to integrate with a range of Square business tools like analytics and invoices. Full list here. Square's full suite of products provides everything you need to run, adapt, and grow your business.
Being a cashless business. Square's speedy hardware offers competitive payment processing times.
Permissions and team management. To mitigate business risks, Square's POS system enables different permissions and levels of access for different team members. Customisable employee permissions also restrict user access to change prices, add discounts, view data and even log other users in and out.
Implementation
"I don't even remember being trained, that's how quick it was."
- Michaela Wilson, Co-founder, Saint Aymes
Describing the implementation and training process from receiving the hardware to getting up and running with customers as 'super easy', Lois and Michaela went on to say the training was minimal and straightforward as everything was so intuitive. This saved valuable time that was reinvested into areas of the business that mattered.
Square's Impact on Business as told Saint Aymes
"Square is a large businesses friend, it's very friendly and accommodating"
- Michaela Wilson, Co-founder, Saint Aymes
1. Using data insights to make menu decisions and increase revenue
Saint Aymes use analytics to review product performance and make informed business decisions that impact profitability for the better. In some instances where the data has revealed in-demand top-selling products, the sisters have made price increases in line with the demand. For less popular items and slow-sellers, they've used insights to inform the decision of removing them from the menu.
Lois also spoke about being able to check how much money has been made for the day in real-time, seeing if they're on track or not and whether any snap decisions need to be made in response.
"Most ePoS's will show you (business performance data), but there's something about the way Square lays it out that just looks really simple and it exports logically. Your accountants tend to like it as well. It's really transparent, and I'm not a numbers person."
- Lois Wilson, Co-founder, Saint Aymes
From previously using multiple providers for their online store, PoS, and BACs-only invoicing system, to having all data insights in one place was game-changing, time-saving and revenue-driving. Square does it all in one place.
2. Quick access to finances enables fast reinvestments and decision-making
Next-business-day bank transfers is one of the Square solutions they love.
"The next (business) day payments is a solution that we love. Waiting a week for your payment to come through in the coffee shop industry doesn't really work"
- Michaela Wilson, Co-founder, Saint Aymes
The day-to-day within a coffee shop can come with quick changes which are often impacted by external factors, for example, the weather - a hot day can lead to a surge in demand for specific items on the menu. They work with and support small independent suppliers and family businesses who require payment upon receipt which would previously require Saint Aymes to go into their reserve to pay for last-minute orders. "There's a time and cashflow lag which stops investment and quick spontaneous decision-making that can do your business the world of good", tells Michaela, "sometimes there's no time to think and wait when it comes to reinvestments, and you have to make quick decisions. Having the money to go when you are is perfect." Square has enabled Saint Aymes to make decisions quickly and improve cash flow which is important for businesses in this quickly changing world.
When moving from face-to-face daily sales to different business models, Square's got everything they need. An example of this would be when they were able to offer a takeaway delivery service during Covid-19 without changing payment providers. Reports across Square products are the same so no need to get used to something new.
3. Fast and convenient Square Invoicing gets them paid 7 days faster
Invoicing is their favourite product. Once they send an invoice they can see if the recipient has received it, viewed it, and better yet, they can pay with their phone wherever they are. Invoices can be paid with digital wallets such as Apple Pay or Google Pay, Clearpay, Square physical or electronic Gift Cards, and any supported card. Find out more, here.
Saint Aymes describe recipients being able to pay using their card as game-changing. There is no need for logging into online banking and processing BACs - especially handy for business people who aren't office based. Long-winded processes cause delays and Square Invoicing has been effective at maintaining relationships, saving time and getting invoices paid 7 days faster than with their previous provider.
"Invoices get paid faster reducing business friction"
- Michaela Wilson, Co-founder, Saint Aymes
Square invoices are customisable meaning they can be aligned to your branding for a better user experience.
4. Inventory management
Through Square Analytics, you can view best sellers, quickly. Michaela and Lois also look at the time each menu item sells best to spot any patterns. This helps them to better manage inventory and prep throughout the day.
Analysing popular menu items in their current establishment can also be used as a baseline for future additional venues.
5. Optimising opening hours
Analysing sales data vs. opening times against their overheads such as staffing allows them to make business decisions confidently. Square informed their changes to trading days to make them more profitable.
6. Supporting new business models
Different iterations of their business require different products. For example; Square Online for selling their chocolates, Terminal and Register worked well for pop-ups and the cafe, and invoices complement their event space rentals. Square not only offers a full suite of products for business but also integrations such as OpenTable for restaurants and Quickbooks for accounting needs. Check out the full list of integrations, here.
7. Managing concessions
Square's POS system enables different permissions and levels of access for different team members. Assigning contributor and viewer roles to individuals can restrict access to enable price changes, add discounts, view data and even log other users in and out. Saint Aymes found this particularly useful when running concessions at a major London department store.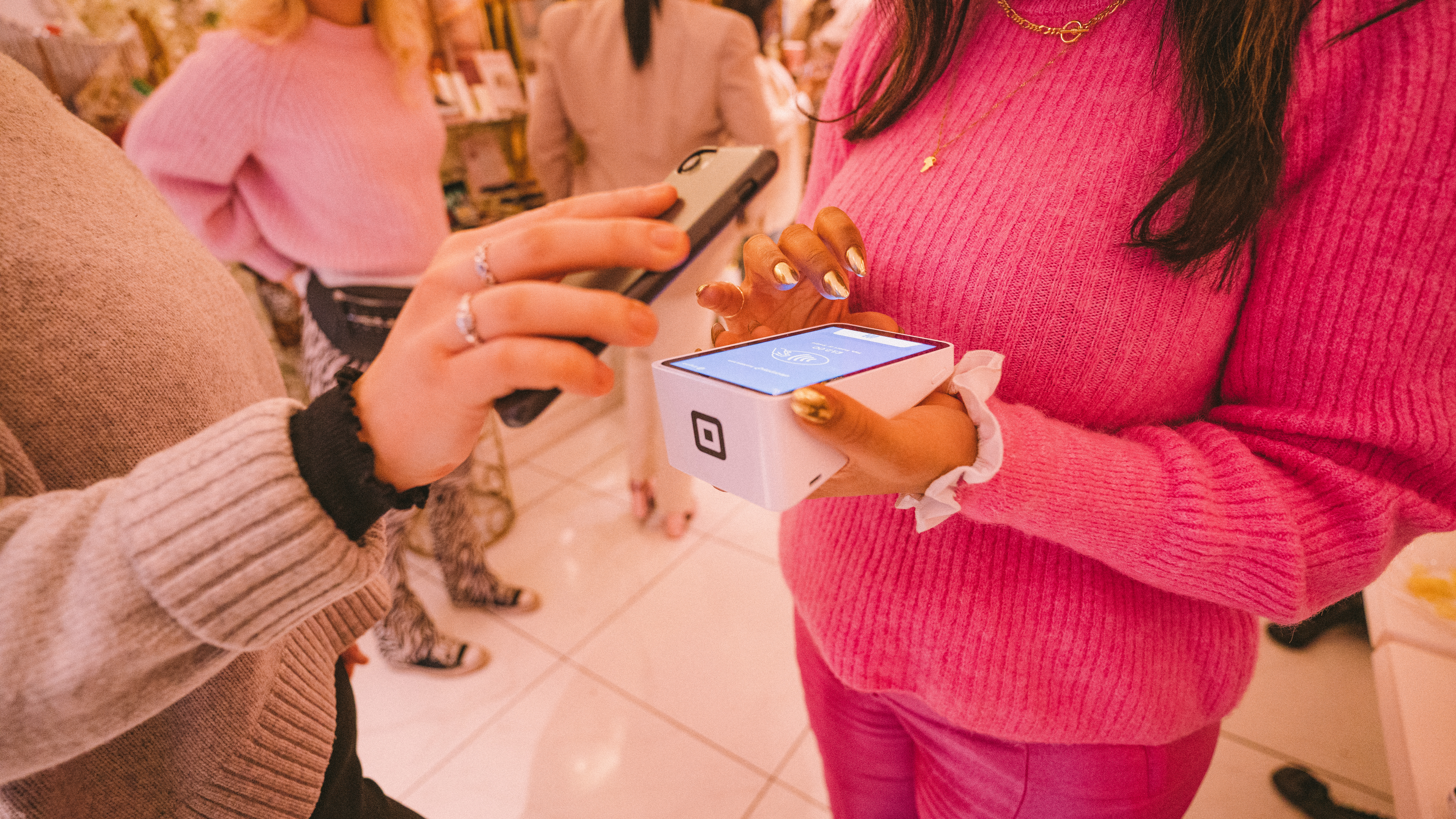 "Convenient, intuitive, sleek"
- Lois Wilson, Co-founder, Saint Aymes
Find out what Square can also do for your business by getting in contact with us below:
Like what you hear? Get started and shop the payment devices Saint Aymes swear by here: