Managing Items with Square for Restaurants
86ing and Item Availability
You can update availability of items right in your Square for Restaurants POS App. Check out the full comparison of features between Square for Restaurants Free, Plus and Premium Plans.
Manually 86 Items
To manually refuse service of an item on the fly, log in to your Square for Restaurants app:
Select a saved ticket or create a new sale.

Tap Actions > Item Availability.

Use the search tool or select an item from the list.

Choose Available or Unavailable > Save.
You can also press and hold the item tile that you'd like to make unavailable and choose Unavailable.
If an item is only temporarily unavailable, you can select Make Available at End of Day. The item will be automatically re-enabled based on your business hours, or the next morning at 5:00 a.m if you have not set business hours.
Set Up Auto-86ing
You can also set up automatic item refusal of service by tracking the item quantity from the Restaurants app – so your employees will only be able to add available items to a bill.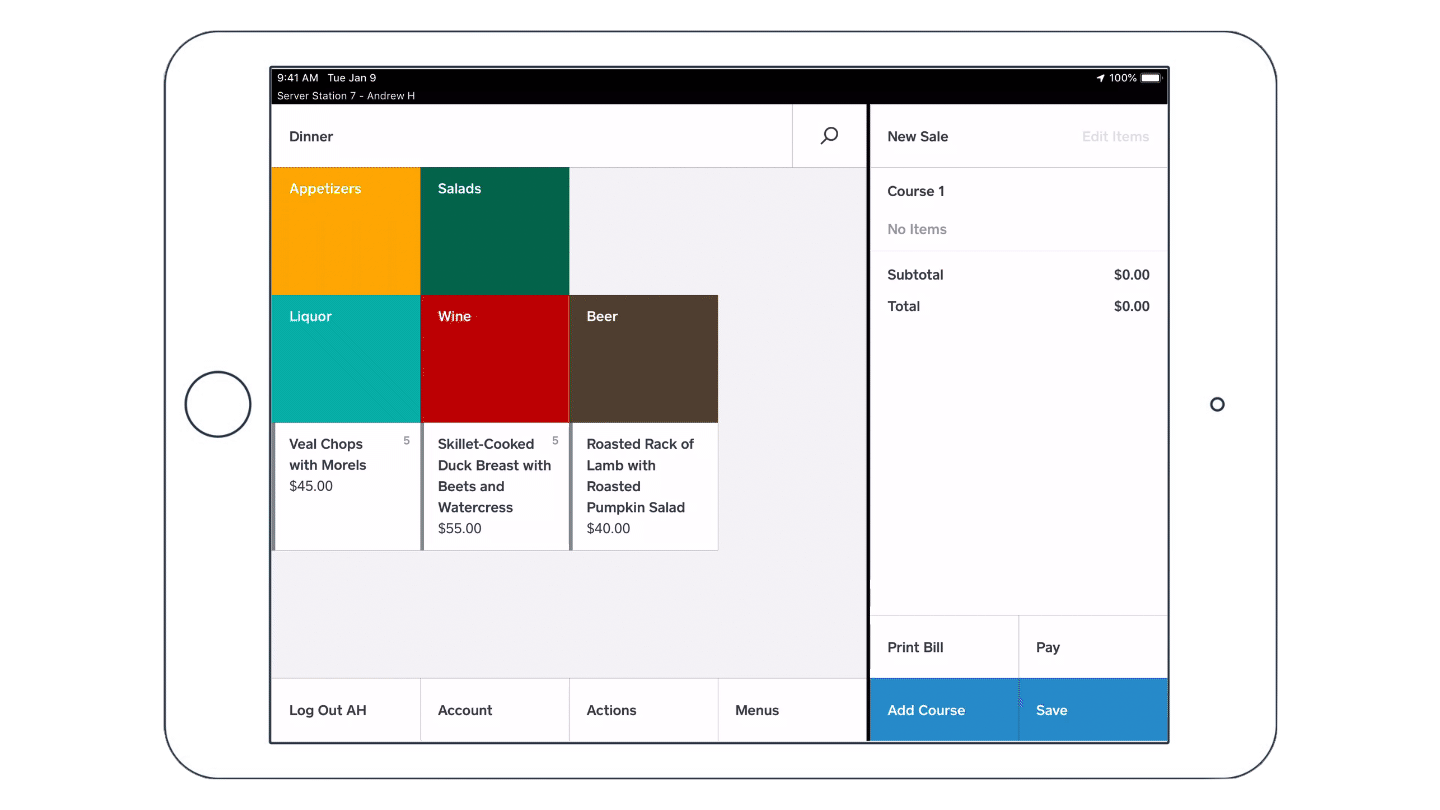 To get started:
From the Restaurants app, tap and hold a menu item.

Toggle on Track Remaining Items and enter the item count.

If the item is a part of your fixed menu, you can enable Make Available at End of Day.

Tap Save.
During the course of a shift, each time an employee places an order to the kitchen or bar, the item quantity will reduce. When the item count reaches zero, employees won't be able to add it to a bill.
Note: Setting the quantity for auto-86ing is different than setting your stock quantity from your online Square Dashboard. Just make sure to enable item tracking from the Restaurants app to use auto-86ing.
Inventory
Square for Restaurants inventory management gives you basic tools to keep a clear count of in-stock items in your item library. 86ing from the app is great for specific dishes, drinks or appetizers – items you might run out of on a daily or weekly basis. Inventory tracking from your Square Dashboard is geared more towards wholesale items, like liquor or wine bottles.
When you enable inventory levels, you can receive alerts in your dashboard for low-stock or sold out items, so you'll know when to reorder and restock.
Keep in mind, inventory management works best for finished goods, like beer, wine or merchandise.
New to managing inventory? Make sure to check out our best practices for inventory management.
History
You can view your inventory history and gain insights into the flow of your inventory by viewing historical adjustments.
To get started:
Visit Items & Orders > Items in your online Square Dashboard.

Click on a specific item to bring up the item details page.

Select View Inventory History.
You can filter by location, adjustment type and item variation.