Create and Manage Items from the Square App
Find a POS designed just for your business.
Download the Square Point of Sale app free today, right on your phone or tablet.
Build your item library with the Square Point of Sale app by creating items and categories. Items and categories sync across all devices assigned to a location and the online Square Dashboard.
Note: In addition to the Square app, you can create and manage items from your online Square Dashboard.
Before you start creating items, keep in mind:
Item descriptions have a 4,000 character limit.

When you add, update, or delete an item image, the change will reflect in your Square app, Dashboard, and in Square Online.

Images that are 360 degrees or 3D are not supported at this time.

If you are creating multiple items, you are able to quickly upload your items in bulk using item importing via the online Square Dashboard.
Note: If your business requires advanced inventory features and reporting, such as item unit cost management or Cost of Goods Sold reports, take a look at Square for Retail.
Create and Manage Items
You can create items from your compatible device, Square Terminal, Square Stand, or Square Register. To create items from your Square app:
From your Point of Sale, go to ☰ More > Items.

Tap All items > Create Item.

Tap the square tile to add a label, upload an optional image, or choose the tile color that'll appear on your item grid.

Enter item information such as a name, category, description, and image.

Set up additional item features and tap Save when finished.
Note: To specify your item type, go to your Square Item Library in Dashboard.
Set Up Your Item Unit Type
Each business is different — some Square sellers sell whole item quantities (like articles of clothing), while others sell items by weight or length. Some businesses sell both.

By default, each new item you create will have the unit type per item. When you set your unit type, you can choose from a list of preset units, such as pounds, ounces, and feet. You can also choose to add your own custom unit — in whole number or decimal quantities.
Select or Create a Unit Type
To set your unit type:
1. Tap ≡ More or the down arrow at the top of the Square Register.
2. Tap Items > Unit > Create Unit.
3. Search for an existing unit or scroll to the bottom of the list and select Create Custom Unit.
4. Set the unit precision. Note: The precision helps you keep track of your inventory and item sales price by allowing you to set the item count up to the hundred-thousandth place (.00000).
Note: Each custom unit type must have a unique name. Names are not case-sensitive.
To edit or delete a unit type from the Square app:
1. Tap ≡ More or the down arrow at the top of the Square Register.
2. Tap Items > Units and then tap an existing unit. If you're updating a custom unit, you'll see the option to change the name and abbreviation. You'll also see the option to change the precision.
3. Choose to Save your changes or select Delete to remove the unit type altogether.
Note: By default, if an item is assigned to a unit type you delete, the new unit type will convert to a per item quantity. Additionally, updating a unit type will not adjust your stock counts.
Create and Manage Item Categories
Categories help you arrange and organize your items, report on item sales, route items to specific printers, assign online visibility, and much more. Learn more about creating and managing item categories.
Create and Edit Item Options
Item options help you create and organize your custom item variations. These options can be reused across your Item Library, saving time when you add new variations or items.
Create Item Options

1. Tap ≡ More > Items.
2. Select Options > Create option.
3. Enter an Option set name and Display name.
4. Enter option values and select Create.
__Note__: Adding item options to an item with multiple variations is only supported on Square Dashboard.
Add an Option Set to an Item

1. Tap ≡ More > Items > All Items.
2. Select an item.
3. Under Options, select Add Options.
4. Select an option set name from a previously created list of option Sets or tap Create option.
5. Once you've chosen the appropriate option sets, tap Next.
6. Review the new variations created and tap Create to confirm the changes.
7. Tap Next > Save.
Delete Option Sets from an Item

1. Tap ≡ More > Items.
2. Tap All Items and select an item.
3. From the Edit Item view, select Edit Options.
4. Select an existing option and tap Remove option set.
5. Tap Confirm remove and review the variations that need to be deleted.
6. Tap Delete.
Set Up Your Item Grid on a Tablet
Your item grid transforms your POS into a lightning-fast, user-friendly tool for your team members. It syncs to all devices assigned to a location. Team members cannot set up an individual item grid.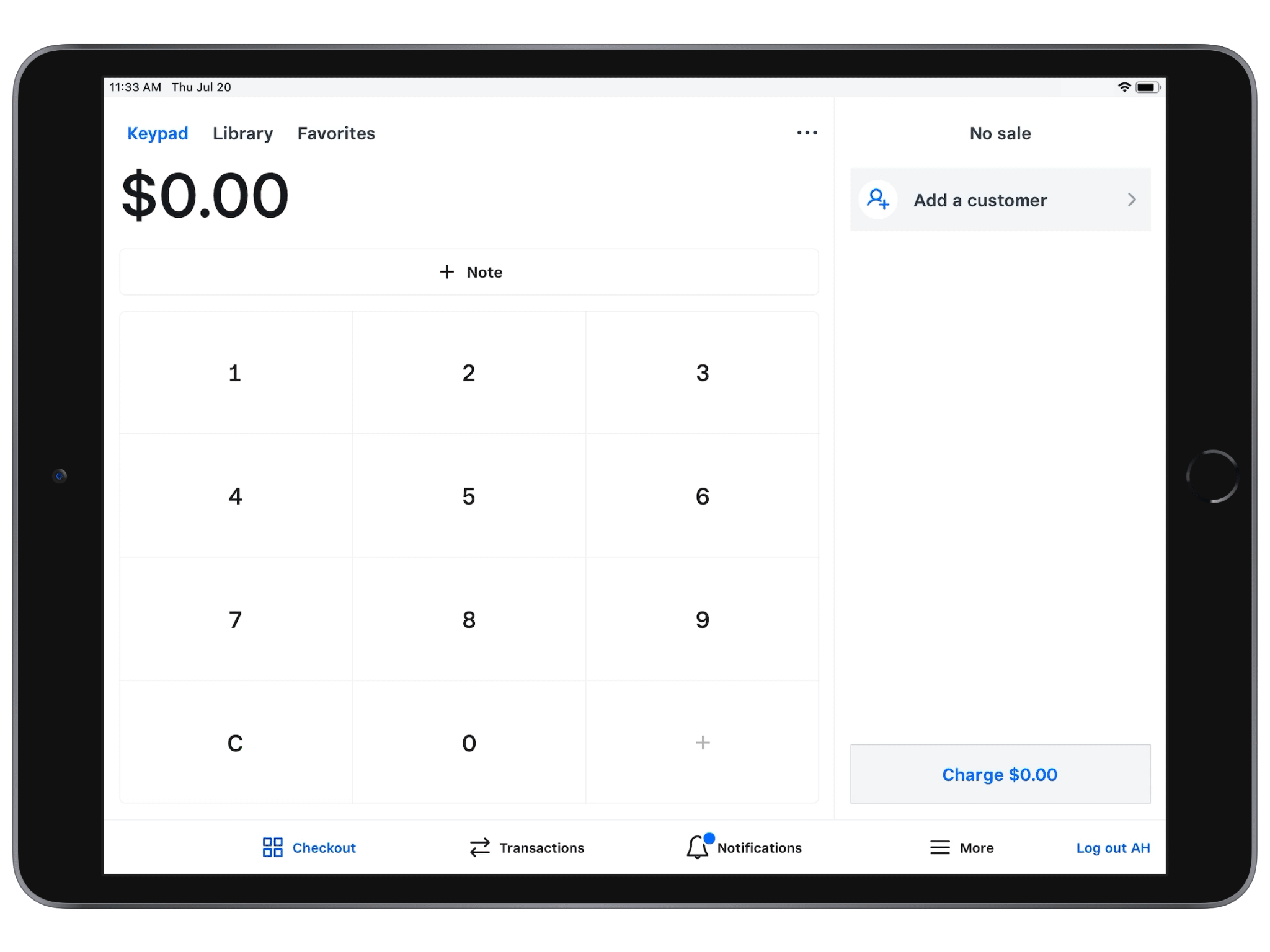 To build your item grid to quickly access frequently used items, discounts, or categories:
From the Checkout screen, tap Favorites.

Press and hold an empty square to add items or shortcuts.

Continue to tap the + icon on the grid.

Choose to Create a new item, Create a new discount, or select from gift cards, rewards, discounts, items, or services.

Tap Done to save.
Note: Tap Add a page to add additional pages/grids to your Checkout screen. Tap the pencil icon to edit the page name, then tap Done.
If you're using an Android tablet you can customise the appearance of your items grid:
Tap ≡ More > Settings > Item Appearance. 

Select your display preference. Choose between image or text tiles.

Tap and hold to edit the grid or individual items. Note: When you tap an item, you can edit the item details to change the name, add a photo, change the price, or change the tax settings.

Tap Save.

Learn more about setting up your Item Library with Square.