Square Register raises the bar with a new, comprehensive point-of-sale solution
Jan 27, 2021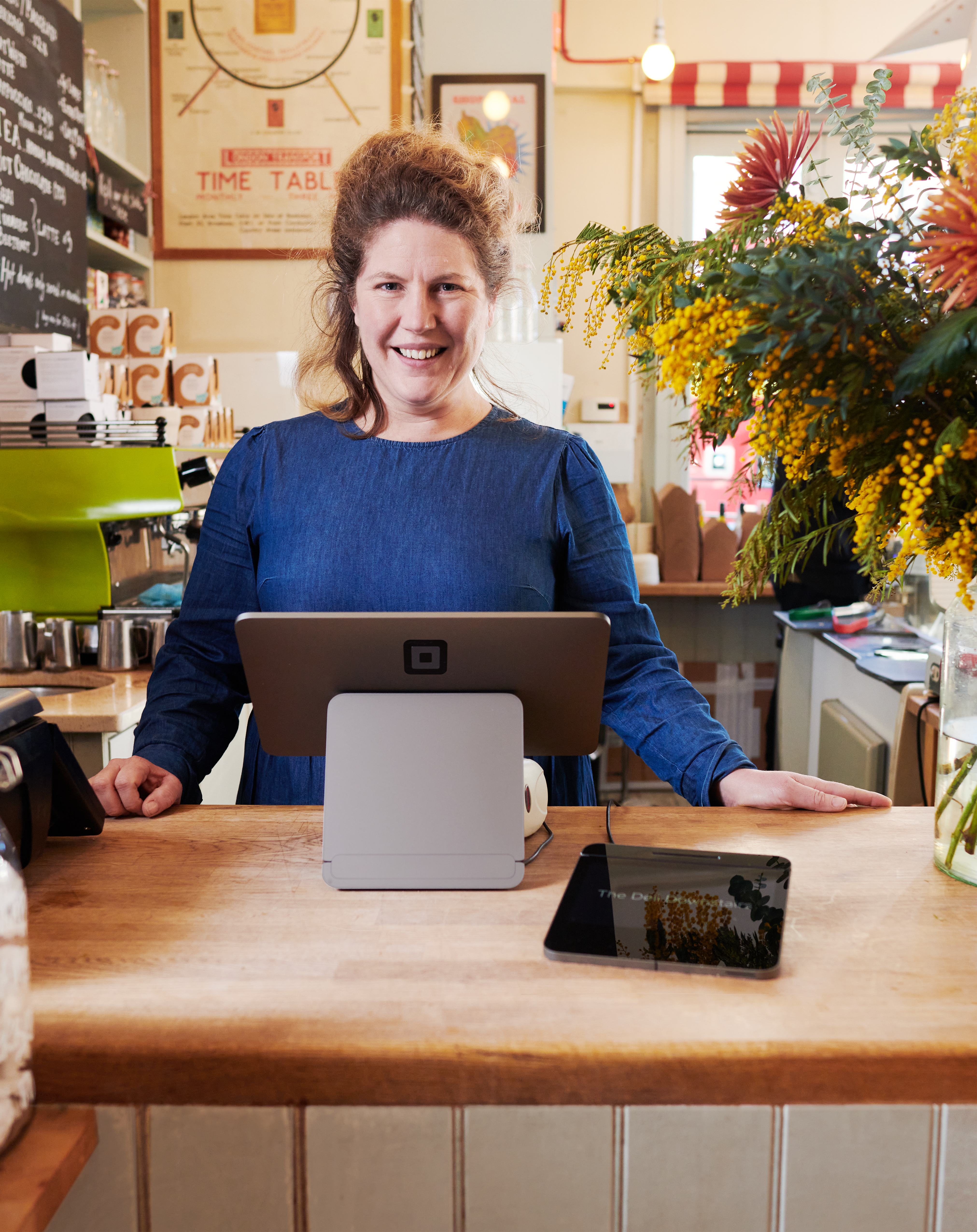 Square's newest hardware offering to help larger sellers run and adapt however they trade.
Today, Square has launched its latest hardware offering, Square Register, a fully integrated countertop point-of-sale (POS) solution, designed to give UK businesses with complex needs the versatility they need to manage sophisticated operations.
Right now, it's not business as usual for many, and this new device is designed for businesses looking for a versatile countertop POS solution that can be adapted to suit changing needs. Square Register brings together modern hardware, embedded POS software which includes delivery & online order management, and Square's secure payment technology. The end-to-end solution includes a detachable customer facing display with a built-in card payment terminal. A 2m cable is also available for sellers who wish to put even more distance between them and their customers.
Sophie Taylor is the owner of Deli Downstairs in Hackney, London. She has been trialling the hardware and is currently open, in line with current guidance: "In the past year we have gone from using a calculator to running most of the business with Square. Meeting the needs of a local community has been critical and using Square Register means we can smoothly manage our inventory and sell seamlessly in the deli and online, Square Register's dual display helps us ring up customers more efficiently; while also being able to manage and fulfill orders through our Square Online Store from the same device."
Square Register sets a new standard for what sellers can expect from POS hardware. Everything comes in the box with Square Register so sellers can get started quickly and easily. Square Register gives sellers the choice of ethernet, wifi, and a five-port USB hub to integrate with peripheral devices; and acceptance of all forms of payment. The Square POS software comes free, pre-installed and allows sellers to manage all parts of their business from one place. For sellers who need to adapt their business, Square Register can be used to manage click and collect and online orders through third-party integrations.
"We have wanted to bring Square Register to the UK for some time. Sellers have been asking us for a solution for their countertop that brings together our sleek and adaptable hardware, with powerful software, and a robust managed payment experience," said Thomas Templeton, Hardware Product Lead at Square. "Whilst this is an incredibly difficult trading environment for the UK's small business communities, we're hopeful this product will be of use to sellers over time, whether that's today or in the future."
"During these challenging times we've reacted by focusing on improving our operations both online and in the shop. We now run our business through Square for Register with our payments, Square Online website and Square for Retail POS integrating in one place," said Rez and Emma Jamal, co-owners of KooKoo Madame in Pontypridd, Wales. "When we've been able to open, Square Register's separate, customer-facing display has been great for our customers who want to see items as they are processed and feel more in control of the payment experience."
Square Register is available in the UK for one upfront cost of £599 +VAT, or 12 monthly interest-free instalments of £50 per month for qualifying sellers. All sellers get a two-year warranty and 24/7 phone support, alongside simple pricing, no long term commitments and next business day transfers. Register also runs Square's dedicated POS softwares including Square for Retail and Square for Restaurants.
ABOUT SQUARE
Square, Inc. (NYSE: SQ) revolutionised payments in 2009 with Square Reader, making it possible for anyone to accept card payments using a smartphone or tablet. Today, we build tools to empower businesses and individuals to participate in the economy. Sellers use Square to reach buyers online and in-person, and manage their business. And individuals use Cash App to send and store money. Square has offices in the United States, Canada, Japan, Australia, Ireland, Spain, and the UK.
MEDIA CONTACT:
press@squareup.com