Customize Marketing Campaigns
With Square's email marketing tools, you're able to create customizable campaigns that reflect your business' brand and voice.
To get started:
Sign in to the Marketing section of your online Square Dashboard.
Click Create Campaign.
Select a campaign type > click Continue.
Customize Business Logo
To customize your logo:
Click on the logo displayed > Change Logo.
Select an image to upload from your computer.
Customize Themes
You're able to choose from a selection of seasonal themes for upcoming holidays, or a variety of other themes. Alternatively, you can create your own theme by customizing the header and colors from the Custom menu options.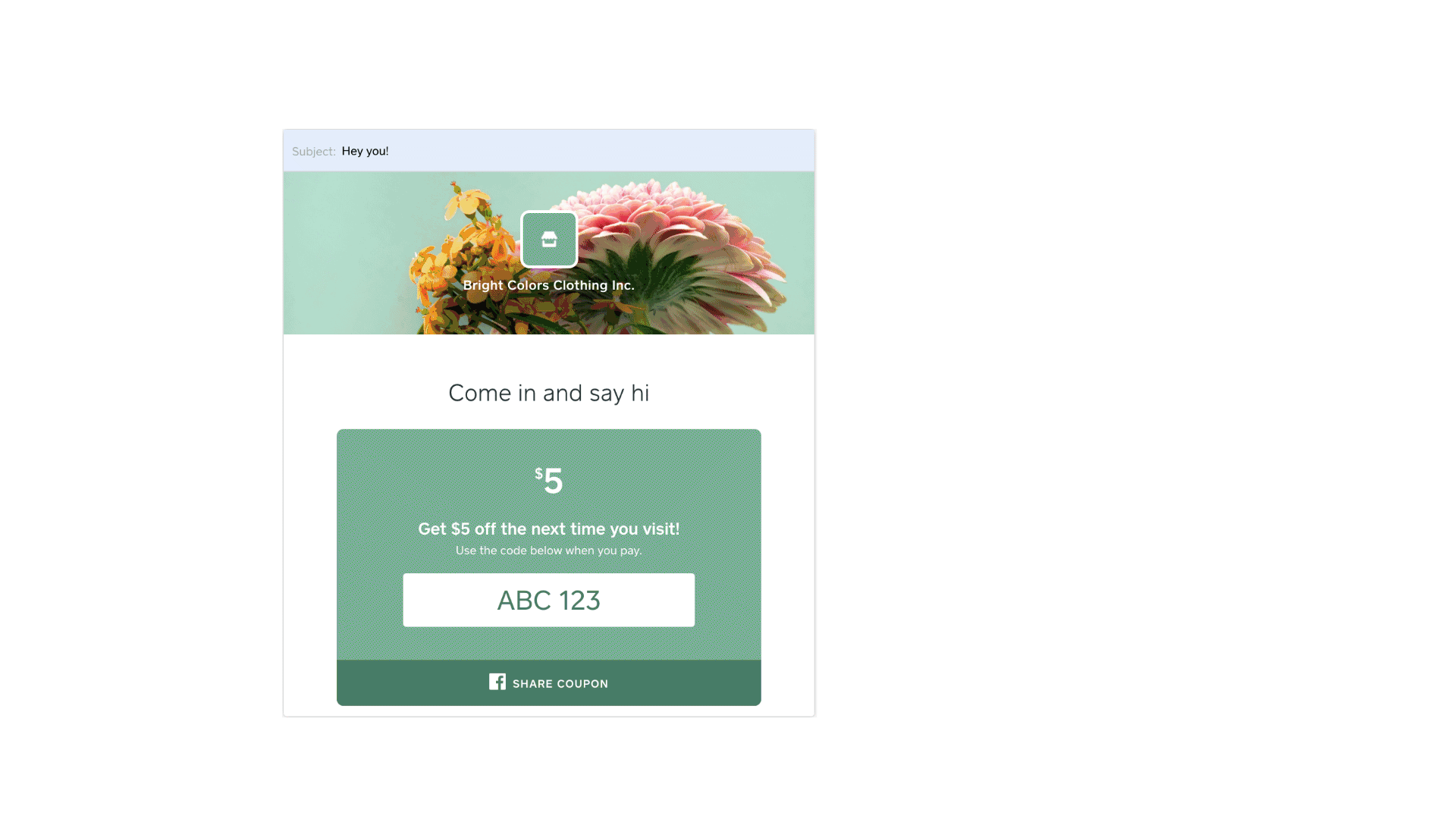 Customize Header Image
To set a custom header image:
Select Custom from the theme options.
Click on the header/logo section of the campaign preview.
Click Change Header Image.
Crop the image using the provided sliding tool and select whether you'd like to display both the header image and logo.
Click Done.
Note: For header images, we recommend 1280px x 392px (width x height).
Customize Layout
You're able to add, remove, and reorder the content included in your campaigns. This includes images, text, hyperlinked buttons, dividers, and headlines.
Add a content type by selecting one from the design toolbar at the bottom of your screen.
Remove a content type by clicking on the section in the preview > click the Trash Bin icon.
Reorder the content types by clicking on the section and using on the Up / Down arrows.
Add an Image
You're able to add images or GIFs to your email campaign. To do so:
Add an image or GIF to your email campaign from the design tool bar at the bottom of your screen.
Select a file from your computer.

Note: For images in the body, we recommend at least 800px in width.
Edit an Image
Once you're at the Design step of creating your campaign, you can edit images directly
To do so select the image you'd like to edit and click Edit Image.
Customize Copy
Use the Text content option from the design toolbar to add a body of text to your email – and don't forget to update the subject line for your email! Copy can also be made into a header, boldened, italicized, centered, and hyperlinked.
Duplicate a Campaign
If you want to reuse a campaign you've previously created, you can always go back to a completed campaign and duplicate it. To do so:
Visit the Marketing section of your online Square Dashboard.
Click Completed and select the campaign you'd like to duplicate > Duplicate.
Complete, review, and send or schedule your campaign.