1099-K Tax Reporting Information
Learn about taxpayer information, qualifying and viewing your Form 1099-K, and general tax reporting procedures with Square.
Verify or Update Your Tax Reporting Information
To ensure accurate tax reporting for you or your business, and to prevent any possible IRS withholding, it is very important that you update your Square account to match IRS records.
You can review or update the taxpayer identification information, your business name, and any other business tax information you provided to Square at any time, directly from your online Square Dashboard.
Learn how to update your taxpayer identification information.
View Your 1099-K
To access your 1099-K online:
Log in to the Business page of your online Square Dashboard.

If you qualify for a 1099-k, you'll be able to download a PDF of your 1099-K form and, if necessary, update your tax information directly from the Tax Forms tab.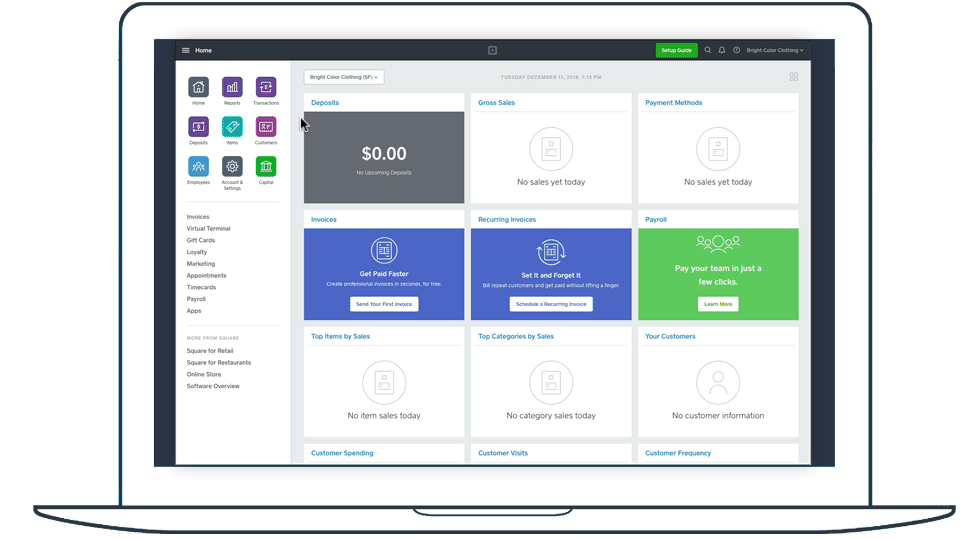 If you do not see a form available for download on the Tax Forms tab, it is most likely because you did not qualify to receive one based on your account activity. Forms for each tax year will be made available on your Square Dashboard by January 31st of the following year. If you don't qualify for a Form 1099-K, you can still review your yearly sales summary and card processing fees from your online Square Dashboard.
If after January 31st your online Square Dashboard does not show a 1099-K form and you qualify for one, contact us.
How do I update my account so it's reported under my business name and EIN?
To receive an updated 1099-K form, update your business taxpayer information by heading to your Square Dashboard. For the current fiscal year, after editing your information and clicking Save, the 1099-K form should automatically update. Download your 1099-K to confirm your information has updated.
Learn more about updating your Taxpayer Identification Number with Square.
Is my EIN currently linked to my Square account?
For security purposes, we do not have access to your taxpayer information. If you are unsure whether you linked your EIN when you created your Square account, confirm your business tax information.
SSN vs. EIN
While all Square customers are required to provide a valid Social Security Number (SSN) during sign-up, providing an Employer Identification Number (EIN) during sign-up is encouraged. By providing an EIN, your account will be identified as a business entity and all tax reporting will be associated with your business name and EIN. Update your business tax information.
Learn more about the differences between your SSN and EIN.
How can I apply for an EIN?
You can apply for an EIN with Square's free EIN assistant, which guides you through the application. You can also apply for an EIN from the IRS.
Merchant ID Number
While Square is a credit card processing company, we are not a typical merchant service provider. We do not supply our account holders with individual merchant ID numbers. Even though we don't assign specific numbers, your business is still designated as a merchant with Square.
Qualification for 1099-K
The US state your taxpayer information is associated with will determine your qualification for a 1099-K.
Accounts meeting both of the following criteria qualify for a 1099-K and must be reported to the IRS:
More than $20,000 in gross sales from goods or services in the calendar year

AND more than 200 transactions in the calendar year
However, if your tax reporting information is associated with Massachusetts or Vermont, we are required to issue a Form 1099-K and report to your state when you process $600 or more in credit card payments.
Update Your 1099-K for a Previous Year
To update your 1099-K for a previous year, please begin by updating your taxpayer information from your online Square Dashboard to ensure that your Square business name matches what the IRS has on file.
Next, please contact us. In order to update your taxpayer information, make sure to have the following documentation ready:
A copy of an official bank statement on your bank's letterhead which shows transfers from Square to your business. The statement can show any month from the year you're requesting an updated Form 1099-K and should include your full bank statement. If you are requesting to update multiple 1099-Ks, make sure to include a bank statement for each correlating year. Additionally, if you used multiple bank accounts in the year that needs correction, please provide a statement for each bank account you received transfers from Square.
Your bank statement(s) should clearly show:
Official bank letterhead with your bank's logo.

The bank holder's name and address. Note: The bank account holder's name and address need to match the name/information in your Square Dashboard under Taxpayer Information for the updated Form 1099-K.

The bank account number or the last 3 digits of the account if you're using a credit union.

Transfers from Square in the same year as your requested 1099-K correction.
How are the amounts on the form calculated?
The amount and transaction count on each form are calculated based on your gross sales on the transaction date of the sales. This includes revenue from card payments that were refunded. Note: Gross sales include taxes and tips collected on a sale if they are charged on the card.
Cash sales are not included in the total we report on the 1099-K form.
Because of this requirement, the amount shown on this form will be different from the amount settled into your bank account. This is because you may have had refunds, chargebacks or holds, and Square's fees were deducted before funds were transferred to your bank.
The transaction date is the date in our system that the transaction took place, which is based on a standardized time known as UTC. Your online Square Dashboard shows your transactions in your local time, so there may be small variances if you have transactions that occur after either 4:00 pm or 5:00 pm (depending on daylight savings time) and midnight in your local time zone.
What if I have multiple locations?
If you manage multiple locations with Square, your taxpayer information and tax forms for each location are available in your Dashboard under Tax Forms.
What if I have multiple accounts?
If you have multiple accounts that use the same EIN or SSN, we will use the volume from all accounts to see if you meet the reporting qualifications of more than $20,000 and more than 200 transactions.* Each Square account will have a separate form you can download and use for your tax reporting. We cannot combine multiple accounts onto a single 1099-K form.
To update the Federal Business Tax ID (EIN) associated with multiple Square accounts, sign into each Square account using your email and password to update your taxpayer information.
*If your tax reporting information is associated with Massachusetts or Vermont, we are required to issue a 1099-K and report to your state when you process $600 or more in credit card payments.
Tax Reporting with Cash For Business
Cash App for Business accounts will receive a 1099-K form for those who accept over $20,000 and more than 200 payments* per calendar year cumulatively with Square.
*If you activated your Cash App account in Massachusetts or Vermont we are required to issue a 1099-K and report to your state when you accept $600 or more.
Log in to your Cash App Dashboard online to update your EIN or SSN for your business account so that all tax reporting will be associated with the correct information if you qualify.
Note: If you have both Cash for Business and Square Point of Sale accounts associated with your SSN, your total payment volume will be aggregated and reported on each 1099-K form.
For any additional tax information, please reach out to a tax professional or visit the IRS Form 1099-K Payment Card and Third Party Network Transactions site.
Learn more about your 1099-k with Square.