Account Review FAQs
Why am I being asked to complete this form?
To ensure the financial security of both you and your customers, Square needs to collect additional information about the payments you've recently accepted before transferring your held funds. We're committed to protecting the financial security of all Square account holders, and this helps us to ensure the safety of your account and your customers.
What if I don't have all the requested information?
Please fill out the provided form to the best of your ability. We're looking for documentation to verify your business and the goods or services your business provides through Square.
If the submitted documentation isn't sufficient, our Account Services team will reach out to you for additional information.
What are some examples of acceptable documents?
Government-issued documentation:
Business license
Occupational license
Red Seal certificate
Official certification of trade
Industry standard documentation
Registration
Seller's permit
Articles of incorporation
If you do not have a registered business, please provide a copy of your government-issued identification in place of a business document.
Documentation of your transaction (documentation to verify what these specific payments were for):
Invoice
Purchase order
Detailed receipt
Bill of sale
Signed credit card authorization form
Email correspondence with the buyer
Photos of the goods sold
If you do not have any documentation of your transaction, please provide a detailed description of the goods and/or services sold.
How long does the account review process take?
Once you've fully completed the form, our Account Services team begins a review of your account. With your help in completing this form, we strive to initiate any held transfers to your bank account by the next business day, though the turnaround time depends on the thoroughness of your completed form.
Is my information secure?
Yes. Square is committed to keeping your information safe, secure and private. All of our pages are secure, served via SSL/TLS. Square is also certified PCI compliant. For more information, read our Security Policy and Privacy Policy.
What will happen to my account if I don't complete this form?
Without the requested information, our Account Services team will be unable to review your account and your transfers will remain suspended. If you'd prefer not to provide this information, you may attempt to refund the transactions and the associated fees.
Will I have to submit more information each time I accept a payment?
This is not something you'll have to do after each payment you accept. Our Account Services department reached out to learn more about your payments in order to ensure the safety of your account and your customers.
I can't upload any files. What should I do?
You'll need to log in to your Square Dashboard and click Begin Verification to complete this form and upload the requested documentation.
It is important to make sure that Javascript is enabled in your browser. In order to enable Javascript, please follow these instructions depending on which browser you use: Firefox, Internet Explorer, Chrome or Safari. If that doesn't help, try using a different browser.
How can I access the form from my phone?
Make sure you're logged into your Dashboard from the mobile browser, not the Square app.

Select the icon in the upper right-hand corner of the mobile browser.
From the drop down menu, select View Full Site.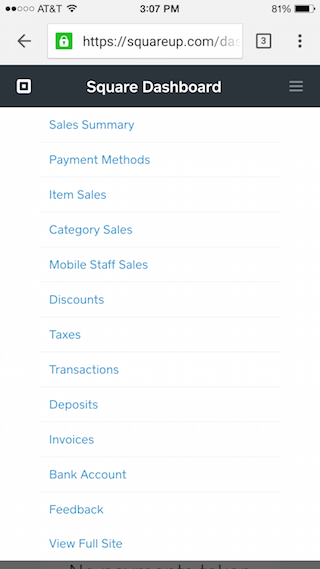 You'll see the verification banner on the top-right of your screen.
I'm not able to scan the requested documents. Do you have a fax number?
If you're unable to scan the requested documents, you can also submit your documentation from your smartphone. Click "Choose file" in the form, and either take a photo of the documentation or select a photo you've taken previously.
If you're unable to take a photo, you can also fax the documents. To receive a timely response, first fill out the fields that don't require file uploads. Then click the "Send via fax." Make sure to follow the instructions on the page.
Note: Without the cover page we provide, we won't be able to match your documents to your account, which will delay the review process.
After we've received the documents and confirmed your form is complete, you'll receive a confirmation email from us.
Can I refund these held payments and seek another form of payment?
If you don't want to provide this information, you may attempt to refund the transactions and the associated fees.